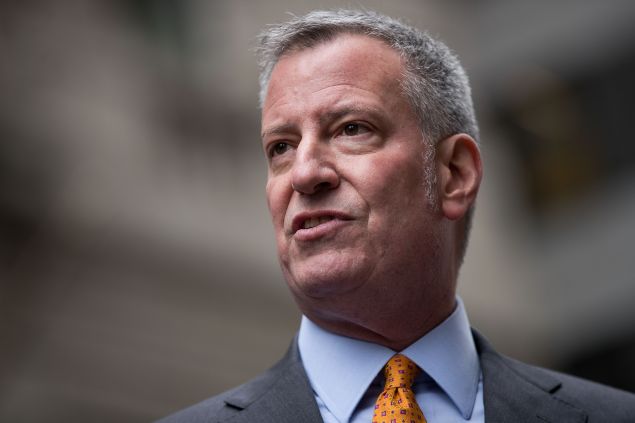 Mayor Bill de Blasio defended his decision to travel to Germany to join a protest against President Trump in the wake of the shooting death of a police officer in the Bronx and the news that street homelessness rose last year.
On Thursday afternoon, the mayor's office announced that de Blasio would depart for Berlin and Hamburg to attend several events surrounding the G-20 summit, including Saturday's Hamburg Zeigt Haltung rally, where he will be a keynote speaker. De Blasio's office added later on Thursday that he would meet with German elected officials and  attend a G-20 reception. He is expected to return to New York City on Sunday evening.
Staten Island Assemblywoman Nicole Malliotakis, the presumptive GOP nominee for mayor, was among the critics of de Blasio's decision to travel to Germany a day after the death of police officer Miosotis Familia and a recent report that street homelessness increased by 40 percent last year. De Blasio said that he and his team are on top of their responsibilities regardless of whether they are in the city or not.
"All the issues that need to be attended to, I'm attending to every day regardless of where I am and my team is attending to," de Blasio told WNYC's Brian Lehrer in his weekly "Ask the Mayor" segment on Friday.
He said that in the last few years, the city has added 2,000 officers on patrol for the NYPD and provided them with protective vests, panels that they put into patrol cars as well as the doors and the windows. But he acknowledged that Familia's death meant that more work needed to be done.
The mayor and Police Commissioner James O'Neill had to tell Familia's 20-year-old daughter what happened, calling it a "very, very difficult experience" but insisted that the NYPD and the city "will be with them for the rest of their lives" and that they will do "everything we can to support them."
"Obviously, this tragedy pointed out that we have to do more and we're going to do more in terms of putting in the protective glass for the command vehicles," de Blasio continued. "All that work constantly goes on and will keep going on. And I feel so deeply for Officer Familia's family."
On Thursday, protests rocked Hamburg as world leaders were meeting for the G-20 summit, and continued Friday as officers in riot gear worked to keep the demonstrators from disrupting the summit, according to ABC News.
First Lady Melania Trump was unable to leave the residence where she and Trump are staying in Hamburg due to the protests, with her spokeswoman saying that she was "completely safe" at the house, ABC News reported.
The mayor explained that he was invited as a colleague by both the city and state government in Hamburg, which is run by the Social Democratic Party and the Green Party, to represent the wide range of views in the United States on how to proceed on the "big issues" that face the planet, particularly climate change.
De Blasio said that he received the invitation about 10 or 12 days ago and that the trip was supposed to be announced a few days earlier. But his office opted to wait given Familia's death and until a date was set for her services, which will take place early next week, he said.
"We were gonna announce it early in the week and then of course we had the horrible shooting of Officer Familia and it was important to focus on that and deal with that very painful reality," he said. "I was with the 46 Precinct station house where she had served for so long."
The mayor said that he had a "very, very productive meeting" with the mayor of Hamburg and the president of the parliament about issues such as climate change and immigration as well as other issues that are being addressed "in theory here at the G-20" but are being tackled "bluntly by actions on the ground in cities and local governments all over the world."
"It's a very dynamic situation," he said. "There are a lot of protesters here, the vast majority of whom are peaceful. There is unfortunately a small group of violent protesters and it's been a big challenge for the local authorities to deal with that."
He said that he was "very moved by the nobility of Hamburg's choice" but also noting that it has been "a very tense situation."
"The mayor of Hamburg made very clear that this is a progressive city," he said. "This is a city that is very inclusive and they chose to host this G-20 summit knowing they did not agree with the views of some of the participants but believing that global dialogue is important and believing that the right to protest … is important."
And on the increase in street homelessness, de Blasio said that the numbers that day may have been inflated because of the weather but that the "central point is there's a problem" that he will not ignore.
"There is a growth of the homeless population on the streets. What I can say on the positive side is the HOME STAT strategy is working. It needs to grow, it needs to deepen," he said. "We're putting more energy and resources into it because we found the kind of success we were hoping for but we gotta do a lot more."