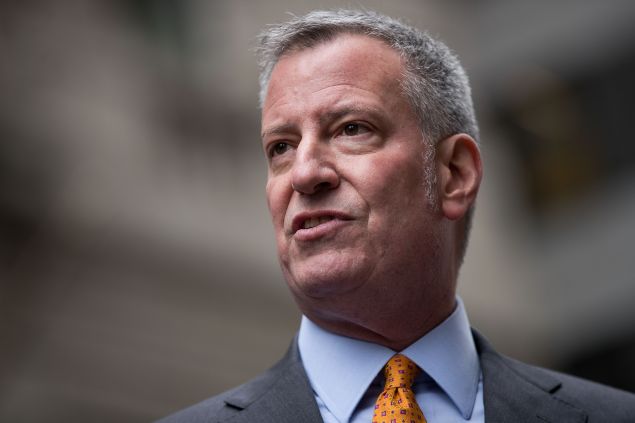 Mayor Bill de Blasio said he is "ready" to take legal action against U.S. Attorney General Jeff Sessions, who is threatening to take funds from so-called sanctuary cities by cutting a federal program that helps cities and states fight crime.
On Tuesday, the U.S. Department of Justice announced that any cities that do not assist federal immigration agents seeking to deport undocumented immigrants would no longer get funding from the Edward Byrne Memorial Justice Assistance Grant, which helps state and local efforts ward off or reduce crime and violence.
The program is named after Edward Byrne, an NYPD officer who was killed while safeguarding the home of a Guyanese immigrant who was under fire from local criminals after he reported illegal activity in his area. In 2016, the NYPD got more than $4 million from the program, according to the New York Daily News.
De Blasio said the announcement from Sessions fell under the "same rubric" of what he, Police Commissioner James O'Neill and Zachary Carter, the city's corporation counsel, said when Trump rolled out an executive order in January that would withhold funds for "sanctuary cities" — that they "don't believe it holds water legally."
Everything Sessions has done since then, de Blasio asserted, is "minor variations on a theme."
"He keeps trying to hit this note about taking away money from cities that respect immigrants, that try and work with immigrants, that have police forces like ours that do not ask immigrants for their documentation status," he said. "So Sessions keeps coming up with sort of minor evolutions on the idea but we think it's not legal to begin with and we're ready to challenge it in court."
The executive order that called for the hiring of several thousand new border guards and Immigration and Customs Enforcement officials as well as expanding deportation priorities to include any individual charged with a crime. That order also called for a halt to Washington dollars flowing to any "sanctuary city," although it did not demarcate that term.
At the time, de Blasio vowed to maintain the city's "sanctuary city" status and to take legal action.
The mayor said that everything that the city has done has been in compliance with federal law, referring to a 2012 Supreme Court decision that states that the federal government "cannot punitively take funding away from cities and states based on other policy matters."
He also noted that in addition to the fact that Sessions and Trump have threatened to take away anti-terrorism funding, there is a "great irony" inherent in taking away funds meant to help the city figure out how to analyze and "act on crime trends better," for 911 dispatchers and for prosecutors.
"It's money that helps us to keep the city safer and make it safer," de Blasio continued. "Is that what Jeff Sessions wants to take away from New York City? I think he's got another problem because his aspiration would only lead to a less safe country." 
He added that during his "rather unusual meeting" with Trump and Sessions the week after the election, he urged them not to listen to politicians but police leaders who will tell them that police have to have an "open, unfettered relationship with immigrant communities" if they want safe streets.
He also touted the effectiveness of his neighborhood policing program that aims to bolster relations between police and community, and noted that police chiefs all over the country as well as his predecessors—including former Mayor Rudy Giuliani—all came to the conclusion that it is "inappropriate and unsafe to ask immigrants their documentation status."
"The other thing we have to remember is the counter-factual," de Blasio added. "Guess what? If Jeff Sessions got his way of the half-million undocumented folks in New York City, who would come forward at that point and report a crime? Who would come forward as a witness if they knew talking to a police officer might lead to their deportation?"