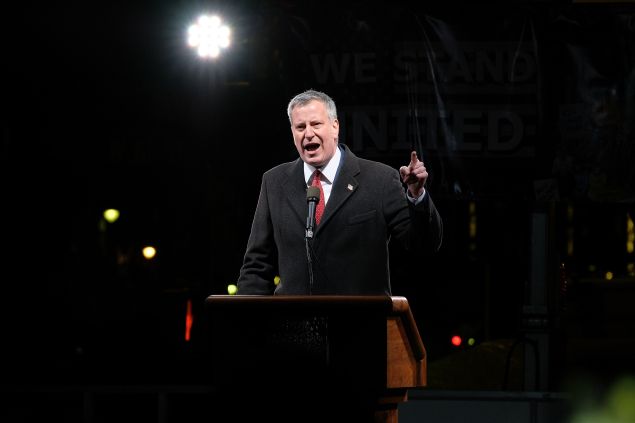 Mayor Bill de Blasio's approval rating has dropped to 50 percent — a 10-point drop from May — but voters still overwhelmingly prefer him to Staten Island Assemblywoman Nicole Malliotakis, the presumptive Republican nominee for mayor.
In the latest Quinnipiac University poll, roughly half of voters surveyed said they approve of the way that de Blasio is handling his job as mayor, compared with 42 percent who do not — a drop compared to their May 17 poll in which 60 percent of voters approved. At the time, 34 percent of voters expressed disapproval.
The poll found that 46 percent of voters believe that he has strong leadership qualities, while 47 percent feel the opposite. In May, the ratio was 59 percent in the affirmative and 37 percent negative. And 52 percent of voters said that he is honest and trustworthy, while 35 percent said he is not — compared with 59 to 31 percent in May.
"Leave out the one big question — the reelection matchup — and this is a pretty bad poll for Mayor Bill de Blasio," Maurice Carroll, assistant director of the Quinnipiac University Poll, said. "Does the mayor deserve reelection? Voters are split right down the middle. Is he doing a good job as mayor? 'Yes,' says 50 percent of voters. On the standard traits – leadership, empathy and honesty — all the numbers are down."
Approval ratings on his handling of key issues is also down since May, with voters split 47 to 45 percent on his handling of crime; 45 to 39 percent on public schools; 51 to 30 percent on political corruption; and 63 to 29 percent on poverty and homelessness.
Quinnipiac University surveyed 877 city voters with a margin of error of 4.1 percentage points from July 20 to 26, which includes design effect.
The poll found that his support is strongest among Democrats, women, black and Hispanic voters.
Sixty-six percent of Democrats approve of the way he is handling his job as mayor, compared to 19 percent of Republicans and 34 percent of independents. Women approve of his work at a rate of 55 percent, compared to 45 percent of men. And 69 percent of black voters and 56 percent of Hispanic voters approve, compared to a mere 35 percent of white voters.
But he still tops Malliotakis with 57 percent of voters surveyed saying that they would vote for him,  while 22 percent said they would vote for Malliotakis—if they were the only two candidates. In May, de Blasio had a 64 to 21 percent Democratic lead.
"But on the one question that matters in this election year — de Blasio vs. Assembly member Nicole Malliotakis — Hizzoner is a better than a 2-1 winner," Carroll continued.
Staten Island is the only borough where voters favored Malliotakis over de Blasio, with 57 percent of voters saying they would vote for her, compared with 33 percent for de Blasio. Democrats and Republicans said they have not heard enough about her to be able to say whether their opinion of her is favorable or unfavorable — 72 percent of Republicans and 80 percent of Democrats.
Forty-nine percent of voters said they had a favorable opinion of de Blasio, but mainly among Democrats, 65 percent of whom said had a favorable opinion of him, compared with 34 percent of independent voters and 10 percent of Republican voters.
When former NYPD detective Bo Dietl is brought into the mix as an independent candidate, 52 percent of voters said they would vote for de Blasio, while 11 percent were for Dietl and 15 percent for Malliotakis.
Still, voters are split on whether de Blasio deserves reelection, with 46 percent saying "yes" and another 46 percent saying "no." This represents a significant change from May, when 57 percent of voters said that he deserved reelection, compared to 35 percent who did not think he deserved it.
The findings come on the heels of de Blasio asking the New York City Campaign Finance Board for more than $2 million in taxpayer-funded matching funds for the Democratic primary.
They also come amid the mounting crisis afflicting the New York City subway system. After MTA Chairman Joe Lhota proposed an $836 million immediate plan to fix the subway system whose cost the city and the state would split, the governor said he would release funds to fulfill the state commitment. But de Blasio asserted that the money for the MTA's subway turnaround plan is already in Cuomo's budget, noting that New Yorkers have made a substantial contribution via taxes from MTA riders as well as the $2.5 billion that the city gave to the state.
The MTA is a state-run agency, thus falling under Cuomo's authority—and most New Yorkers blame him for the subway crisis, according to another recent Quinnipiac University poll.