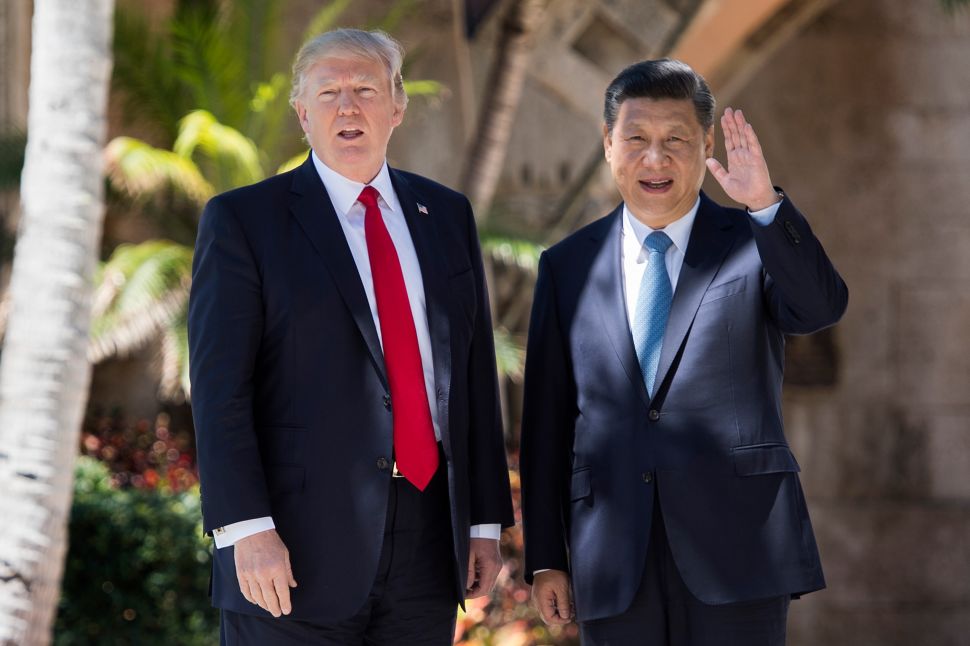 Let's be adventurous and entertain a story that is surely fake news: a secret American plan for war with China that involves Walmart, Target, J.C. Penney and a dozen other retail giants. Might the American response to a naval confrontation in the South China Sea involve padlocking these top retail chains, causing the instant collapse of the Chinese economy?
That the above could be taken seriously even for a second underscores the American dilemma when dealing with China. To recap the current situation: The Trump administration is in a multi-pronged fight with China. There are battles over dumped steel, islands in the South China Sea and the U.S. Navy's presence therein, arms sales to Taiwan, and the biggest of them all: the North Korean nuclear threat and its recent firing of an intercontinental ballistic missile that could reach Alaska.
The bromance at Mar-a-Lago between Donald Trump and Chinese President Xi Jinping seems to have been a one-weekend stand. Insults and threats are now the order of the day. Candidate Trump, who accused China of the "rape" of America, seems to be back.
To understand the full scope of the mess, one must look at the two countries' economies, which are so intertwined they are almost indistinguishable.
China has invested hundreds of billions of dollars in American real estate and companies and has over 300,000 students studying at American universities. Merchandise made in China is ubiquitous in the United States.
Trump ran on an anti-China platform. He believes the expansion of the Chinese balloon was made possible by the deflation of the American one. His appointments of Peter Navarro and Robert Lighthizer as his trade warriors signify the seriousness of his concern.
As if taken right out of The Art of the Deal's playbook, Trump was willing to lower the flames of his China-bashing policies if it would help reign in North Korea. He tweeted as much in April, asking "Why would I call China a currency manipulator when they are working with us on the North Korean problem?" Clearly those talks went nowhere.
Trump is not wrong in assessing North Korea as an existential threat. Just one of their ever-multiplying nuclear weapons would end all of our lives. The Congressional Research Service estimates Kim Jong-un currently has enough material for about six nuclear bombs. It is not unreasonable to think that could be doubled in the near future. It does not matter whether a nuclear weapon is used on South Korea, Japan, or the American military base in Guam. It would make 9/11 look like Columbine or San Bernardino.
The Chinese do not seem to have been persuaded by Trump on just about anything. Cheap Chinese steel continues to pour into the United States. Ford just announced that the Focus will be built in China. So much for "America First." Millions of Americans are heading to AMC Theaters this summer, which are owned by the Chinese. The recent deals on credit cards and beef so grandiosely announced by Wilbur Ross now seem like a small sideshow tent at a very large circus.
Someone is bluffing in this poker game. Either it's Xi or it's Trump. Someone is more dependent on the other but not willing to admit it. It's hard to believe that Apple and thousands of other Silicon Valley-based manufacturers could survive a day with a serious Chinese-American conflagration. Conversely, the Chinese government, which is always worried about social unrest, probably could not tolerate an American embargo for one day. Tens of millions would be laid off if Walmart could not order merchandise from Chinese factories, where so many of its products are made. Even Ivanka Trump's clothing sales would take a very hard hit.
The bottom line is that the two countries are so interdependent that even the smallest of military conflicts would be disastrous. The question is: Who is going to blink first? How could an agreement be reached for Chinese steel to remain in China or be dumped elsewhere? Who is going to understand that the American Navy is living on borrowed money and that, as with 20th century Great Britain, a debtor nation is in no position to police the world? This is especially true if the creditor nation (China) is your adversary. America is literally using Chinese credit to threaten Chinese territorial ambitions. Does that make sense to you?
My guess is that Trump will bluff and blunder until his team conducts a reassessment of the American-Chinese relationship, which will likely entail measured policy changes in order to avoid the risk of a dangerous escalation. This would be the best case scenario. For decades, China has used American hopes for Chinese integration into Western norms to delay and deny political and economic reforms. During this time, they have used the West's naiveté to build an economic, political and military war chest that is now being activated to threaten American interests.
Padlocking Walmart is a silly strategy in confronting China. However, it does highlight the absurdity of the world's two top economies working to undermine each other. True areas of national interest must be identified and red lines drawn. Otherwise, the growing conflict could lead to a true disaster.