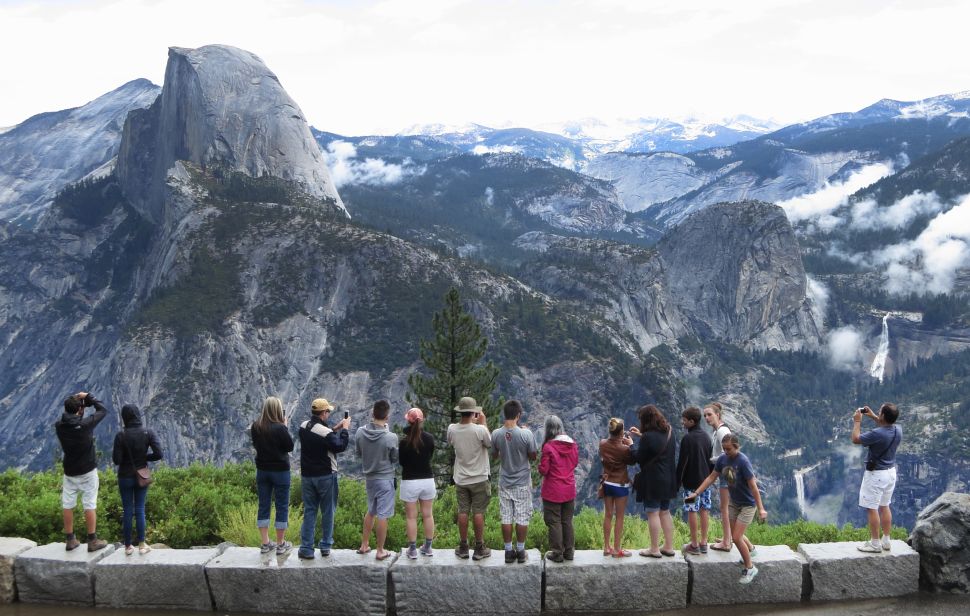 The National Park Service celebrated its centennial year in 2016, but it's facing a variety of threats imposed by the Trump administration that could undermine forever what's been dubbed America's Best Idea.
On July 10, the public comment window closed on the executive order Donald Trump signed on April 26 that stipulates Secretary of the Interior Ryan Zinke must review about 30 national monuments to determine if they should be rescinded, resized, or changed in any way. Since the Antiquities Act—which granted presidents the authority to reserve land and declare national monuments—was signed into law in June 1906, no national monument has been revoked. If Secretary Zinke uses Trump's executive order to do so, it would signal the National Parks System is in unprecedented peril. Reuters reported that Trump's executive order is part of a push to open areas around national monuments to drilling, mining and development under the false pretense that these protected lands were initially reserved in a dubious "federal land grab." Land developers and special interests have historically relied on similar claims to obstruct the creation of National Parks.
The National Park System was founded on the idea that the country's most pristine landscapes, historically significant sites and ecologically vital areas should be protected in perpetuity and managed for the enjoyment of current and future generations without prejudice. It was created to counter special interests and corporations that sought to exploit these parks and their resources for profit. Yellowstone National Park was exploited by railroad companies looking to increase profits in the region and expedite development into the West, and George Bird Grennell, the eventual founder of the Audubon Society, led efforts to protect the park and its wildlife in the 1800s. At the same time, famed environmentalist John Muir devoted his life to protect Yosemite National Park and the Sierra Nevada Mountain region from exploitation and destruction. In response to the voracious development of the Industrial Revolution, Americans across the country fought to save nature from destruction. Every national park has its own unique story.
The Trump administration is threatening these American ideals in its attempts to scale back existing National Parks. Secretary of the Interior Ryan Zinke recently put forth a proposal that campgrounds should be privatized on national land. "As the secretary, I don't want to be in the business of running campgrounds," Zinke said in a speech to the Recreation Vehicle Industry Association in June 2017. "My folks will never be as good as you are. We are going to have more public-private partnerships soon. I think that's where the industry should be going."
Rather than provide the National Park Service with adequate resources, the Trump Administration is trying to cut corners by opening up parks to corporations that will exploit them for profit. The National Park Service already yields $10 for every public dollar invested in them and provides a $32 billion economic benefit and 295,000 jobs. According to the National Resources Defense Council, Trump's proposed budget would eliminate 1,200 National Park Service jobs, increase the maintenance backlog of the National Park System by another $30 million, and reduce the agency's budget by 13 percent.
After the 2011 Citizen's United ruling opened the floodgates for unlimited political donations, the National Park System is one of the few areas of government left that truly belongs to the public and is free from commercial influence. Niagara Falls epitomizes an unprotected natural landmark being ruined by commercial interests. As a result, it has been dubbed "a national embarrassment."
Everything the National Park System was created to prevent from happening is being threatened. Earlier this year, Congressman Jason Chaffetz proposed a bill that would have initiated the sale of federal public lands in several states his office claimed were deemed "disposable." He faced backlash not just from conservationists but from all Americans who value these lands. He ultimately withdrew the bill, but now Secretary Zinke and President Trump are pushing for similar proposals that would drastically damage the National Park Service. America's best idea could soon turn into America's greatest embarrassment.