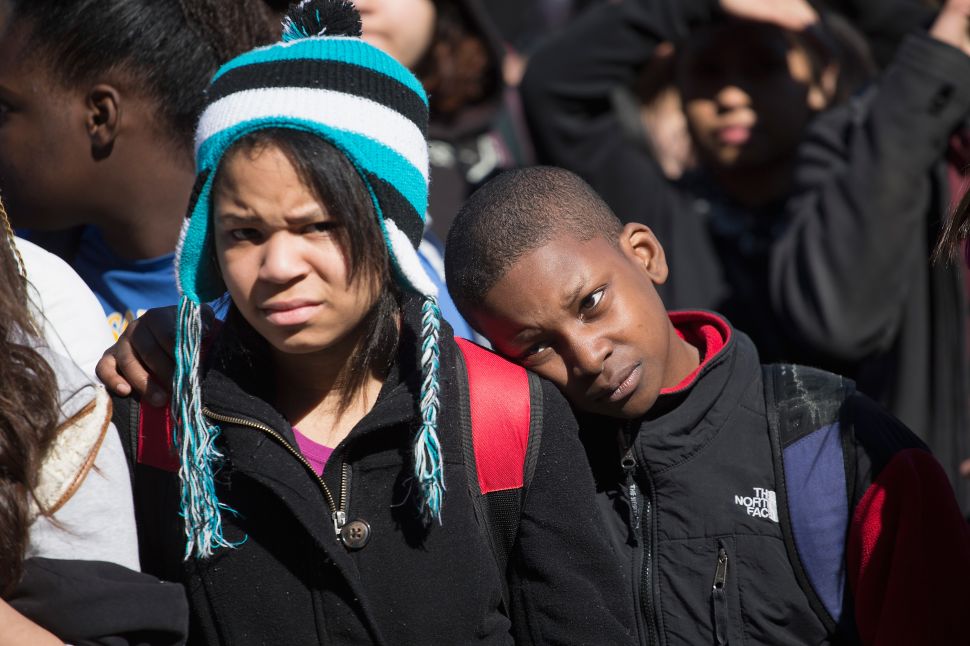 More than 15 years ago, George W. Bush signed into law the bipartisan "No Child Left Behind Act," which relied heavily on high-stakes standardized testing. Even though the bill was replaced by the "Every Student Succeeds Act," those high stakes standardized tests could still reemerge at the state level. But does all of this standardized testing actually improve student performance?
No Child Left Behind Act
The No Child Left Behind (NCLB) Act called for a number of changes and reforms, but its signature item was the standardized testing rigor. Standardized tests existed before NCLB, but the big difference was that NCLB bureaucrats could base their decisions on them; Test scores were used not only to evaluate performance but also to decide whether a school would keep its doors open.
NCLB supporters started their evaluation in 2005 and claimed there was progress between 2000 and 2005 (ignoring 2003, for some reason). Researchers Thomas Dee and Brian A. Jacob found gains for 4th grade math (about 25 percent of the improvement could be attributed to NCLB) from 1997 to 2007, slight but insignificant gains in 8th grade math, and no change in reading scores over a decade for fourth or eighth grade students. Even setting the bar low didn't help.
Comparing The Results: NCLB vs. Local Control
The Pew Research Center just released data from the National Assessment of Educational Progress (NAEP), dubbed "The Nation's Report Card" from 1990 to 2015 in math, the one area where NCLB could possibly count any success based on past reports. And here's what we learned.
Among 4th graders in math, we had five percent considered "advanced" in 2005. Today, it's seven percent. In 2005, 31 percent were graded "proficient." Today, 33 percent are proficient. Back in 2005, 44 percent were considered "basic" in math. Today, that number is 42 percent. Finally, 20 percent were judged to be below basic in math. Now, that number has fallen to 18 percent.
It's a similar story for 8th graders. In 2005, six percent were advanced; in 2015, eight percent are. In 2005, 24 percent were proficient; in 2015, it's 25 percent. Basic scores went from 39 percent to 37 percent. Finally, for those below basic, it's fallen from 31 percent in 2005 to 29 percent in 2015. In other words, there has been very little change.
Now, consider the story of what happened before NCLB and the high-stakes standardized testing of NCLB. For 4th graders in math in 1990, only 1 percent of students were advanced, but by 2003, that number was four percent. The number of proficient fourth graders in 1990 was 12 percent; by 2003, that number had more than doubled to 29 percent. Those 4th graders with a basic understanding of math climbed from 37 percent in 1990 to 45 percent in 2003. Meanwhile, the below basic student percentage among 4th graders in math (a whopping 50 percent in 1990) fell to less than half that number by 2003 (23 percent), compared to the tiny drop during NCLB.
It was a similar story for 8th grade math students between 1990 and 2003. Two percent were advanced in 1990, while five percent were by 2003. The number of proficient students increased from 13 percent to nearly double that number (23 percent) by 2003. Those 8th graders with a basic understanding of math did grow only slightly (37 percent to 39 percent) over those 13 years. But those 8th graders considered "below basic" in math fell dramatically from 48 percent from 1990 to 32 percent in 2003. For NCLB kids, it was only a two-point drop from 2005 to 2015 (31% to 29%).
Why High-Stakes Standardized Testing Produced Mediocre Results
There are several reasons for this. First of all, early NCLB gains reported in 2005 are mostly attributed to improvements before NCLB took effect (from 2000 to 2003) according to NAEP data provided by the Pew Research Center. Second, as Lisa Guisbond, Monty Neill and Bob Schaeffer found, NCLB did not fund schools or provide improvements, but merely gave options for closing down failing schools, instead of helping them succeed. Third, as Diane Ravitch has pointed out in her book Reign of Error, public schools have taken to teach to the test or do away with non-tested courses. These creative classes are the very ones that are available in good private schools (not part of the NCLB), which helps their students succeed.
But there are two fundamental reasons why NCLB showed so few gains, especially as compared to the pre-standardized testing era. As a student from that era, standardized tests held me accountable. If I did poorly in class and on those tests, I had to repeat the material over the summer, losing a big chunk of sports, play time and relaxation. NCLB took responsibility away from the students and put it on the teachers and administrators. That's why you see teacher and principal cheating scandals that you never used to ever see, as documented by the Freakonomics team. "You have to pass me no matter what," a slacking student told my wife, a teacher, years ago in a public school as she tried to motivate him to do better. "The law says 'no child left behind.'"
The second problem with standardized testing is that standardized tests are only one tool of judging student success and far from being the best one in the shed. Many of our students admit that they've written few essays and papers before coming to college due to a steady diet of standardized tests. Such assignments don't help with performance tasks and active learning assignments. Think how much of your daily life is actually assisted by skill you can demonstrate on a standardized test.
Take the case of Singapore, also listed by the Pew Research Center as scoring the best in international tests. For the sake of comparison, the U.S. is below average in math and about average in science and reading (as in the average of countries in the Organization for Economic Cooperation and Development, or developed world). Yet Singapore looks enviously at Silicon Valley, unable to produce its own. The best tech startups are created abroad. Children are taught to be "learning machines" but not innovators. The system, with its emphasis on drilling, is found to undermine creativity. As the United States seeks to emulate Singapore's performance on "STEM" standardized tests, imagine how many mathematicians and scientists we'll lose in the process.
The Good And Bad News About Standardized Tests
Stung by criticisms of the No Child Left Behind (NCLB) Act, Congress voted to repeal the bill on April 30, 2015, in the same bipartisan fashion in which it was adopted. That's the good news.
However, in its place, Congress passed the bill "Every Student Succeeds Act" on December 9, 2015, and it was signed into law by Barack Obama the following day. Supporters claim it gives states more leeway in setting student standards. Opponents contend that it keeps standardized testing in place. And though punishments in the form of sanctions and school closings are not mandated like they were in NCLB, they could be imposed by states.
"I'm disappointed that the law doesn't have the consequences," bemoaned former Education Secretary Margaret Spellings in an interview with the New York Times. "We are now in the era of local control once again… We've tried the local control approach before, and we saw pretty pitiful results." Actually, the NAEP showed quite the opposite, as demonstrated here. The best gains occurred before her NCLB was implemented, not afterwards.
But one thing is clear: we're better off without the high-stakes standardized testing that we saw from NCLB. Now it's up to concerned parents, students, teachers and administrators that state legislators and politicians don't do to their state what NCLB did to the country.
John A. Tures is a professor of political science at LaGrange College in LaGrange, Ga. He can be reached at jtures@lagrange.edu. His Twitter account is JohnTures2.