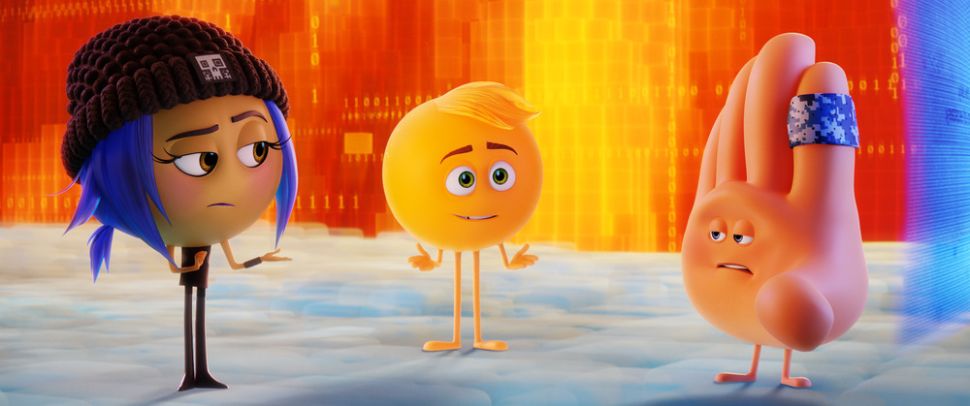 All of the pieces are in place for Sony's The Emoji Movie to breakout at the box office this weekend. It's only competition is Atomic Blonde (which Focus Features is hoping will be the next John Wick) and Warner Bros.' Dunkirk, both of which are targeting different demographics. Plus, The Emoji Movie is an original four-quadrant animation picture which usually carries some good legs.
There's just one problem: the film may be awful.
It's unclear what, if any, impact negative reviews may have on the T.J. Miller-led Emoji Movie given that young children aren't known for their dedication to film criticism. They see something they like, they go for it and take their parents along for the ride. Earlier this week, Variety reported that the movie was tracking for a rock solid $30 million weekend from 4,069 theaters. Sony has kept their expectations around the $20 million mark.
Let's say it falls on the higher end of that range, it could play like another recent Sony animation pic. Cloudy with a Chance of Meatballs opened to $30.3 million back in 2009 before going on to earn $243 million worldwide, according to Box Office Mojo. What was particularly impressive was that it dropped just 17.4% in its second week and legged it out in theaters for four and a half months. If The Emoji Movie can match that opening weekend, it's looking at a relatively barren August in terms of competition which means *Thumbs Up Emoji* for its box office prospects (sorry).
However, Cloudy was met with with a warm and mouth-watering embrace from fans and critics and currently boasts an 87% on Rotten Tomatoes. The Emoji Movie? Not so much (0%).
So let's say the film opens closer to Sony's estimate of $20 million. Now you're looking at a case more similar to Fox's Captain Underpants: The First Epic Movie, which opened to $23.8 million back in June. As it stands now, the film has made just $82.2 million worldwide. While The Emoji Movie should perform better than Captain Underpants's paltry $10.1 million overseas, the latter had legions of fans thanks to the popular book series while the former is a vague concept in terms of branding.
Can The Emoji Movie defy expectations and breakout? Of course. With a reported production budget of "just" $50 million, it doesn't need to do Pixar money. Studios generally like to triple their investment, so Sony executives could be doing cartwheels if The Emjoi Movie tops out at $175 million despite the brutal reviews. But if the film opens any lower than the studio's conservative $20 million expectations, you can bet we won't be getting an Emoji Movie sequel.