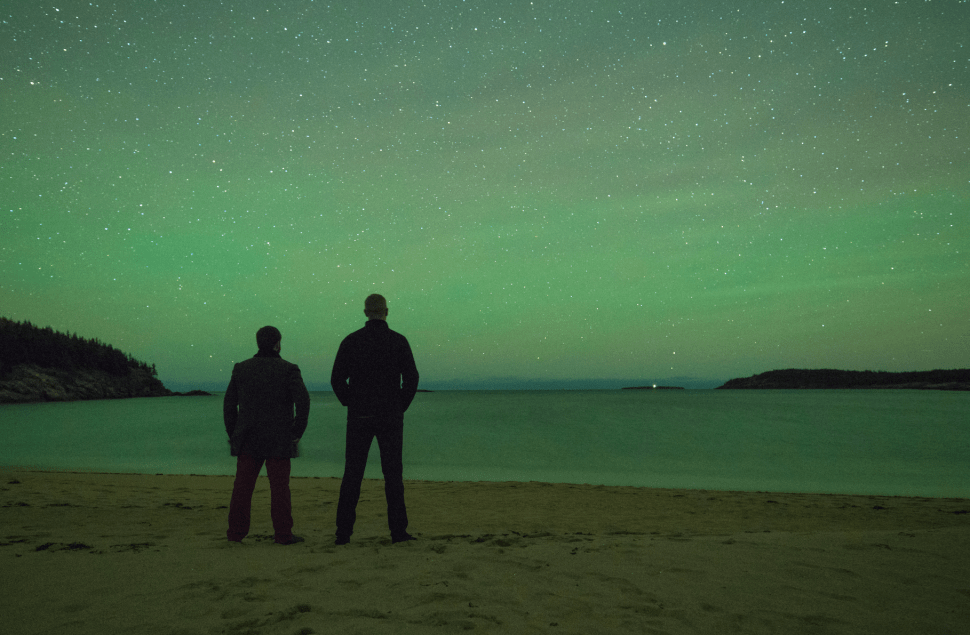 Endless Field is a duo project from New York comprised of guitarist Jesse Lewis and bassist Ike Sturm. The pair first met over a decade ago when they were both employed on a bandstand backing such touring acts as Brenda Earle Stokes and violinist Sara Caswell. But off the clock the duo conspired on a highly distinctive style of jazz they call "acoustic fingerstyle ambient music." The end result is their beguiling eponymous debut on the forward thinking jazz indie Biophilia Records and flanked by an impressive list of guests that include Donny McCaslin, Ingrid Jensen, Nadje Noordhuis, Chris Dingman, Fabian Almazan and Rich Stein.
That Lewis and Sturm chose an eco-conscious imprint as Biophilia to release their album speaks volumes to the sounds inside this calming and centered collection of compositions.
Any listener of music penitent enough to appreciate the genius of both Pat Metheny and the Windham Hill label will indeed experience much to love on Endless Field, a record which finds as much influence in the serenity of their natural environs in the lower Hudson Valley as it does their favorite Ralph Towner and Bill Frisell LPs on ECM.
In this exclusive interview, Lewis and Sturm speak to the aspects of healing, expression and activism that imbues this wholly immersive, calming listening experience.
Endless Field is an album inspired by nature. Being that both of you are from New York, I'd love to hear about some of the places in the Empire State that helped inform the record.
Many of the songs on the album were created during a period of time that we spent writing music together up in the Catskills. We experimented with new sounds and material for 12 hours a day up in a remote cabin. We played outside and explored the local scenic trails, which inspired us to shoot our videos in the same region a year later. We both spend a lot of time in nature and often plan musical ideas while running or hiking near our homes in Croton on Hudson. We are inspired and continually renewed by many of the streams, lakes, mountains and trails near the Hudson River. Some of our favorite trails are at Teatown Lake Reservation in Ossining, NY.
What is it, in your view, about the natural environment that helps define acoustic fingerstyle ambient music?
The natural environment can be a calming place, helping us to become reconnected to the essential parts of life. The silence often found in the wild gives us a space to focus and listen more closely to the sounds that are driving us. Acoustic fingerstyle music or ambient music grows out of that same reflective place, imitating the undulating rhythms and echoes of the natural world. The quiet nature of this music allows the sounds of the earth and its creatures to blend with the instruments, deepening our relationship with the world around us. We seek to draw musical connections to landscapes we encounter, from the calm placidity of water to the wildness of the forests and mountains we explore.
I'd love to hear about how you went about selecting the guests featured on the album. How far back do you guys go with these great folks?
Ike: We feel a strong connection to all of the musicians that appear on the album. They are our close-knit community and, in some cases, even family! Chris and Fabian are great friends; we've been playing with them for many years. They also make up the rhythm section of Ike's current solo project, "Evergreen." Nadje Noordhuis is another artist we've known for at least 10 years. She has such a warm personality, and it comes through in every note that she plays. Rich Stein is somebody that we've only known for a short period of time. We met him on one of Jesse's "Atticus Live" shows and we were blown away by his creativity, spirit, and abundance of different sounds. We made an intentional decision to use percussion instead of drum set on this album to achieve a sense of clarity and transparency with our acoustic instruments. Rich played everything from brooms to toy cars on our album and probably brought over 50 different instruments to the session. Ike's wife, Misty Ann Sturm, has an incredible, angelic voice that we knew we were hearing on the album. We've admired Ingrid as an absolutely phenomenal improviser for many years and now we enjoy spending time with her family regularly as our neighbors. Donny has worked with us on different projects for nearly 10 years, and it's a privilege to work with an artist who is such a giant in our field.
Tell me about how you came to choose Biophilia as the label to put out your debut.
Jesse: We feel a strong connection to everything that Biophilia Records stands for, from its environmental mission to the community of artists that are involved with the label. Through the volunteering, outreach and environmental cleanup projects that we do through the label, we feel like we're making a positive impact in a tangible way. At the same time, it helps connect a new, passionate audience to the music we're making.
Where did you shoot the cover?
Ike: Last October, we traveled to Acadia National Park in Maine to take these photos with a fantastic astrophotographer named Christopher Georgia. We had never met him, but had only seen some of his nature photos online. We reached out to him to ask whether he ever shot people as a part of these stunning scenes at night. He told us that we would need to stand completely still for a minute in freezing cold temperatures. He also told us we needed completely clear skies and low wind. The weather had not been cooperating and we weren't sure if we would be able to do the shoot. One morning he called us and said, "If you want to do this, tonight's the night. Meet me at the end of pier 63 in Bar Harbor, Maine at 9pm." We ended up shooting photos all night long under the stars until sunrise. It was one of the most amazing experiences we've had and was a huge inspiration for our music.
As a recent convert to the Windham Hill sound, I'll be the first to admit it took me a while to come around to the label initially associating it with like the soundtrack to a candle shop in Vermont. How did you come to appreciate the label?
Ike: Musicians like Michael Hedges have been influential, especially to Jesse's guitar playing. The innovations, moods and techniques introduced by Hedges have made their way into some of the music we create.
What Pat Metheny album is your favorite and why?
Jesse: I love so much of Pat's music, but if I had to pick only one album it would be Bright Size Life. That was the first album of his that I heard when I was in high school, and it changed everything for me. I love the energy of that group and the way that they interact with each other. There's something about the sound of that album that brings me joy from the first note.
Ike: One of my early musical memories was hearing "Still Life (Talking)," which my dad played constantly on a family road trip to Yellowstone and Yosemite National Parks. The most stunning landscapes I had ever seen were indelibly connected to Metheny's soaring music. It remains a soundtrack in my mind when I think about my childhood and seeing those incredible places for the first time.
You also cite Nirvana as an influence. In what way does the music of Kurt Cobain inform Endless Field?
Jesse: Kurt Cobain and the music of Nirvana played a pivotal role in my development as a musician. It was Nirvana's music that inspired me to play the guitar. I just loved the sound, spirit and energy of that music. While I still do play a lot of music in various projects where you can more easily hear the Nirvana influence, I'd say it's probably not too much of an influence on the music of Endless Field. I never really thought of Nirvana's music as being chaotic. For me, listening to their music is more of a cathartic experience. Though the music is powerful and loud, it's tonally pleasing to hear.
Does Endless Field have a loud LP in them?
Jesse: I don't think so. For me, Endless Field allows me to quiet down and explore subtle creativity. I play a lot of "loud" music and playing as an acoustic duo is something that I love about this band. That being said, I hope that people listen to our music turned up really loud. Even though I would say our overall sound is inviting, the music itself is very challenging to play and is made for people to actively listen to it.
Ike: Ha—maybe! I've been listening to more electric groove-based music and world music indigenous to other cultures around the world. After realizing our dream for this project, I'm feeling drawn into some different territory, and it will be interesting to see where we venture next. I love the way music expresses the things we're yearning for subconsciously. As the world changes so rapidly around us, it's hard to predict how we will respond artistically in the future.
How can ambient acoustic music in your view be used therapeutically?
Jesse: Anything that encourages people to breathe, relax, reflect, listen or find quiet is a positive thing. We feel that ambient acoustic music can be a gateway to help people get to that place of stillness. There's power in humans creating vibrations from instruments carved by craftspeople. Centuries of knowledge and traditions have shaped the wooden instruments we play, relating us to diverse cultures around the world. As we grow in connectedness to others, we may experience more peace within ourselves and our communities.
How can this kind of music be used as a form of protest or political commentary to raise awareness about the current administration's war against the EPA?
Ike: We attempt to give voice to the music we are hearing deep within us. As we try to be good caretakers of our environment, we seek better and just practices for our families, our nation and our planet. For every way that the EPA's plans for sustainability are threatened, we must call attention to what is at stake for our world, communicating with those around us. We hope that, through creating thoughtful and reflective music, we can inspire others to defend the earth for future generations.