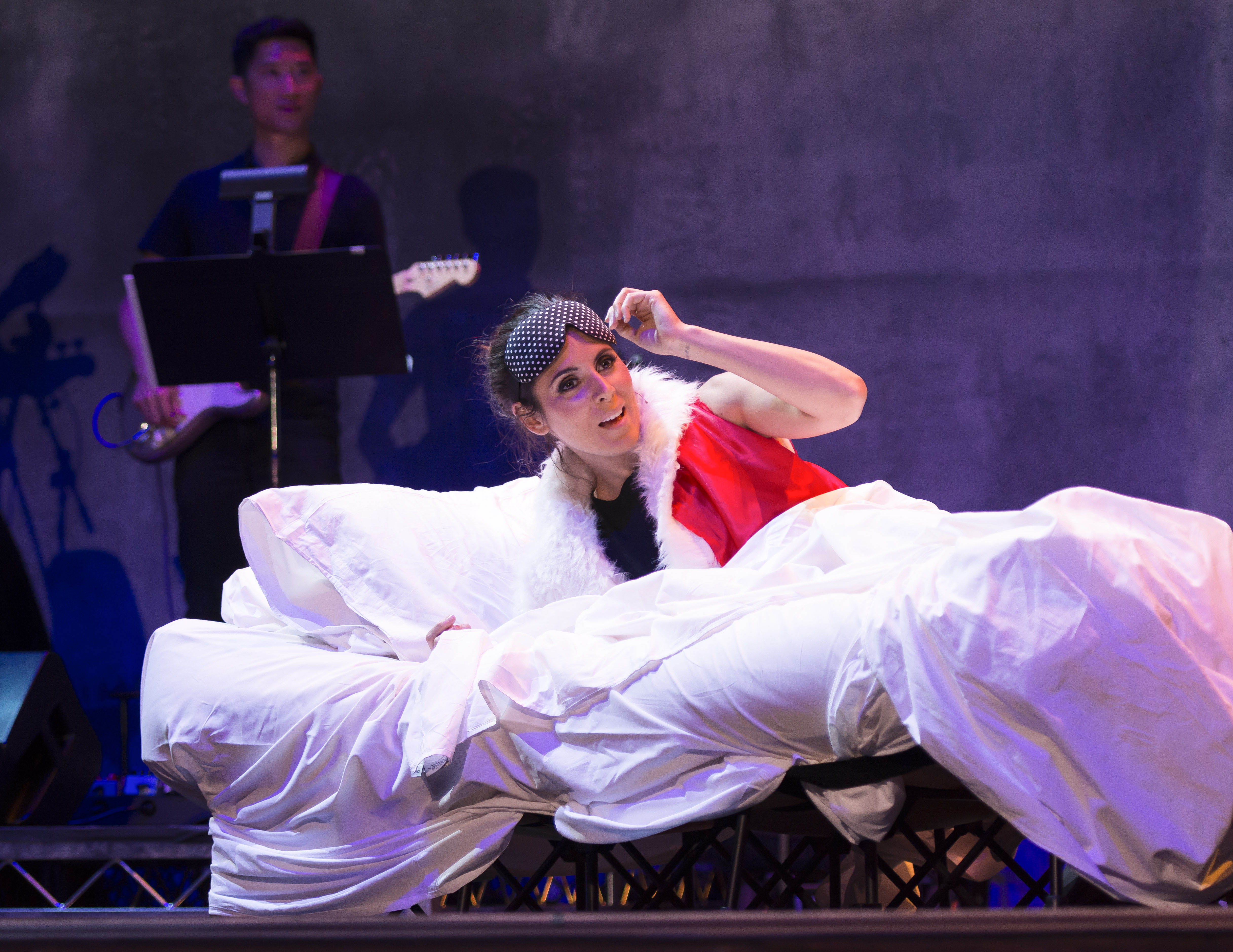 Welcome back to Entertaining AF, our celebrity column from Hollywood reporter Emily Bicks.
There's been a noticeable influx of New Yorkers moving to Los Angeles over the past year, maybe because of the lower rent or perhaps the nice weather? Who knows. Whatever the reason, it's not a crazy coincidence that in that same time span a number of "only in New York" experiences have also cropped up in the City of Angels.
Catch L.A. is the current "it" restaurant. Hamilton opens up at The Pantages Theatre in August. There's a Seraphina on Sunset Boulevard serving up the best prosciutto and burrata plate outside of Italy, and with east coast chains such as Shake Shake and Dunkin' Donuts spreading their wings, L.A. is just one functional, city-wide Subway system away from being an always-sunny version of the Big Apple. But that will most likely never come to fruition, so let's not get carried away.
In the past week, however, two events that were once exclusive to New York City residents became accessible to Angelenos: the official opening of the luxuriously hip Dream Hotel, and the West Coast premiere of The 24 Hour Musicals. As a former New Yorker, this is all extremely exciting. I don't miss the seasons, but there's no substitute for the thrill of seeing a live, one-night only theatre performance or dining on a rooftop that serves fantastic food late into the evening.
I can't think of a more fitting host for the first 24 Hour Musicals in L.A. than downtown's United Artists Theatre. Featuring writers, directors, composers, choreographers and musicians, all of whom come together to prepare a piece of musical theater in the span of a day, it's an exhilarating, albeit nerve wracking feat for everyone involved. While the results were varied for each of the four 15-minute musicals presented on stage, overall, Monday night's show was full of irreverent fun and big laughs.
Proceeds from the one-night-only performance benefitted the Dramatists Guild of America's Legal Defense Fund—an advocacy group that helps support freedom of expression for artists on stages around the country—so the star power turnout was strong. Emmy award winner Wayne Brady played a spunky Apple "angel" genius opposite RuPaul's Drag Race judge Michelle Visage's "devil" genius. And while their sexual chemistry with one another was tepid at best, they were each perfectly awful guides in helping Garrett Clayton (of Hairspray Live!) decide whether or not to seal the deal with maybe girlfriend Amanda Seales (Insecure). The lack of rehearsal time was pretty apparent during this musical titled Greek to Me, but the sensational vocal of Seales served as its saving grace.
Wash Your Hands, the second show of the evening, felt even more erratic. For some reason a unicorn and a nurse with a horse head were aiding an ill President Andrew Garfield, played by Jonah Platt. Were it not for Platt's dominating and affable stage presence this would have easily been a forgettable segment.
But, given the event's nearly impossible set-up, incoherent plot lines can be excused. So too do the actor's get a pass for forgetting lines, which many did. In a play when a performer forgets lines, usually he or she has a few beats to make something up, or a fellow actor might swoop in and save them. But that's not quite possible in a musical while one is mid-verse. Only former Glee actress Ashley Fink pulled off this snafu with impressive flair.
"Um, did everyone hear that Melissa McCarthy messed up during The 24 Hour Plays?" she riffed.
'Napped! opened up the second act with a much needed dose of energy. With music and lyrics by Matt Schatz and booky by J. Holtham, this comedy had three aspiring kidnappers attempting to hold TV star, played by Jamie-Lynn Sigler, at ransom. It was an absolute joy to watch Retta as the thievery ring leader, who undoubtedly stole the show, competing with the surprise appearance of Sigler's baby bump (Congratulations on baby No. 2!). The audience was barely phased when she forgot her words, and started belting out random noises until the music ran out, it barely phased me. Retta could sing nonsensical lyrics on stage all night and it would be captivating.
Alicia Witt's dreamy number about one day moving to Sedona also had the audience in stitches during 'Napped!. Grace Parra, in her role as the assistant to Sigler's reality star, performed a rap solo that was so impressive I want her to become best friends with Nicki Minaj so that they can collaborate on the next anthem of summer. (I would also really love to see Retta play Matron Mama Morton in Chicago, but I digress.)
The final musical of the night, Shoshanna and Her Lovers, was the most cohesive and most entertaining. With music and lyrics by The Social Network's Jesse Eisenberg and book by Liz Meriwether, the show featured "four lesbian sisters" who discover that they are all dating the same girl, Shoshana Bean.
Playing the jilted lovers, Daredevil's Deborah Ann Woll, Sleepy Hollow's Janina Gavankar, Herizen Guardiola from The Get Down, and "special adopted sister" Andrew Leeds closed out the evening out with pomp and circumstance. Shoshanna's vocal solo lamenting never having been a bridesmaid, but "always the bride," brought the house to their feet.
During the post-show celebration, as the sparkling rosé flowed and cookies from Milk Jar were passed out, Michelle Visage hugged her BFF, RuPaul, who was on hand for support, while Jesse Eisenberg congratulated his cast members, thanking them for bringing his music to life on stage. It was easy to see the joy emanating from everyone who contributed to the night's entertainment—all happy to have made it through such a taxing, yet worthy event. My hope is that The 24 Hour Musicals in L.A. becomes a yearly occasion, and that Retta is involved every time.
A few days prior to the The 24-Hour Musicals premiere, the Dream Hotel, which has two locations in New York City, opened up its doors for the first time in California. This massive structure in the heart of Hollywood includes restaurants TAO, Beauty & Essex, and Lucchini Pizzeria; the nightclub Avenue; and exclusive rooftop pool bar and grille The Highlight Room.
Similar to summer in New York City, any rooftop in Los Angeles is a highly sought after destination. Except we can dine on them all year round. With the Hollywood sign in clear sight of The Highlight Room's 360 degree views, this multi-faceted boutique pool-deck will surely be a new favorite in town. Even the unisex bathrooms offer an unobstructed panoramic of the cityscape.
Venues with such great locations many times skimp on the quality of food, but chef Marc Marrone has curated a California-friendly menu that includes fresh oysters, thin and crispy flatbread pizzas, hamachi crudo and an array of main entree selections. I ordered the brick oven chicken with a mustard salsa verde, and it was very tasty.
Their cocktail list is also impressive. Bubbles & Berries, made with Moet Imperial Champagne, Belvedere vodka, St. Germain liqueur and fresh strawberries was like drinking summer on ice. I had two… O.K., three. And they made up for the fact that The Highlight Room is still finding their rhythm. When the kitchen closes each night is not yet set in stone, which can make booking reservations confusing, and there are the expected hiccups that come with a new staff still becoming familiar with the menu.
Even though, I've lived out in L.A. for almost a decade, I find myself musing every few months or so on whether or not I should move back to New York, a place I still consider to be the best city in the world. And even though Los Angeles will always be filled with industry folk, with these coast mainstays continuing the infiltrate the city, my argument for leaving is growing weaker. Now, if only Elon Musk could get those self-driving cars street legal and on the market already…