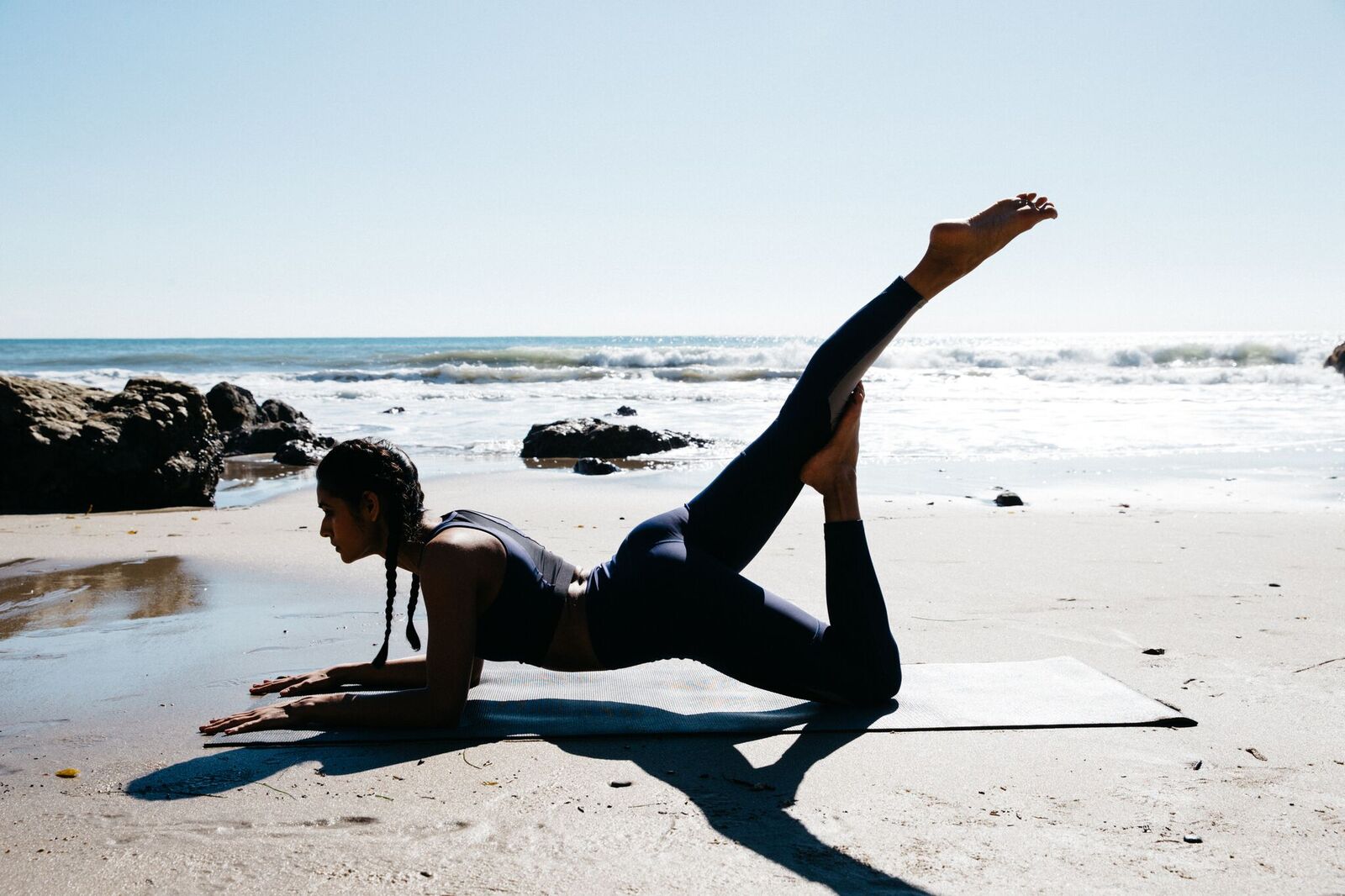 "The vibrations remind you to square your hips and ground down through the ankle," Wearable X cofounder and CEO Billie Whitehouse explained while upside down, quickly launching into a sequence of yoga poses. Her discreetly tech-infused Nadi X leggings are programmed to correct yoga poses, with vibrations acting as prompts. Just press play.
While the leggings in question look like regular workout pants, with on-trend color blocking similar to Outdoor Voices and ADAY, they are in fact quite different—and not only because of their much higher price point. The pants are linked to an app and they monitor the body at specific pulse points. A small clip-on charger is the only aspect that might give the pants away as being out of the ordinary; they're even machine washable.
The pants sense what pose you're in and sync with the app, they then vibrate at the ankles and lower back, to remind yogis to straighten their legs or lunge deeper. "It isn't about right and wrongs per se, it's about bringing awareness," Whitehouse demonstrated in Warrior III.
Before Whitehouse began designing the leggings, she was told this type of technology didn't exist yet. The first designs had pockets to hold the functional pieces, but eventually her team made them invisible and entirely integrated. Whitehouse was confident her concept could come to fruition, based on her previous experience merging tech and style. The young entrepreneur's company previously built Fundawear, a product she described as "vibrating knickers for couples in long distance relationships." While the yoga pants vibrate, their purpose is far different than Fundawear's.
The coordinating Nadi X app features a pose library where beginners can practice simple poses synced to vibrations on their body. They can also use a guided mode, which offers feedback on more difficult poses. For the most practiced yogis, the app can flow through multiple poses, like a yoga class in your pocket. Or, before heading to a class, they can simply click on all of the traditional poses and they will all be recognized, regardless of order. Eventually, Whitehouse hopes notable instructors will preset their flows with the apps.
The $300 pants might not work out for you, but they will act as a private yoga instructor.