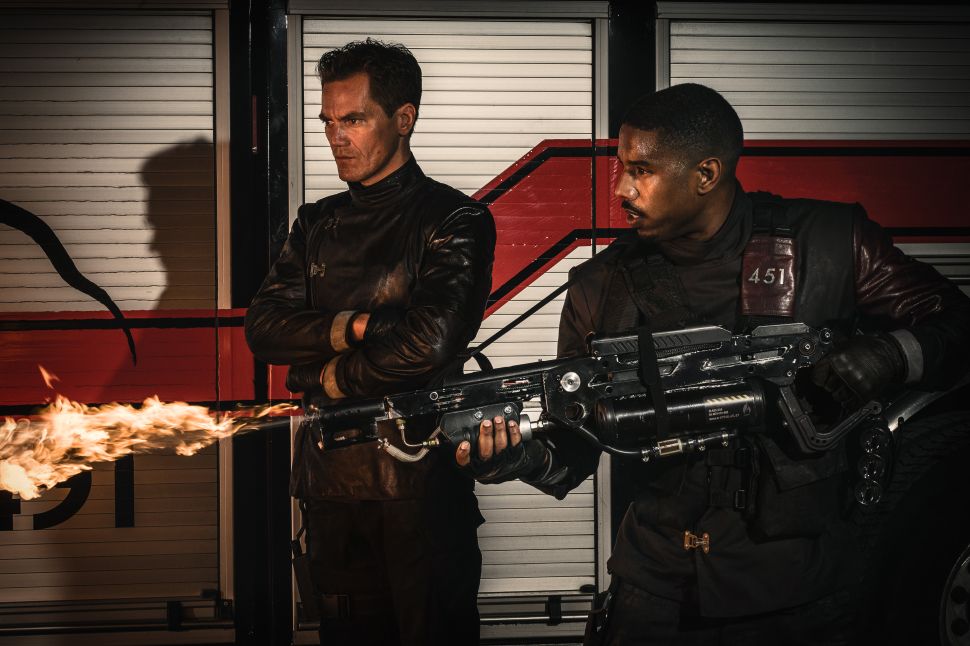 Here is your very first look at HBO Films' Fahrenheit 451, which is currently in production at the premium cable network.
Adaptations of classic novels have always been a go-to move for Hollywood, and HBO is following suit with some A-list talent. Attached to star in the TV movie based on Ray Bradbury's disturbing dystopian novel are Michael B. Jordan (Black Panther, Creed) and Michael Shannon (Nocturnal Animals, Midnight Special). Jordan is a rising up-and-comer while Shannon is a celebrated character actor veteran, making this a very unique combo that should intrigue viewers.
Fahrenheit 451 takes place in a near future in which "media is an opiate, history is outlawed and 'firemen' burn books," according to HBO. The movie will follow protagonist Montag, "a young fireman who forsakes his world, battles his mentor Beatty and struggles to regain his humanity." We assume Jordan will fill that role while Shannon, no stranger to playing intense and unhinged villains, will play Beatty.
Bradbury's seminal work was adapted once before in 1966. In today's climate of "fake news" and growing political divides, Fahrenheit 451's subject matter feels even more relevant.
The upcoming HBO film co-stars Laura Harrier, Sofia Boutella and Lilly Singh. Fahrenheit 451 was written and directed by Ramin Bahrani.