Contrary to what you might have heard, the New York City diner isn't dying. It, like so much that's great about New York, is just moving to Los Angeles.
The new Rudy & Hudson, at a Santa Monica location previously home to an IHOP, bills itself as a "New York-style diner" that showcases California ingredients. The restaurant serves the requisite eggs, pancakes, sandwiches, burger, chicken noodle soup, coffee, baked goods and kids-menu chicken strips, but veteran L.A. chef Joe Miller (who used to run Joe's Restaurant in Venice) is elevating the bill of fare with local ingredients and premium proteins. Are you at all surprised that L.A. has a farm-to-table diner?
Rudy & Hudson's menu lists the names of California farms and purveyors that provide ingredients for the diner. There's produce from farms including Coleman Family Farm in Carpenteria and Schaner Farm in Valley Center. There's IPA from Santa Monica Brew Works on tap.
You can order puffy pancakes known as Dutch baby cakes with lemon ricotta and wildflower honey. Or there's a savory option with kale, bacon and aged cheddar. The chicken is organic. And unlike many diners, you're fine ordering fish here: California sand dabs come with braised black kale and roasted red potatoes.
There's kale all over the menu, of course—a good reminder that you're in L.A. Even the brisket sandwich comes with braised kale. There's a green smoothie with kale, romaine, parsley, apple and ginger.
That smoothie is part of a totally on-trend beverage selection that features Verve Coffee as well as a drink made with fresh turmeric root, ginger and lemon. This is a diner where you can come for fried chicken one day, and come when you're on a cleanse another day.
Miller isn't the only prominent Santa Monica chef who's serving diner fare. Also new in the neighborhood is Lunetta All Day, the "modern neighborhood diner" from Raphael Lunetta (formerly of JiRaffe).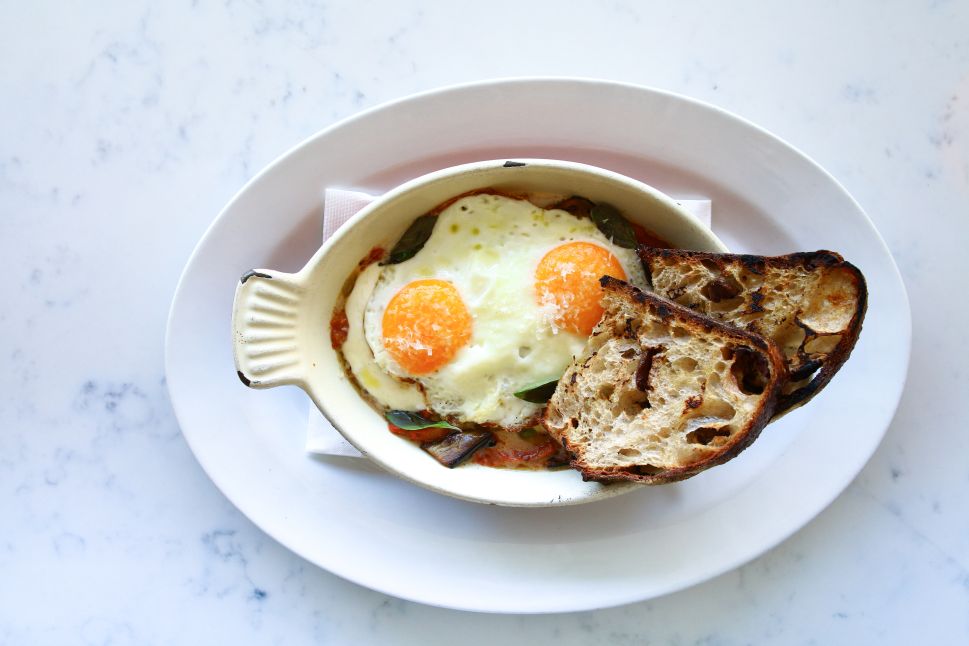 Lunetta All Day, which is attached to a more formal restaurant (simply named Lunetta), serves a burger made with Snake Rivers Farms grass-fed beef. Lunetta All Day's French dips are built with meat from whole prime ribs that are finished on a wood-burning grill. The chef roasts farmers-market tomatoes for wood-fired eggs. He serves grilled Jidori chicken as an entree (with fries) and also in a yuzu chicken salad.
Both Rudy & Hudson and Lunetta All Day have the casual diner ethos down with their comfortable booths, colorful decor and come-as-you-are vibe during breakfast, lunch and dinner. These are places where you can stop by for a coffee and a pastry in your gym clothes or come for a leisurely and comforting $25 dinner.
But we admit that not everything is perfect. If you're looking for a greasy New York diner that's on the brink of disrepair, Rudy & Hudson and Lunetta All Day might seem too bougie for you. If you want meatloaf smothered in gravy with mashed potatoes and watery creamed corn, you'll have to look elsewhere (there's always Du-Par's in Studio City, open since 1938 and a fixture of the TV industry). And these new L.A. diners don't have 20-page menus that include moussaka and chili cheese fries, which makes me a little sad. But then I think about the thick-cut pork belly in Rudy & Hudson's BLT and the perfectly cooked beef in Lunetta All Day's French dip and I cheer up a bit.