Faye Dunaway is selling her West Hollywood home. Scroll through to peek inside the chic condo.
Keller Williams Realty
The apartment is in Westview Towers.
Keller Williams Realty
'Bonnie and Clyde' playing in the background...
Keller Williams Realty
A casual awards table.
Keller Williams Realty
The patio is accessed from the living room and bedroom.
Keller Williams Realty
The apartment has just one bedroom.
Keller Williams Realty
She bought the home two years ago.
Keller Williams Realty
The kitchen.
Keller Williams Realty
After just two years of ownership, legendary actress Faye Dunaway is ready to move on from her elegantly decorated Los Angeles abode.
The Academy Award winner has listed her stylish, yet relatively modest, one-bedroom, two-bathroom condo in Westview Towers for $595,000. The "designer-done" apartment spans just 800 square feet, with an open layout and a large living room.
The kitchen is complete with a marble island, a bar area and wine fridge as well as LED under cabinet lighting, according to the listing held by Keller Williams Realty broker Chris Jacobs.
The condo has tile floors, high ceilings and recessed lighting throughout, which creates a "high-end vibe," the listing coos. The master suite—well, the only bedroom—has marble backsplashes and a private "hotel inspired" bathroom, with a spa tub and shower, marble counters, floating backlit mirror and a heated towel rack.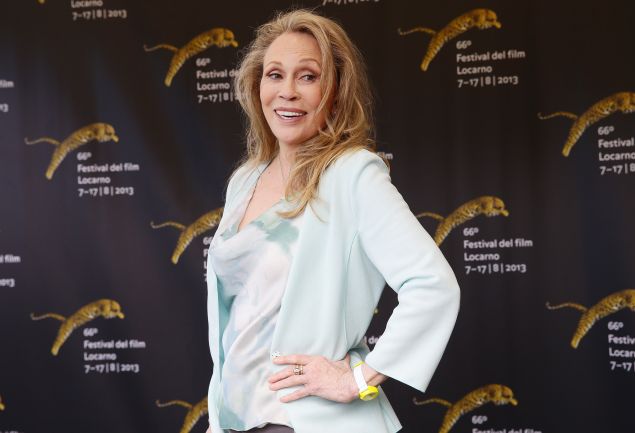 There's also a large patio, adding to the indoor-outdoor living vibe, which can be accessed from the living room and bedroom.
The West Hollywood building's amenities includes a 24-hour doorman as well as a valet, plus a sundeck with a pool and hot tub, saunas, a gym and even a dog park.
Our favorite part of the apartment, however, is definitely how Dunaway chose to have the listing photos taken—the televisions are playing scenes from Bonnie and Clyde, there's a Chinatown poster on one wall and you can see a few of the many awards the actress has received over the years, all on display by the entryway.
And while the one-bedroom apartment might not seem like the kind of home the glamorous film star would choose, it's actually quite in line with her past residences. Dunaway previously lived in a West Hollywood duplex for nearly 15 years, which she sold in 2015 for $1.45 million. The actress also famously once lived in a rent-stabilized apartment on the Upper East Side, which her landlord sued to evict her from, on the grounds that she wasn't using it as her primary home.
Indeed, Dunaway was paying a mere $1,048 a month for the one-bedroom walk-up, though she eventually opted to move out of the unit by choice in 2011—her landlord declared that her name wouldn't make the apartment "more remarkable for the audience of who is going to rent it." We doubt the sale of this West Hollywood apartment will be quite so dramatic.