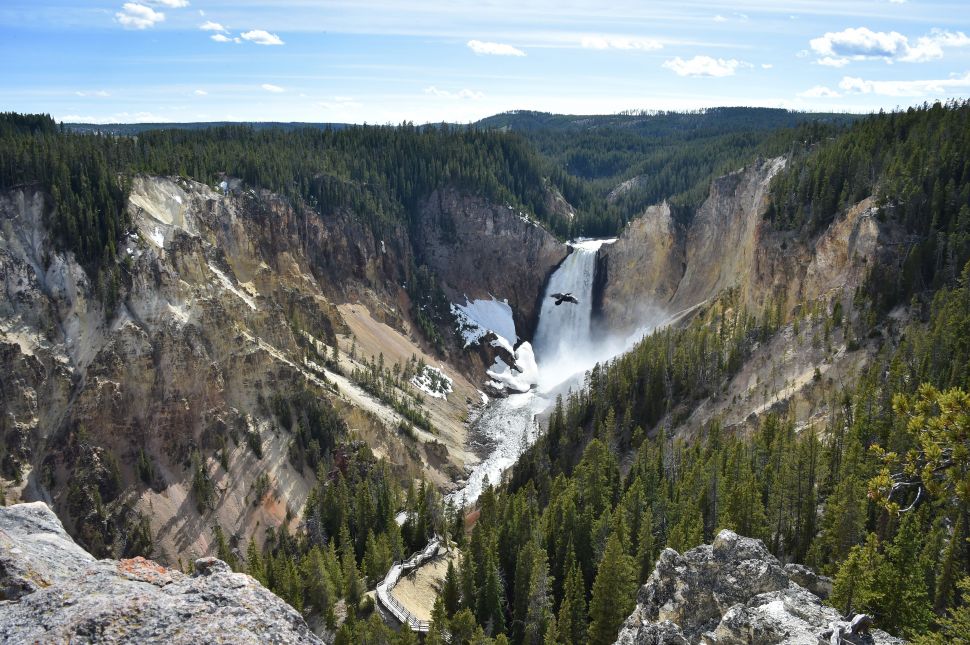 Because of the way it was acquired, it makes sense that the percentage of federally owned land rises as you move westward. Much of the western U.S. became part of the country via a series of governmental acquisitions (where "acquisition" included annexing other countries' territories, stealing Native American lands, and the occasional purchase). Then, the U.S. found itself in the business of getting rid of all that land, mostly through land grants and homesteading.
However, a lot of mountainous, arid land isn't very good for single-person homesteading, so moving the ownership of the land from "the government" to "individual citizens" slowed, and then conservation efforts took hold. Consequently, the U.S. government owns nearly half the land in the 11 states that comprise the continental American West—Montana, Wyoming, Colorado, New Mexico, Idaho, Utah, Arizona, Nevada, Washington, Oregon and California—and their western holdings comprise 28 percent of all federally-owned land.
Consequently, both rural and urban residents have easy access to public lands and recreation ranging from taking a walk to backcountry camping.
By contrast, federally-owned public lands in the U.S. southeast stands at less than 5 percent. Consequently, in rural communities throughout the south, there are comparatively few accessible and safe walking, hiking and biking trails.
So what? If you can't walk, you can't think.
I'm oversimplifying a little, but only a little. A Stanford study has shown that regular walking boosts human creativity levels during and after the walk. But walking isn't just good for thinking more creatively (and presumably more productively)—it hones your ability to cogitate, period. Richard Florida writes, "Research from the University of Kansas' Alzheimer's Disease Center indicates that walkable cities also have positive implications for cognitive health. The study, by psychologist Amber Watts, tracked 25 people with mild Alzheimer's disease and 39 older adults with cognitive impairment. Watts found that those who lived in areas of higher 'integration,' where fewer turns are required to navigate the streets, performed worse on baseline cognition tests and were more likely to see declines in attention and verbal memory. Conversely, those who lived in places with higher connectivity, with more paths and streets linked to each address, performed better on initial cognitive tests and saw fewer declines in attention and verbal memory."
The idea is that walking flexes and exercises the spatial-relation part of the brain and that, in turn, helps halt deterioration.
Who cares? Public health officials should. So should educators. And so should land-use types who get to decide whether unused acreage becomes office parks, multipurpose public recreation areas, or urban-edge food belts that help mitigate climate side effects like flooding.
There is more than a decade's worth of research that proves increased exposure to the outdoors boosts cognitive and physical abilities: Everyone including nurses, schoolchildren, folks with ADHD, and veterans with PTSD is healthier both physically and mentally when they spend time outdoors. Improved health means lower health care costs.
At a time when Americans are looking at repeated attempts to sell off public lands and a proposed increase in health care costs, a decision to use lands for commerce is bad for the country. Land is not valuable solely because you can make money off it. (Although, let's be real: You can make a lot of money via outdoor recreation—more than other proposed uses for public lands like agriculture, forestry or fishing.) It can be valuable because it makes a greater number of us happier and healthier simply by being available for our use.