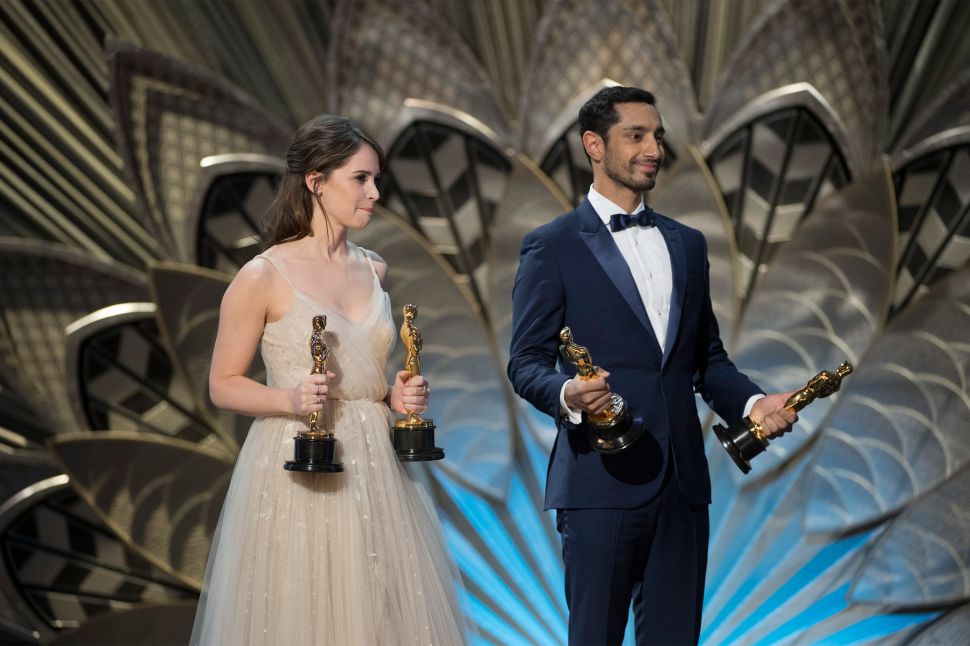 Felicity Jones has signed on to star as a young Ruth Bader Ginsburg in the biopic On the Basis of Sex, directed by Game of Thrones veteran Mimi Leder and focusing on Ginsburg's fight for equal rights during her law career. It's the sort of juicy, sink-your-teeth-into role that caught Natalie Portman's interest back in 2015 and is likely to receive awards recognition come Oscars season.
But that's where things get a bit murky. You see, the Academy has a long history of age bias. Young actresses take the film world by storm early on before being replaced on ballots by the next wave of 20-somethings. Leading men, on the other hand, get to enjoy long runs of silver foxed attention.
This year, the 41-year-old Casey Affleck took home the Best Actor statue while 28-year-old Emma Stone won Best Actress. In 2016, Brie Larson (then 26) and Alicia Vikander (27) were awarded gold alongside Leonardo DiCaprio (41) and Mark Rylance (56). In fact, three of the five Best Actress nominees last year were in their 20s: Larson, Jennifer Lawrence (25) and Saoirse Ronan (21). The youngest candidates in the Best Actor race the last two years have been Andrew Garfield (33) and Eddie Redmayne (34).
According to the Washington Post, the average age for winners in the four major acting categories are: Best Actor (44), Best Actress (36), Best Supporting Actor (50), Best Supporting Actress (40). This disturbing trend indicates that some outdated Hollywood biases have yet to die. However, it may at least be on its way out.
In this decade, we've seen Meryl Streep, Julianne Moore and Helen Mirren win Best Actress to put the average winning age right around 41. That number was just 31 in the previous decade, thanks in part to wins for Gwyneth Paltrow, Charlize Theron and Hilary Swank.
None of this is meant to take anything away from younger actresses who find themselves at the forefront of an Oscar campaign. Stone's trifecta of acting-singing-dancing in La La Land was magnetic, and Jones' 2015 nomination for The Theory of Everything was well-deserved. But perhaps we can start viewing the gendered races a bit more equally and promote a more inclusive list of nominations. Out with the old and in with the new shouldn't be the motto for half of the Academy.