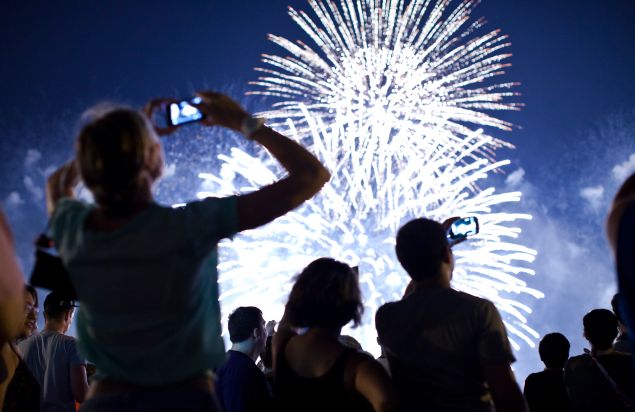 It's the Fourth of July, and what's the best way to cap off the festivities after a barbecue? Fireworks, of course!
But there's a risk to those bottle rockets: about 250 people go to the emergency room every day in July because of fireworks-related injuries and burns—there were over 11,000 injuries caused by fireworks in 2016.
So how can you have July 4 fun while making sure your extremities are protected? That's where FireFly comes in.
The Bluetooth device, released by Winco Fireworks last month, allows you to design and launch shows featuring up to 15 fireworks directly from your phone.
Once users download the app (which is available for Android and iOS) they can place the fireworks on a level surface, connect the fuses to FireFly's ignition clips and plug the cables into the main box. When they're a safe distance from the device (FireFly works from up to 50 feet away) they can launch the display synced to music on their phone. And since it's wireless, the creator gets to watch the show too.
The show can be previewed before launch, and there's an emergency stop button just in case things go haywire. FireFly also provides users with several pre-designed shows to get their feet wet—and there's even a manual mode to launch individual sparklers.
The FireFly system is available in fireworks stores across America, and the firing module is also available online for $199.99. Extra cables cost $16.99 to $19.99.
And lest anyone think FireFly endorses reckless pyrotechnics, its website includes a safety guide with various tips:
Spectators should be at least 200 feet away from the show for the safest experience.
Keep a bucket of water or hose nearby in case of fire.
Hose down used products to minimize fire risk, and leave shot fireworks stored outside.
Make sure the device is off while you're connecting the fuses to the FireFly clip.
Don't operate FireFly under the influence of alcohol.
It seems like the last two should be pretty obvious, but given the fireworks injury stats apparently that's not the case. Ah well—happy Fourth of July, don't blow your fingers off with a firework!