In 1776, 56 delegates to the newly formed Congress of the United States of America signed the Declaration of Independence, effectively creating a sovereign nation from the 13 former British colonies. Then, in 1817, the artist John Trumbull was commissioned to commit the historic moment to canvas, capturing in dramatic effect the gathering of America's Founding Fathers to sign what has become a cornerstone of our democracy.
Now, over 200 years later, the genealogy company Ancestry.com has gathered a diverse grouping of the Founding Father's descendants for the purpose of recreating Trumbull's iconic artwork for an ad campaign which was appropriately time to launch July 4, according to an article from Adweek.
The result was two moving short films running between 60 and 30 seconds each, featuring the Founders' descendants reciting the document's most well-known clause while standing or sitting in similar poses to that of their ancestors. The camera pans from face-to-face across the dimly lit room, capturing in high definition the striking contrast of its diverse—in both age and race—occupants with that of the men in white wigs recorded by Trumbull.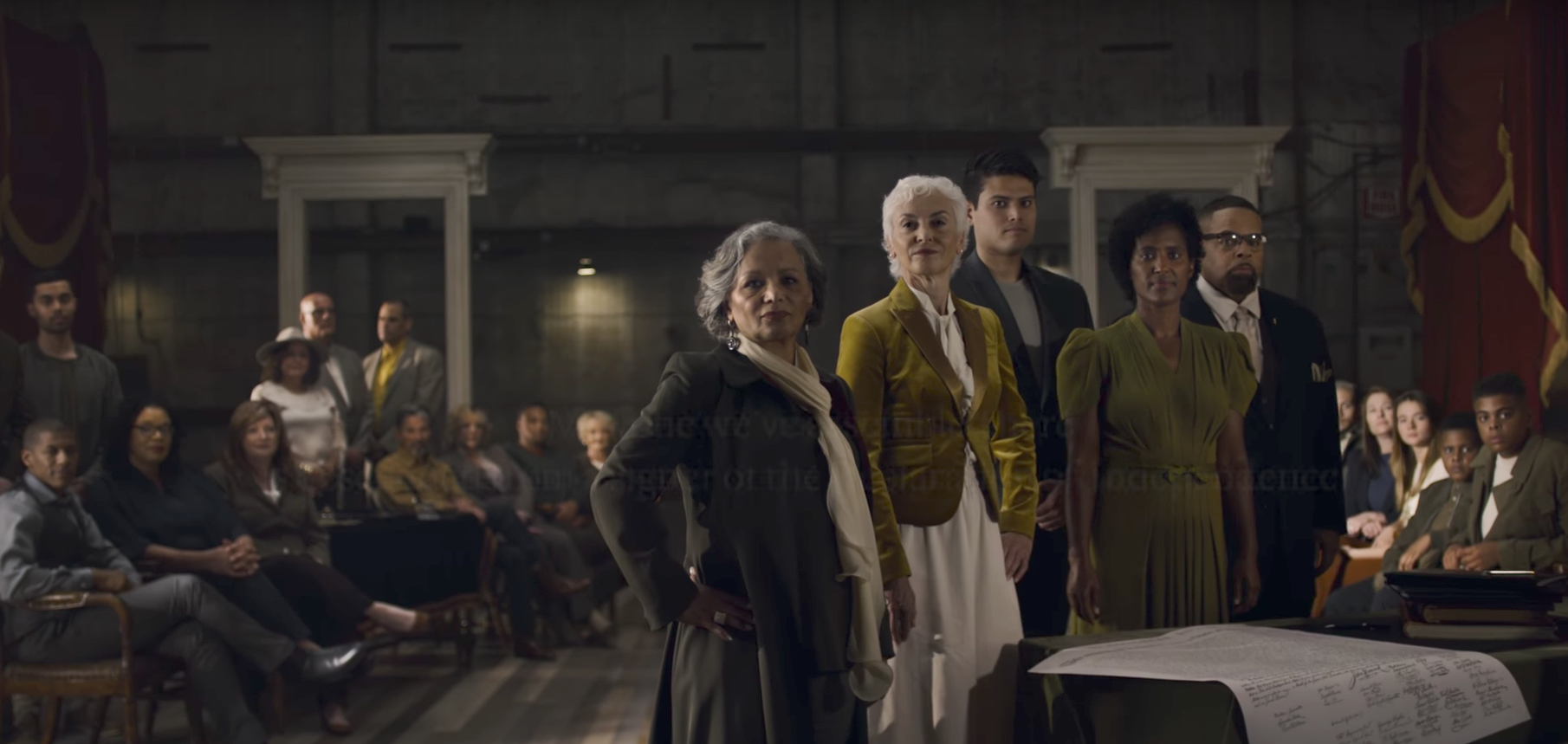 "We are living in a time when many people feel disconnected from one another, and one of the most powerful things we can do is to show how connected we really are," Ancestry chief marketing officer Vineet Mehra told Adweek. "The 'Declaration Descendants' campaign highlights how our individual and collective history is an important part of our country's complex DNA and that we are all universally connected, sometimes in unexpected ways."
Ancestry's genealogy researchers were given the tall task of tracking down the descendants of the Founding Fathers, in order to provide the team at Droga5 with a large enough group to fill the contemporary version of Trumbull's composition. Once the descendants were identified, the response from potential participants was "overwhelmingly positive" according to Droga5 associate creative directors Paul Meates and Thom Glover.
"We made the decision that we wanted to re-create a version of the painting that felt relevant today," said Meates and Glover to Adweek. "That gave the sense that these people were re-stating the values of the Declaration of Independence, rather than simply dressing up as their forebears. That led to a lot of questions about what did and didn't still feel relevant." The film includes furniture and decorative elements similar to those in Trumbull's original painting, while the descendants are outfitted in contemporary clothing.
And while Ancestry's campaign, which it's calling "Declaration Descendants," certainly succeeds in reinforcing the importance of the historic signing and the legacy of Trumbull's artistic masterpiece, it's main message is one of diversity. "When you see the new picture, the new image, it's a picture of diverse people. Black, white, Hispanic, Native American—a little bit of everything—Asian, and that's more of a representation of this country," sixth great-grandson of President Thomas Jefferson Shannon Lanier told CBS News.
The advertisement for Ancestry.com's DNA testing services was created by New York agency Droga5, and will run through July 13 across a range of digital and social platforms.