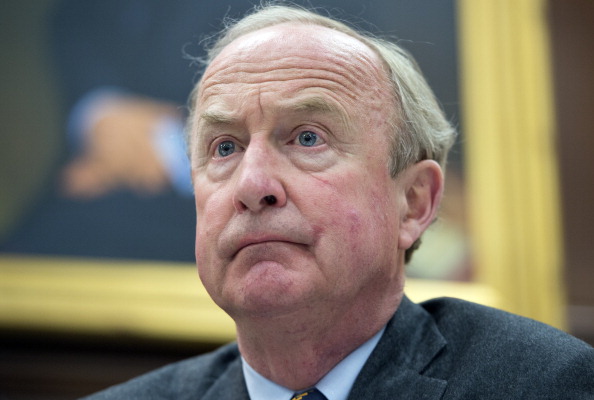 While Rep. Rodney Frelinghuysen (R-11) may be facing increased pressure from Democrats who have set their sites on his affluent, suburban district, it doesn't seem to have impacted the incumbent's fundraising.
According to reports filed with the Federal Election Commission, Frelinghuysen has amassed $999,158.30 in campaign contributions ahead of the 2018 midterm campaign. His campaign also has $980,598.39 in cash on hand.
The campaign's 2017 haul is nothing new for the incumbent, the heir to the Procter & Gamble fortune and member of a New Jersey political dynasty that has influenced New Jersey politics since the 1700s. He has a history of running well-funded campaigns and, though the Cook Political Report in May predicted that 2018 will have Frelinghuysen facing off against a well-funded challenger for the first time during his 22 years in office, his campaign's fundraising prowess demonstrates a significant hurdle for opposition. Frelinghuysen's high-level chairmanship of the House Appropriations Committee will also be a potential boon to his fundraising numbers.
On Wednesday, former federal prosecutor and Navy veteran Mikie Sherrill became the first of the Democrats lining up to challenge Frelinghuysen to release her fundraising numbers. Sherrill reported raising $245,957 in the two months since announcing her candidacy.
Another challenger to Frelinghuysen, Essex County Freeholder John Bartlett, has yet to report any financial data to the FEC. Assemblyman John McKeon is also reportedly weighing a run but has yet to file with the FEC.
Democratic focus on the district comes in the wake a 2011 redistricting that brought parts of liberal-leaning Essex County into the district. After Frelinghuysen backed the controversial House repeal and replacement of Obamacare, the Cook Political Report changed the 11th district district from "likely Republican" to "lean Republican." The NRCC called the shift "arbitrary beltway prognostication" and has said that Frelinghuysen will again clinch victory in November.
In addition to changing demographics that have put a target on Frelinguhuysen's back, the Republican is also facing an ethics complaint stemming from a letter he sent about a constituent to her employer blasting her for her involvement in a political activist group called NJ 11 for Change. Frelinghuysen hired two law firms to represent him following the ethics complaint.
So far the campaign is shaping up to be a costly one with Frelinghuysen's campaign already reporting $488,355.87 in disbursements in 2017, according to the FEC reports.
The only other New Jersey House incumbents to have filed their second quarter reports to date are Rep. Frank LoBiondo (R-2) and Rep. Albio Sires (D-8). LoBiondo has about $250,000 in his coffers while Sires has about $75,000. Unlike Frelinghuysen, neither Sires nor LoBiondo's districts are being targeted by the opposing parties. While Rep. Tom MacArthur (R-3) has yet to file his second quarter report with the FEC, his campaign reports that the incumbent raised $1.13 million in the second quarter.
Frelinghuysen's most recent filing is dated June 30, the end of books for the second quarter. He has until July 15 to file final reports of his fundraising for the quarter.