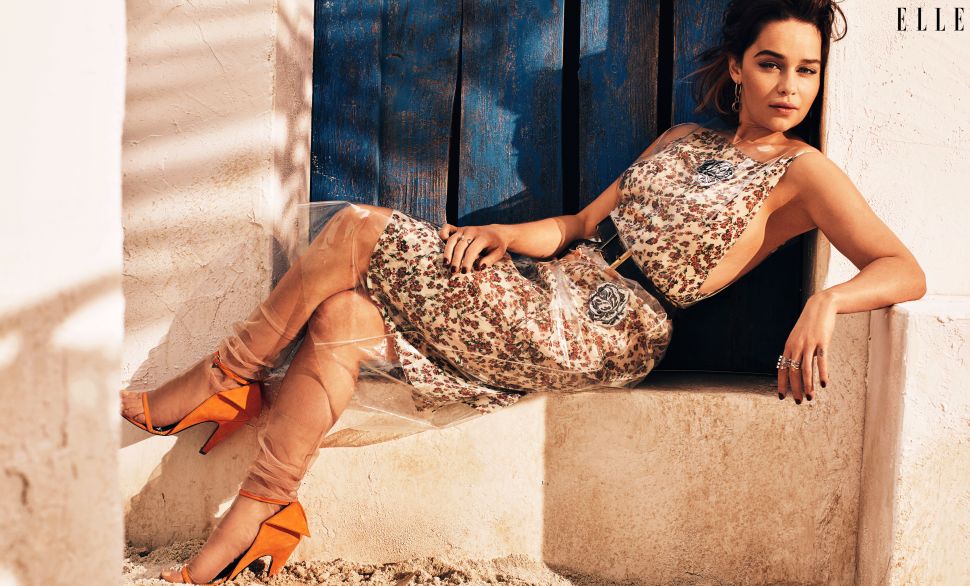 Oh hey, have you noticed that Game of Thrones is returning to a television with HBO access near you? You probably have, even if you're not a huge fan of the show, as the very attractive cast has embarked on quite the extensive publicity tour for the seventh season, which is due to arrive July 16.
In addition to Kit Harington partaking in an extremely silly skit for Jimmy Kimmel Live and Emilia Clarke being called out for a simple spelling error on Instagram (honestly, who knows the proper spelling of 'dracarys?'), we have reached peak GOT frenzy. Seriously, there was even an abundance of themed deals, available on Amazon Prime Day. But there's one other place that stars such as Maisie Williams, Sophie Turner and even Nikolaj Coster-Waldau have turned up in droves: on the newsstands.
From the cover of ELLE to a digital magazine from Net-A-Porter, here are the 10 magazine covers featuring GOT stars, just from July and August. We've even graded the covers, based on the clothing worn, the hair and makeup looks created (or lack thereof) and, of course, how enticing the coverlines are. Even if you don't pick up a copy, with the face of Khaleesi or Jon Snow plastered all over it, at least you'll know what these stars have been up to since we last saw them on the series.
Emilia Clarke for ELLE, August 2017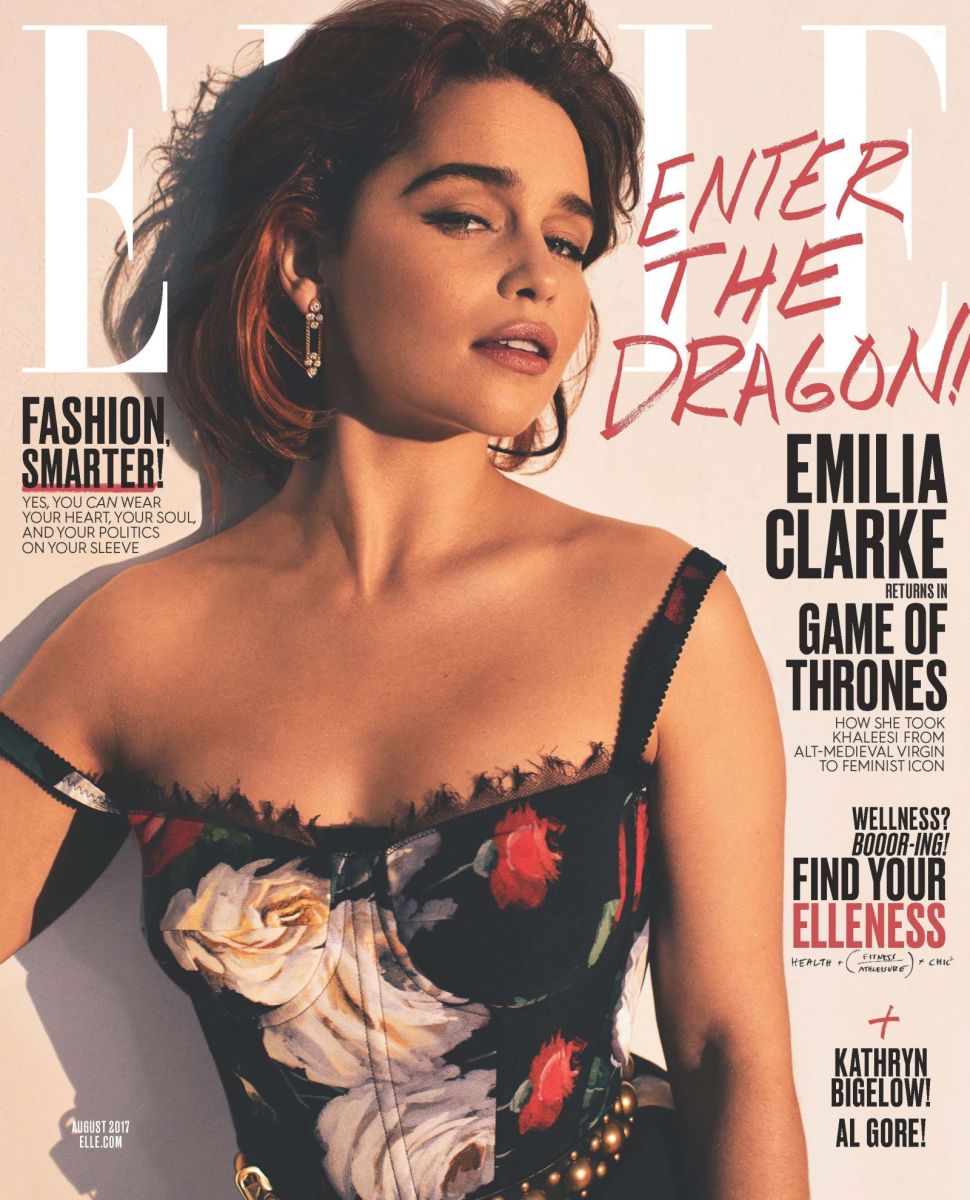 Fashion: Dolce & Gabbana dress, What Comes Around Goes Around Studded Belt and Van Cleef & Arpels earrings. It's pretty fierce for the Mother of Dragons, but something about that strap slipping off her shoulder seems a bit too vulnerable for this strong character. 7/10.
Hair and Makeup: Didier Malige provided this too-tousled bob, while Pati Dubroff nailed this smokey liner. Though the hair is a hot mess, that nude lip and strong brow make this look a hit. 8/10.
Coverline: "Enter the Dragon! Emilia Clarke Returns in Game of Thrones. How she took Khaleesi from Alt-Medieval Virgin to Feminist Icon." Three points for the font that looks like lipstick, four points for proper use of the phrase "Alt-Medieval", minus one point for far too many words. 6/10.
Emilia Clarke for Rolling Stone, July 2017
Fashion: Just a white t-shirt and a cross earring. Khaleesi would never wear such a casual look. 3/10.
Hair and Makeup: This tousled 'do and smudged eyeliner is reminiscent of that time Carrie Bradshaw was on a fictional cover of New York Magazine. Few people can make hungover makeup look chic, but this stringy undone hair is doing no favors to this English beauty. It also stands in stark contrast against the interview in the mag, which notes that Clarke usually wakes up at 3 a.m. to get into hair and makeup for her role on GOT. 3/10. 
Coverline: "Emilia Clarke: The 'Game of Thrones' Star Tells All." Two points for just existing and one point for being short and sweet, but minus five points for being so unimaginative. 3/10.
Lena Headey for The Edit, July 2017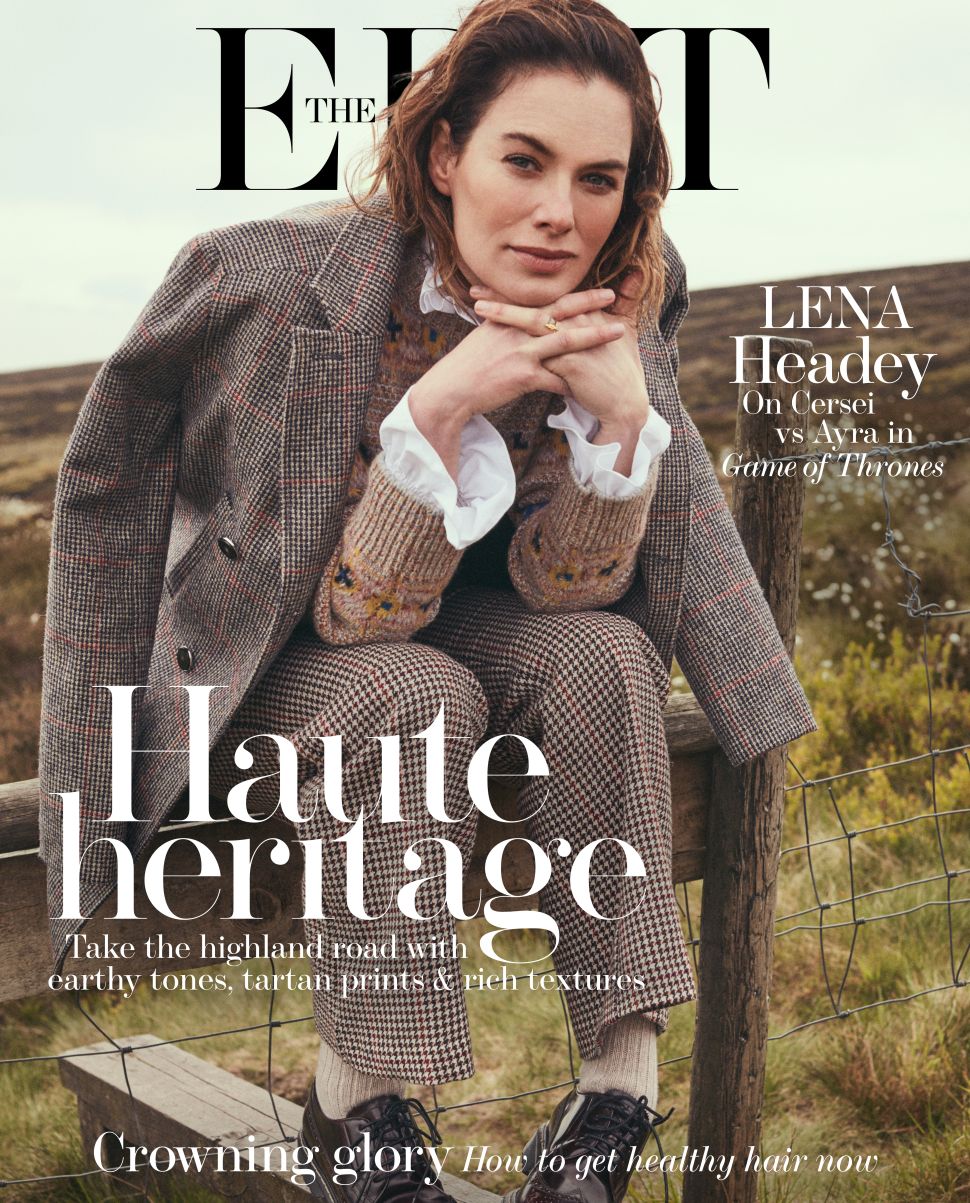 Fashion: This outfit is a mix of designers, including Vanessa Seward, Victoria Beckham, Frame, See by Chloé, Johnstons of Elgin and Joseph. Quite a departure from Cersei's heavy brocade frocks and intricate metal accessories, this is a cozy and welcome divergance. 7/10.
Hair and Makeup: The no-makeup makeup look and natural hair is nice. But it's not Cersei's usual flowing locks and luscious braids. 4/10.
Coverline: "Lena Headey on Cersei vs Ayra in Game of Thrones." Addressing a very minor plot point on the cover of a digital magazine is rather boring. 2/10. 
Fashion: A grey t-shirt and blue jeans. Jon Snow would obviously wear something much more formal. Also, where are the accessories? 2/10.
Hair and makeup: Slicked back hair and a well-groomed beard. While not nearly as voluminous as Snow's curls, Harington's luscious locks have never looked better. 8/10.
Coverline: "Kit Harington: Riparte Il trono di spade, ma lui si prepara a una vita da grande: molti viaggi, e un anello." (Which translates to "Kit Harington: He repaired the Throne of Swords, but he prepares for a great life: many journeys, and a ring," per Google Translate. This coverline looks fantastic in Italian and is hilarious when translated, especially since the show is called Throne of Swords in Italy. However, it doesn't quite make sense. 7/10.
Kit Harington for Esquire, June/July 2017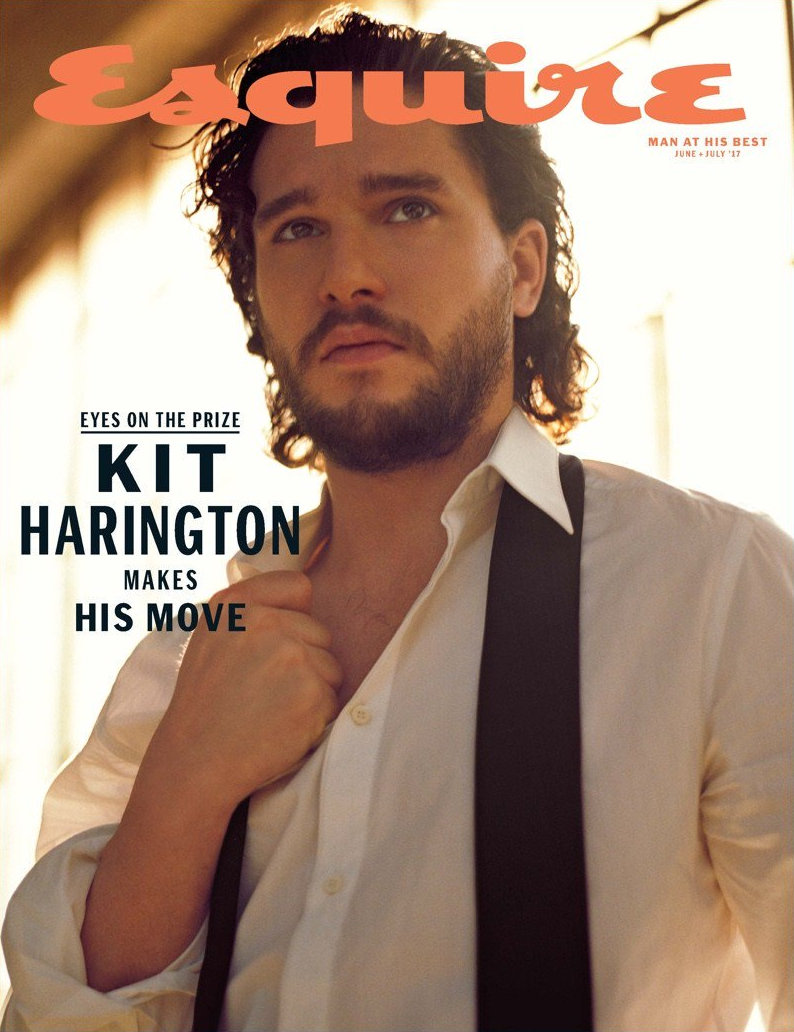 Fashion: A button down shirt, open to reveal a few meager strands of chest hair and an un-done black tie. This sloppy style makes Harington look like a long lost extra of Wedding Crashers. 4/10.
Hair and Makeup: See above. These locks just aren't as voluminous as those on his Vanity Fair Italia cover. 7/10.
Coverline: "Eyes on the Prize: Kit Harington Makes His Move." Where is he moving? What is the prize? No matter, we're really into the intrigue here. 6/10.
Fashion: A fiery red Givenchy suit with a matching bandeau feels very sexy and grown up. It's quite a fitting outfit for Sansa Stark, who has been showing her fiery side recently. 9/10.
Hair and Makeup: Nothing but a natural face and a loose 'do. This look is just fine. 7/10.
Coverline: "'I Got My Sex Education On Set' Sophie Turner: Growing up on Game of Thrones." Well, that will certainly sell copies. Also, there's a dog. 8/10.
Sophie Turner for Marie Claire UK, August 2017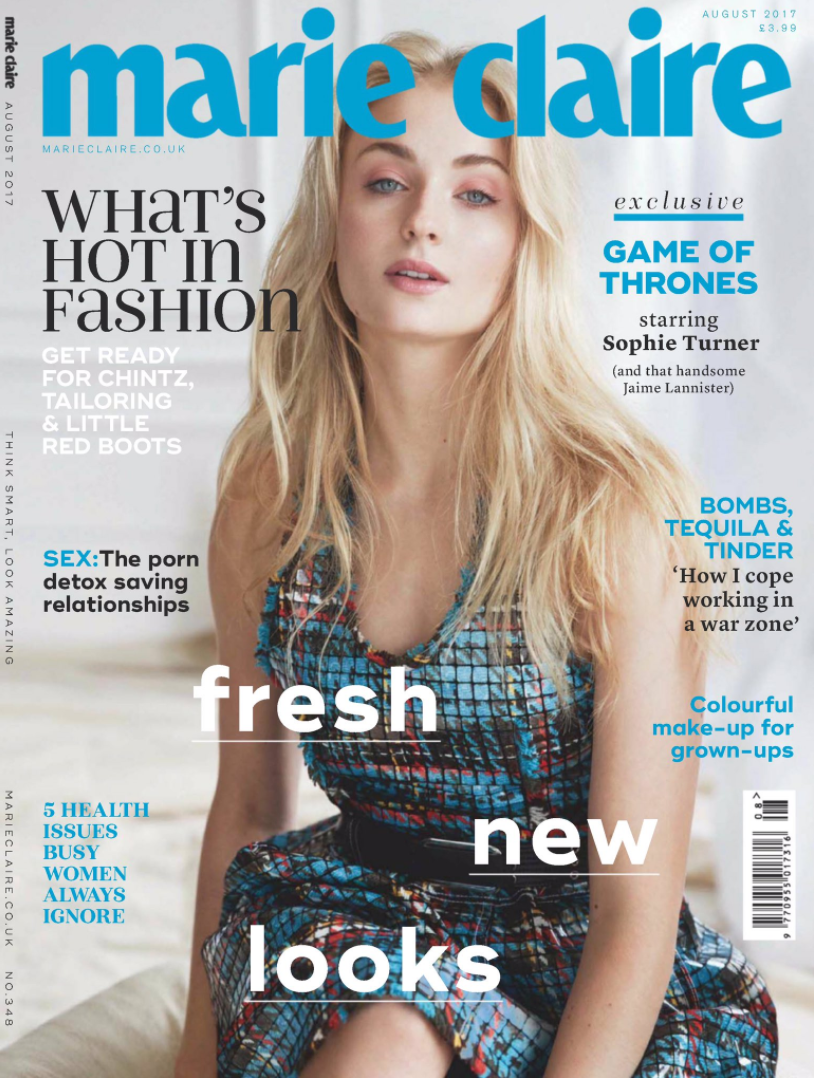 Fashion: Turner is wearing a printed Louis Vuitton dress from Fall 2017. This is like a cool teen version of tweed, which is perfect for someone who grew up on the set of GOT. 8/10.
Hair and makeup: Pink eyeshadow and those perfect beachy waves that only celebrities can nail. Proving that the use of trendy pink eyeshadow isn't the worst thing. 7/10.
Coverline: "Exclusive: Game of Thrones, starring Sophie Turner (And that handsome Jaime Lannister)" We're all for a hot actor, but maybe they should've let this young actress shine on her own cover. 4/10.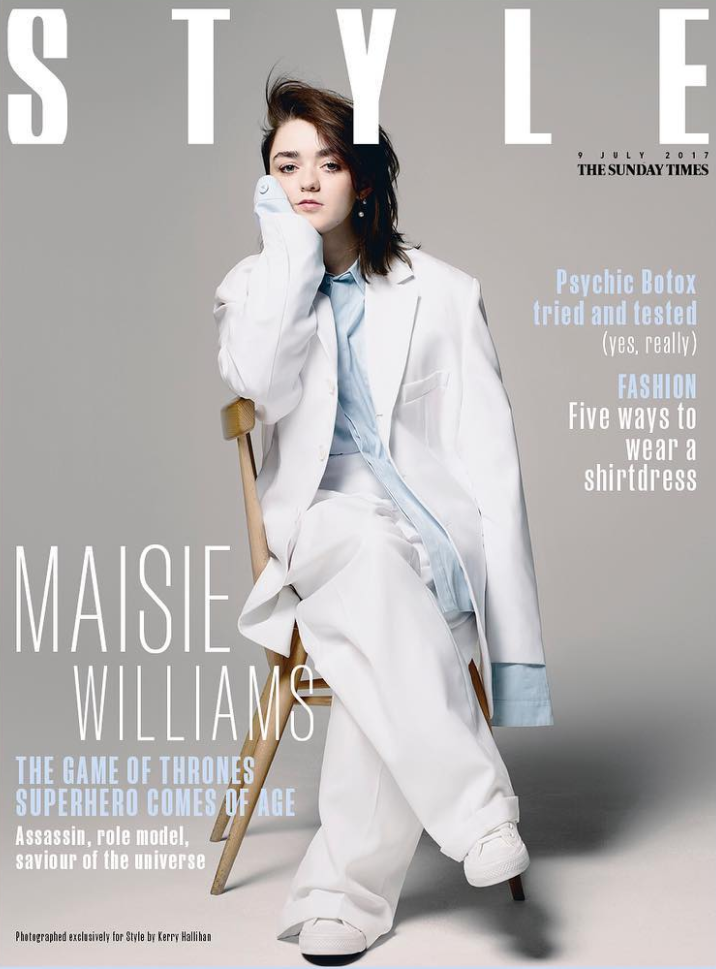 Fashion: A white oversize Céline suit and Marni shirt with some pristine Converse sneakers. Quite a metaphor for growing into her role, we love nothing more than a truly meaningful outfit. 9/10.
Hair and Makeup: A few flyaways and what appears to be a smokey eyeliner situation. This is nothing to write home about, though it's certainly an improvement over her usual Arya Stark 'do. 4/10.
Coverline: "Maisie Williams: The Game of Thrones Superhero Comes of Age. Assassin, Role Model, Saviour of the Universe." Now this is how you give a girl the strong headline she deserves. 10/10.
Kit Harington, Nikolaj Coster-Waldau, Emilia Clarke, Peter Dinklage and Lena Heady for TIME, July 2017
Fashion: Green gowns, purple frocks, sleek suits and a brocade tuxedo, this has it all. Even a dog. This is truly majestic. 10/10.
Hair and Makeup: The boys look dapper, and the ladies have perfectly coifed 'dos. Even the dog looks perfect. 10/10.
Coverline: "Game of Thrones: Inside the World's Most Popular Show." The throne has been taken, again. 10/10.