Whether you were giddy in excitement counting down the minutes or steadfastly avoiding the avalanche of nonsense names that overtook social media last night, one thing is clear: Game of Thrones mania is back!

The mild premiere does a lot to reassure fans that the show's trimmed seventh and eight seasons will not be all explosions and CGI dragon fire as some worried. Now that winter is officially here, the map has gotten smaller and, more importantly, the players smarter. Most of the hour-plus episode was spent on schemes and plots—which, for the record, are not the same thing, Tyrion, you hillbilly—setting the stage for Westeros' last wars. (Until the spinoffs, baby!)

Let's take a look at the best and worst of the season premiere, "Dragonstone"!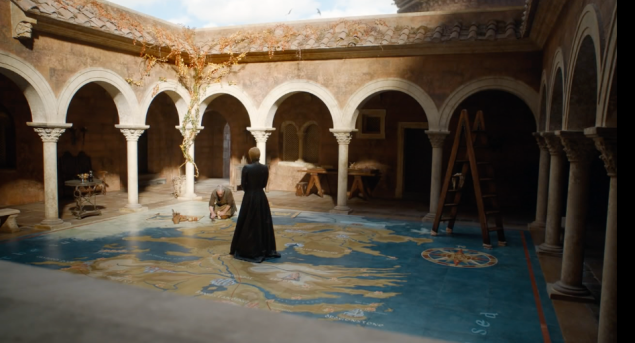 BEST WAR MAP: CERSEI'S
From floors to carved tables, without mentioning the chained tomes of the Citadel, the episode was a cartographer's wet dream. There were a lot of contenders but Cersei's floor rendition of Westeros—the highlight of this season's trailer—certainly makes for a neat visual and nifty recapping device. You just know she's going to end up stomping her heel over Dragonstone some day soon.

WORST WAR MAP:…ALSO CERSEI'S
Look closely, y'all: that is water-based paint under an open roof. Also, even if this is some medieval ink that will never be washed away; isn't winter here? How are you going to strategize when you wake up one morning to find your war plans covered by five feet of heavy Boston-style snows? Get it together, woman. It's not all about the aesthetic.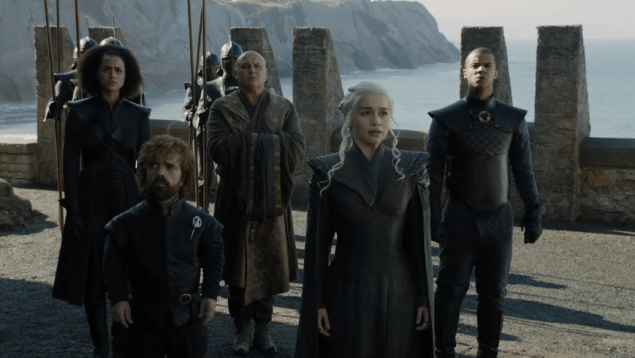 BEST HOMECOMING: DAENERYS TARGARYEN
Some reverent sand touching and a quick recycling of Stannis' leftover drapery was all the nostalgia Dany needed. Unlike the Starks, she was never in it to recapture her home keep. She wants the whole continent, dammit. With three words—"Shall we begin?"—the war for Westeros is officially underway. Her enemies aren't nearly as hapless and doomed as they seemed last season. Between Euron, Cersei and the wave of CGI coming down from the north, Dany still has her work cut out for her.

(Oh, and there was also a convenient, rock-carved throne that Stannis never bothered to sit on just to the left of his war table?…Actually, that makes perfect sense for Stannis.)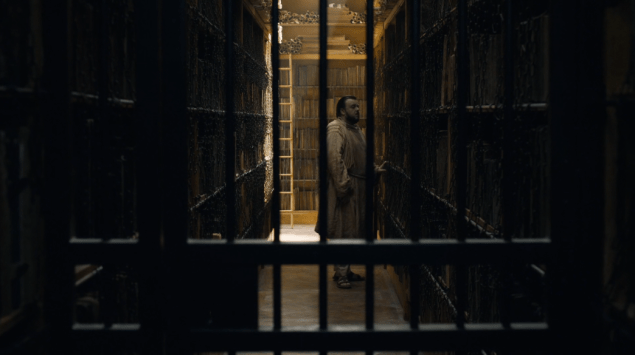 WORST FRESHMAN YEAR: SAMWELL TARLY
Turns out, attending the Harvard of Westeros involves carrying and emptying diarrhea that looks like soup and soup that looks like diarrhea until it all blends into a grotesque Kubrick montage that may be the worst thing I've ever seen on this stupid show—including the death of Talisa Stark. (Why? Why would you do that to your fans, Weiss & Benioff?)
Sam's discovery that Daenerys is now sitting on a mountain of dragonglass, the key to defeating the army of the dead, was definitely an anticlimactic one. Then again, considering the last Dragonglass McGuffin was lost in the middle of the battle for Hardhome, it might all be a red herring and Dragonstone might just fall into a volcano.

With only 15 episodes left in the series, we're predicting that Sam is just going to raid the Citadel's libraries and be on his merry way at some point this season, making him more of a Barnes & Noble shoplifter than a studied Maester of the Citadel, to be honest.
IN MOST DIRE NEED TO LEARN TO LOVE HIMSELF: JORAH MORMONT
It should be noted that there's also a crusty Jorah Mormont in the Citadel's basement that could really benefit from a reading light and some self-help literature in his black cell. There has to be a Citadel self-help book that combines dealing with terminal greyscale and moving on from a toxic relationship.

Remeber when Dany said she needed you by her side to capture the seven Kingdoms, Jor? Yeah, she was just fooling. You've been silently replaced by Varys—who seems thoroughly unimpressed by Dragonstone, by the way!
WORST MAKEOVER: EURON GREYJOY
I mean, what is this? Exactly how much meth is available in Westeros these days? Why is he wearing guyliner? The new usurper King of the Iron Islands looks like he smells like an Iron Maiden moshpit.

Granted, it never made much sense that Euron showed up to the Iron Island after years of exile dressed exactly like every other Iron Born last season, but this is…a bit much, no?

Still, if you can get past his new villain-in-a-medieval-musical look, there's a frantic new energy to this season's Euron that is just what we needed after his lackluster first appearance. Euron Greyjoy is supposed to be a true mad man ("Hey, tie me to the mast of my ship during a storm, gang" mad) and this version of the character seems closer to the wild card he is intended to be.

Although, I'm still not sure why Cersei invited him to King's Landing, excluding the fact that he has the ships that she desperately needs, only to turn down his proposal…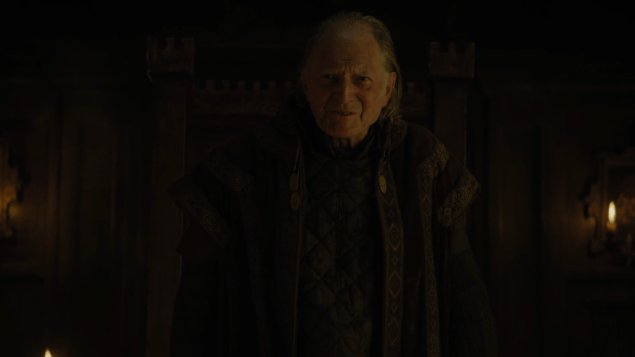 BEST REMIX: RED WEDDING REDUX
Extra points for actor David Bradley who truly does manage to convey that there's something off here. From the way he stands to the steadiness of his gaze, it is clear from the first line that this wasn't the real Walder Frey.
LEAST OFFENSIVE ED SHEERAN CAMEO: ED SHEERAN
Ed Sheeran really does have a Game of Thrones-y face, doesn't he? Not to take away from his musical contributions, but it was certainly easy to buy that this scraggly ginger was probably raised in a small rainy village of the Reach.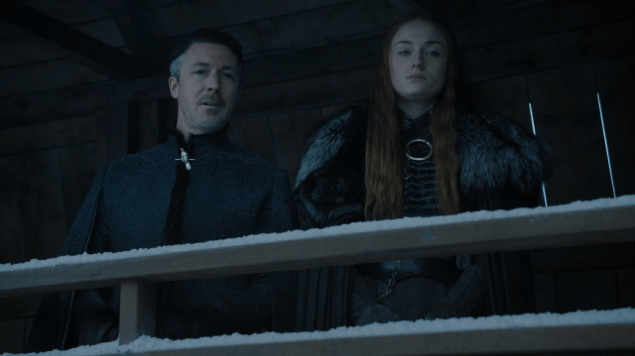 BEST SHUT DOWN OF THE EPISODE: SANSA STARK
"No need to seize the last word, Lord Baelish: I'll assume it was something clever."
…Damn, Sansa.

SHADIEST NEW MORAL OUTLOOK: SANSA STARK
Look, my love for Sansa Stark is still purer than fresh-forged Valyrian steel, but there is no denying that we're in for a shady, if not downright ruthless, new version of her this season. Her willingness to call out Ned and Robb Stark's previous mistakes and urge Jon to be a smarter King/Warden is right on the money. Still, for someone so well-versed in courtroom decorum, there is no way she did not know she was publicly undermining Jon. There's a calculated element to how openly she defies Jon and then redirects his concerns by comparing him to Joffrey.
Littlefinger might still have some influence over her, but Sansa is no longer his docile pawn. This isn't just the daughter of the honorable Ned Stark; she is someone that has spent years learning at the feet of Cersei, Margaery, Littlefinger and even Ramsay. Six years in and neither of the Stark girls are above a bloody slaughter if it's what it takes to keep the North safe.

BEST RELIGIOUS CONVERGENCE: SANDOR 'THE HOUND' CLEGANE
The Hound's appeal drastically drops whenever he doesn't have an underage traveling companion with a kill list, but we're still interested in what's next for Sandor now that he has seen the literal light.
Revisiting the two innocent farmers that he robbed and condemned to death only three seasons ago was a great way of establishing The Hound's new moral compass, which kind of makes sense considering his long history with fire. He'll also call out any top man bun that comes in his path, which is a net good regardless of circumstances.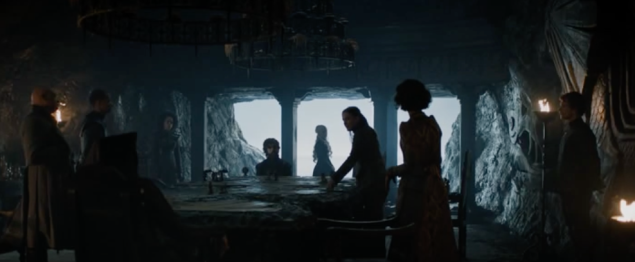 NEXT WEEK:
No less than eight main characters will share the screen for Daenerys' first Dragonstone-based Council meeting. And in more important news: we're finally going to see a damn direwolf again!