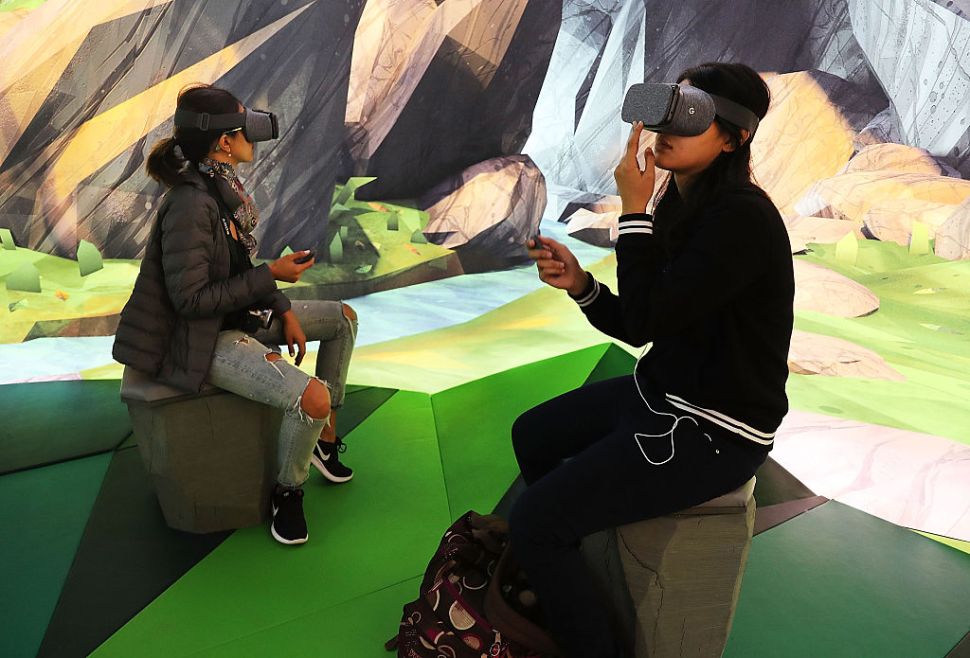 So Google announced a new app that's available now for Oculus Rift and HTC Vive today, called Blocks. The free app is made for users to construct models in virtual reality inside virtual reality.
The announcement from Product Manager Jason Toff says:
It's designed to feel more like playing with children's blocks than working with traditional 3D modeling software. Starting with a simple set of shapes, a color palette, and an intuitive set of tools, you're able to naturally and quickly create almost anything you can imagine, from a piece of watermelon to a whole forest scene.
Google also has another application its been pushing in the advanced virtual reality systems, Tilt Brush by Google. It also claims to make it easy for people to make stuff in virtual reality, so what's the difference?
"Tilt Brush is really painting, so think flat brushes in 3D space. Blocks is about blocks, so placing objects (cubes, rounds, triangles), and editing them," Alban Denoyel, CEO of Sketchfab, wrote the Observer in an email. Sketchfab has made a sort of YouTube for virtual reality, a way to easily embed 3D creations on the web, so that users of 2D browsers can have a look.
Eric Romo of AltspaceVR agreed, but also sees a larger business strategy at work. At its annual developers' conference, the company announced that it would release a standalone VR headset, which Backchannel previewed. This headset will basically be a tablet or phone in the shape of VR goggles, Romo said, and Blocks "is the first real creation tool that's focused on content that works well in those devices."
It produces lighter, lower-resolution graphics that are easier for a mobile processor to handle.
Romo believes VR will reach the mainstream on lighter, cheaper devices than those found on an Oculus or HTC Vive, with experiences that look more like Temple Run than Call of Duty. If that's the case, Google is in a great position to own the space, because it already has an operating system, a store, a community of developers and tools to build inside of it. The only other company that can say the same is Apple, and Cupertino has been pretty quiet about VR.
"Blocks is an example of a way to say 'Here's how we can make things that matter on a mobile chipset,'" Romo said.
For creative types who just want to know what it's like to make something in the two environments, Denoyel sent over a couple of Sketchfab posts that illustrate the differences.
This one was made with Tilt Brush. It's cool, but it has that sketchy quality. You can see that the artist was having trouble defining any given surface. It's all kind of rough and imprecise, though it has a lot of energy.
Then this one was made with Google's new Blocks:
The surfaces on this piece are much more clearly defined. It's not hard to tell where a thing begins and ends. That makes for a lot less subtlety, but maybe also a bit less frustration, too. To completely oversimplify it: Tilt Brush builds with lines and Blocks uses shapes. Blocks is lower resolution by design.
YouTuber Anna Zhilyaeva has a video making a city scene with Google Blocks in which it's easier to see how it works from inside the goggles. She makes blocks, changes their sizes and stacks them up. Then she can easily copy stacks and move them to different places:
The software seems to know what is and isn't a block or a surface, which makes it easier to make different parts of your creation interact or to to make additions. Once Zhilyaeva finishes constructing her buildings, she uses Tilt Brush to go in and add lighting and other features.
Colby Walburn, an engineer at the creative agency Huge, Inc., told the Observer in a phone call that she could see Blocks help designers to quickly make VR demonstrations of physical spaces they want to create. Huge has used VR in that way in the past and it has been "very successful," she said. It's also not a light lift using today's tools. She sees Blocks as a way to "lower the burden of entry" for creating VR experiences.
For Google, more experiences should increase demand for its VR gear and create more opportunities for disseminating advertising across a three dimensional web.