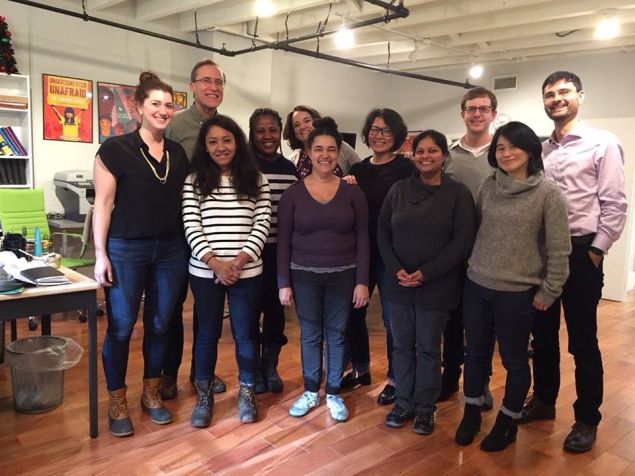 A group of grassroots organizations from New York City and other parts of the country will be discussing how they are fighting back against U.S. Immigration and Customs Enforcement raids and what they said are expanded local and national deportation systems in a webinar later this month.
The webinar, titled "EYES ON ICE: Community approaches to documenting and organizing around encounters with Immigration & Customs Enforcement," will take place on July 18 at 8 pm and feature grassroots groups who will discuss how communities can fight back, object to mainstream narratives and document abuses.
WITNESS — an international organization that trains and supports people using video in their fight for human rights — and Immigrant Defense Project, which promotes fairness for immigrants accused of or convicted of crimes, are co-hosting the event. Participating organizations include immigrant advocacy group Make the Road New York, the National Day Laborer Organizing Network, Equality for Flatbush and the Black Alliance for Just Immigration. There will also be simultaneous Spanish translation.
Media activist Palika Makam, the US Program Coordinator for WITNESS, noted that the webinar will include groups that deal with the black and transgender communities, which she said oftentimes get sidestepped in discussions about immigration issues.
"Especially with the black community and the transgender community, those communities often get left out of conversations about immigration," Makam said.
Last month, the group co-hosted the "EYES ON ICE: Know Your Rights & Practical Tips for Filming Immigration Agents" webinar, which centered on the powers as well as the risks that come with filming ICE and how to document encounters with immigration agents in a careful, proper and efficient manner.
The July 18 seminar is the second part of the series, this time focusing on community organizers and advocates' approaches.
"After we learned the foundational concept of what the legal issues and what the tactical issues are, now we're actually hearing from community groups about what's working," Makam said.
The webinar comes amid a leaked February memo published by Pro Publica in which Matthew Albence, who leads the Enforcement and Removal Operations Division of ICE, tells his 5,700 deportation officers that they have to take enforcement action "against all removable aliens encountered in the course of their duties."
Make the Road New York will be discussing how its organizers have established systems to respond to panic amongst members about ICE, corroborate raid reports and record raids. The National Day Laborer Organizing Network will discuss a case in which cell phone video of an ICE raid went viral.
The Black Alliance for Just Immigration —an education and advocacy group of African Americans and black immigrants from Africa, Latin America and the Caribbean systems — will share a statewide campaign rooted in a comprehensive approach to immigrant rights' work, particularly the manner in which the criminal legal and immigration systems converge.
And participants will learn about the need for rapid response networks to be susceptive to as well as documenting government enforcement systems such as ICE that police, affect and displace immigrants from Equality for Flatbush, a people of color-led, multinational grassroots organization that does anti-police repression, affordable housing and anti-gentrification organizing.
That conversation, Makam said, will be led by Equality for Flatbush's Imani Henry.
"He's gonna be talking about how some of these low-level crimes like jumping the turnstile in the subway station," Makam said. "How these vulnerable crimes are leading to people being detained and really highlighting that for people who might not be aware."
Michelle Parris, staff attorney and director of training and resources for the Immigrant Defense Project, said her focus is tracking ICE raids, noting that the organization has a free legal advice hotline, though with the exception of private attorneys. She said that they were getting an increasing number of calls about home raids.
"Our overall approach is to advocate for fundamental fairness for all immigrants but with a particular focus on people who have been accused or convicted of crimes or offenses," Parris said. "So a lot of our work is really challenging narratives, challenging the criminalization of immigrants."
The Immigrant Defense Project has been closely surveying ICE activity in the courts and has witnessed a substantial uptick in ICE courthouse arrests since the beginning of the year, and is organizing a campaign to get ICE out of the courts in New York State.
Last month, a coalition of legal services and community-based organizations surveyed 225 advocates and attorneys from 31 counties throughout New York State from June 12 to 23. The participants practice in criminal, family and civil courts.
The survey found that one-third of those surveyed have seen ICE agents or vehicles in and around the courts, that three out of four legal service providers report that clients have expressed fear of going to court because of ICE and that 29 percent have worked with immigrants who have failed to appear in court.
They also found that 67 percent have had clients who opted not to seek help from the courts, 37 percent with immigrants who failed to pursue an order of protection, 48 percent with immigrants who failed to seek custody or visitation and 46 percent with immigrants who have expressed fear of serving as a complaining witness.
"A lot of 'Know Your Rights' material say don't open the door but the reality on the ground that ICE has been going to people's homes for years as police and making up investigations to get into people's homes," she said.
And the organizers maintained that holding a webinar helps unite different activists, advocates and groups throughout the country to share best practices.
"It's been an experimentation that I think has gone really well," Makam said. "We thought it would be a good idea because it's really a great way to organize people across the nation and it's a really great way and tool to build solidarity and strategize with people who you can't necessarily get in the same room with."
Parris said that 606 people registered for the last webinar and that 315 ended up participating. As of Thursday afternoon, 154 people signed up. She called the webinar a "starting point for a conversation."
"Realizing that there are a lot of state forces that are driving people into the deportation system and displacing them," she said. "Trying to build new alliances with people who are doing racial justice work, policing work, reentry work and trying to build power by joining with other people who are advocating for racial justice."