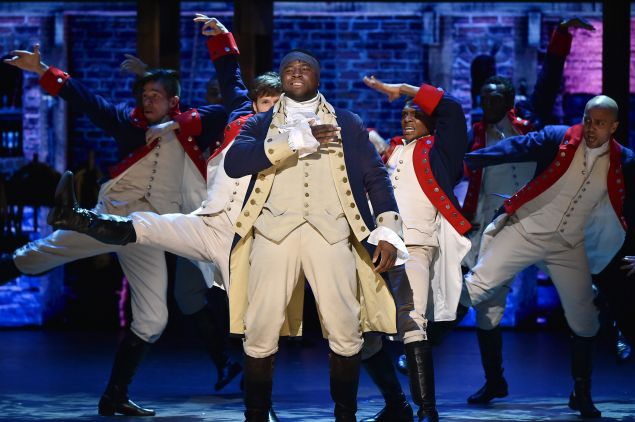 UPDATE 2: Patinkin told Tbe New York Times today that he was cancelling his plans to appear in The Great Comet because of the diversity issues. "I would never accept a role knowing it would harm another actor," Patinkin said. "I hear what members of the community have said and I agree with them. I am a huge fan of Oak and I will, therefore, not be appearing in the show."
UPDATE 1: In an Instagram post this morning, Onaodowan confirmed that he is leaving Great Comet August 13 and will not be returning. "I am grateful to have had the time to bring this character to life with a remarkable cast that truly make the Imperial Theatre a sacred place every night," he wrote. "My work is just a reflection of what they bring, have brought and will continue to bring, be it me, Mandy or whoever is co-pilot to Denee (Benton, his costar)."
Mandy Patinkin is coming back to Broadway! Great news, right?
Well, maybe not.
Yesterday the producers of the hit musical Natasha, Pierre & The Great Comet of 1812 announced that the Tony winner and Homeland star would appear in the show for three weeks only. Patinkin is scheduled to play Pierre from August 15 to September 3.
Theater fans initially rejoiced at the news—Patinkin hasn't appeared on Broadway for five years, and hasn't had a lead role in a musical since 2000.
But talk inevitably turned to the future of the actor currently playing Pierre, Okieriete Onaodowan. The Hamilton alum just joined the cast of Great Comet on July 11 (a week later than planned) and his contract was supposed to run through Labor Day. He will now leave the show on August 13.
Fans quickly focused on the fact that Onaodowan, an actor of color, was being replaced by Patinkin, who is white.
Casal and others lambasted Great Comet for abandoning diversity to increase ticket sales, noting that the show's three current leads are black (notable for a show set in 19th century Russia).
Broadway Black, a site which highlights the achievements of minorities on Broadway, reported critically on the news. The site's Twitter account also retweeted criticism from black Broadway stars.
Fans also denounced Great Comet producer Howard Kagan for his framing of the situation.
"Oak, who was scheduled to appear as Pierre for this period, graciously agreed to make room for Mandy, and we sincerely hope that Oak will return to us in the fall or winter," he told Broadway.com. "He is a terrific Pierre."
Many people critiqued Kagan on social media for using the phrase "make room," suggesting that it had racial undertones. They used the hashtag #makeroom to show their frustration.
Onaodowan has not yet publicly commented on the casting decision. Patinkin did not comment on the racial aspect, though he told Broadway.com that he was excited to "(learn) the words and music of this amazing piece."