Gucci unveiled their Fall/Winter 2017 campaign yesterday and in case you haven't heard, it's out of this world. No, really. If you cast your mind back to April, you may remember a stream of enviably stylish Gucci aliens that started appearing on the brand's Instagram, under the hashtag #gucciandbeyond.
Fast forward a few months and the Italian fashion house has finally cleared up the mystery, by revealing its latest campaign, featuring the aforementioned creatures. Inspired by vintage science fiction films, such as Forbidden Planet, it sees 'Gucci-fied' extra-terrestrial robots and dinosaurs alongside models, all decked out in the brand's latest collection.
But it appears that Alessandro Michelle isn't the only fashion creative to be inspired by all things extra terrestrial and alien. Here are seven other times that fashion has used science fiction as its muse.
Chanel's Fall/ Winter 2017 Show
Chanel's Karl Lagerfeld has turned the Grand Palais into many things. That includes a fully-functioning brasserie to an iceberg-filled room, but never before has the Parisian venue played host to a rocket launch, of any kind. Karl Lagerfeld transformed the venue into Chanel's very own space station, with a branded double C rocket; at the end of the show, the spaceship "launched" through the glass ceiling.
Alexander McQueen's Final Collection
Alexander McQueen's Spring/Summer 2010 Show, Plato's Atlantis was not only his final complete collection, and the first of his fashion shows to be live-streamed online, but it was also a "techno revolution," per top critic Suzy Menkes. The designer's inspiration came from imagining a post-apocalyptic world, where global warming and climate change condemned humans to a life underwater. Models strutted down the illuminated blue runway in their trademark McQueen claw-like shoes and their hair styled into towering, alien shapes.
Karlie Kloss' WSJ Magazine Cover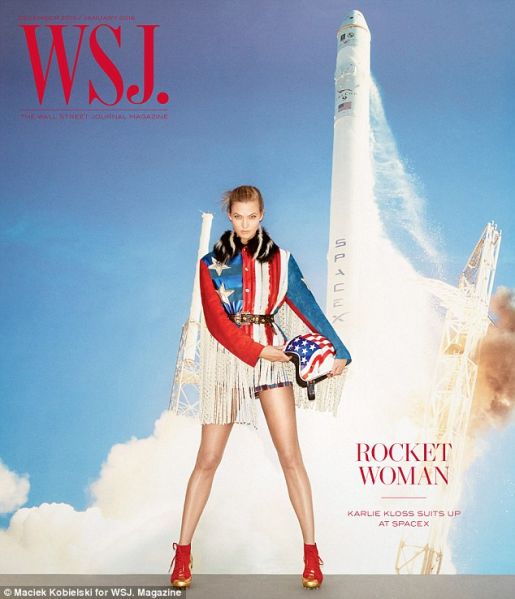 Shot the California headquarters of Elon Musk's SpaceX, the out-of-this-world shoot saw the model-turned-coder pose in multiple looks, all with a patriotic palette of red, white and blue. She's a rocket woman, for sure.
André Courrèges, the father of Space Age fashion
At the height of his career, André Courrèges was one of the key couturiers for the jet set and he created a style that has been referenced by everybody from Karl Lagerfeld to Marc Jacobs. During the '60s, Courrèges demonstrated such an interest in space, and the future of space travel, that he received a personal invitation from NASA to visit their base in Florida.
Gigi's Space Odyssey for Harper's Bazaar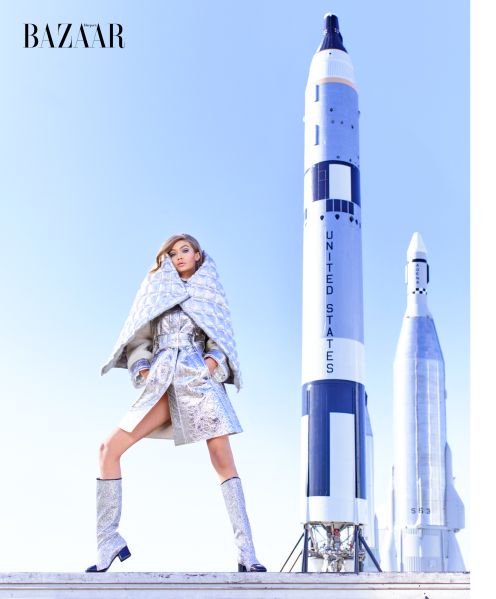 As if the "it" girl of the moment couldn't be any more amazing, Gigi Hadid became a total space age dream in this cover shoot for the Harper's Bazaar 150th Anniversary Collector's Edition. Shot at NASA's Kennedy Space Center in Florida, the model posed in an array of metallic and futuristic looks (including this caped Chanel getup), all while discussing fame, love and life.
Paco Rabanne, Lover of All Things Space Age
This Spanish designer was at the helm of the space age fashion movement, thanks to his use of unconventional materials and his penchant for crafting pieces from plastic and metal. It was Paco Rabanne's love for modernism that then caused him to be tapped to design the costumes for 1968 cult classic, Barbarella, starring Jane Fonda, which is set in the 41st century.
Currently, the fashion house has been returning to its futuristic roots, under the direction of Julien Dossena, whose collections have featured chainmail skirts, sheer nylon and Perspex boots.
Cara Delevingne's British GQ Cover
Model-turned-actress Cara Delevingne celebrated her role as the heroine of Luc Besson film Valerian by gracing the September cover of British GQ. In a sci-fi twist, she turns the tables on her interviewer with a Van de Graaf generator, giving him an electric shock when she didn't like a question he asked.