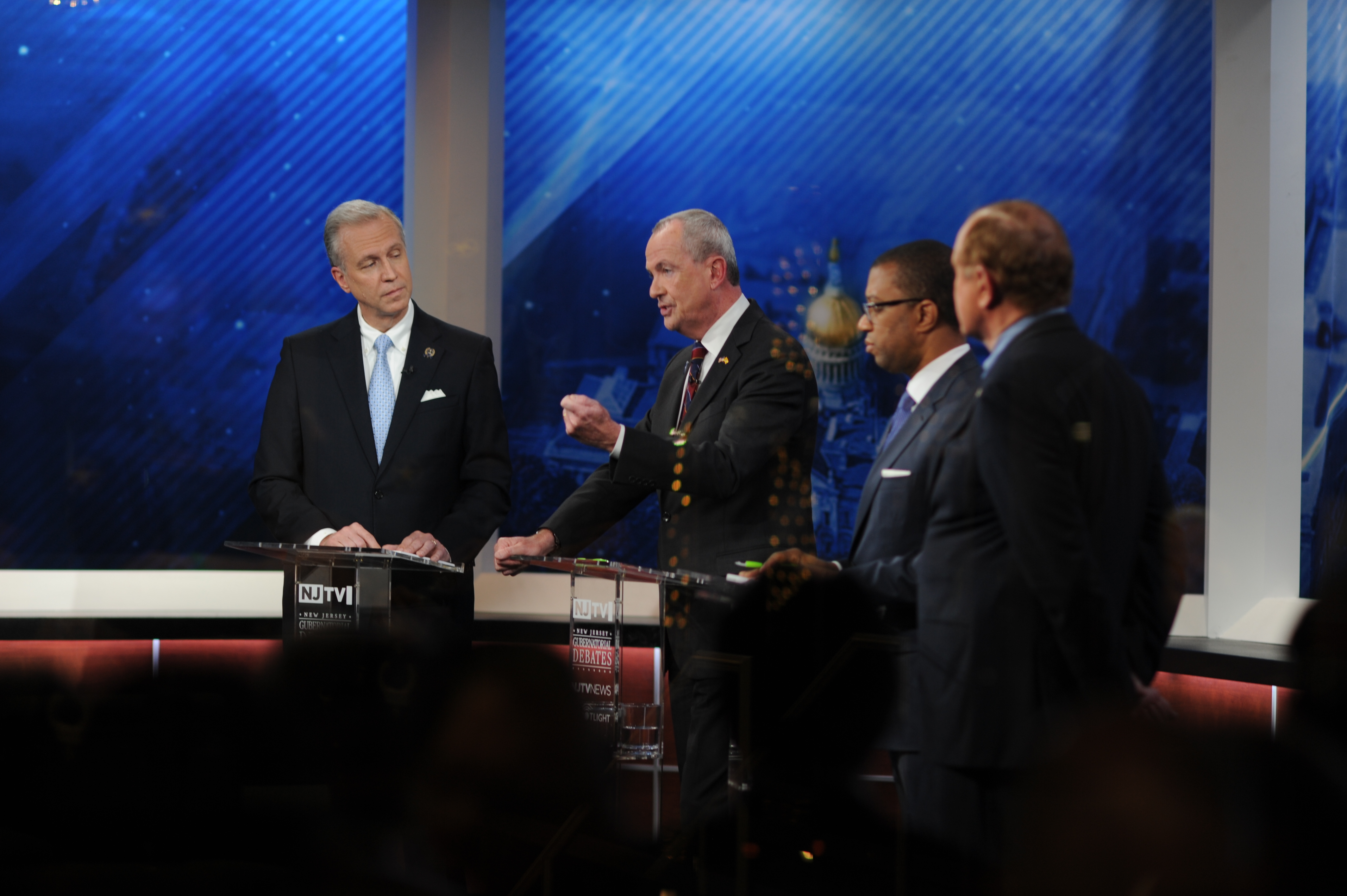 New Jersey's election watchdog agency will consider a dozen applications on Tuesday and choose three sponsors for this fall's gubernatorial general election debates.
The Election Law Enforcement Commission received applications from universities, news organizations and non-profit groups promising millions of viewers, experienced moderators and substantive questions on issues important to voters.
The commission will select sponsors for two debates among candidates for governor and one debate for their running mates, said ELEC Executive Director Jeff Brindle.
"Very generally, the commission is seeking to make the debates available to the widest possible audience," Brindle said. "We want the most amount of people to see or listen to this debate as possible."
Here's a look at the 12 debate applications submitted to ELEC:
Centenary University
NJ 101.5 FM's Eric Scott, host of the "Ask the Governor" radio show, would ask questions to the next governor. Centernary would partner with the radio station and make Scott the moderator. NJ 101.5 would broadcast the debate to its 1.1 million listeners and make it available online. The application added there is no record of a debate in Sussez and Warren County, so a debate at the college's 500-seat theater would fill that gap in northwest New Jersey.
Fox Television
Fox 29 in Philadelphia and My9 in Secaucus can reach 3 million households in all 21 counties, according to its application. The debate would be broadcast from the Fox 29 studio, fitting 50 people in an audience. Fox 29 anchor Lucy Noland would moderate along with several panelists. The application said Fox 29's news director, Jim Driscoll, organized the 2009 gubernatorial debate between Chris Christie, Jon Corzine and Christopher Daggett.
Montclair State University/NJTV
NJTV's Mary Alice Williams would moderate a debate that could potentially reach 22 million people who watch NJTV, WNET, C-SPAN and dozens of media entities in the university's Center of Cooperative Media network. The debate would be held at the college's 500-seat theater. Montclair and NJTV partnered four years ago to produce a 2013 gubernatorial debate.
NBC New York/Telemundo 47/AARP
The group said its television networks combined to reach more New Jersey viewers in the 18 to 49 demographic than any station in the New York market for the month of May, citing Nielsen data. The application also touted its partnership with Telemundo, attaching several documents with data on its Hispanic viewership. The NBC-affiliate's experience includes seven gubernatorial or senate debates since 1993.
 NBC-10/Telemundo-62/Rowan University
The debate would be broadcast to every household in New Jersey in both English and Spanish and hosted at Rowan's 800-seat concert hall. NBC 10 news anchor Jim Rosenfield would moderate the debate, along with a panelists David Ushery of WNBC and Ramon Zayas from Telemundo 62. The group partnered to produce the 2013 Senate debate between Cory Booker and Steve Lonegan.
NJ Performing Arts Center/ABC/Univision/Twitter/Rutgers
The application included an extensive list of media and non-profit partners such as WHYY, NJ Advance Media, NJ Spotlight and the League of Women Voters NJ, among others. Local ABC and Univision affiliates would broadcast the debate, and Twitter would contribute a live interactive feed. There would be two moderators and a rotating panel of journalists. The application said all partners have a combined Twitter reach of 66 million.
NJTV
Michael Aron would likely moderate the debate with contributions from other journalists at NJTV's Newark studio. More than 22 million households could be reached online and on TV, and the debate would be rebroadcast on public radio. NJTV produced two gubernatorial primary debates this spring.
News 12/Monmouth University Polling Institute
The debate would be open to all broadcast, cable and social media networks via a pool feed with no exclusivity. Eric Landskroner, host of News 12 New Jersey's "Power & Politics," and Monmouth Poll Director Patrick Murray would moderate. Questions would also come from pre-taped "person-on-the-street" videos and Monmouth Poll respondents.
Positive Community
The faith-based, monthly lifestyle magazine would produce the debate and could reach 423,000 people on Verizon Fios.
Regional News Network
The network would partner with POLITICO and can reach 2 million people in 12 northern New Jersey counties. RNN President Richard French would moderate and be joined by a panel from its partners.
 Stockton University
The university sponsored a gubernatorial primary debate this spring. Sharon Schulman, executive director of the William J. Hughes Center for Public Policy, would moderate. The debate would be streamed live online and the university would likely partner with a media company.
William Paterson University/CBS/Bergen Record
Local CBS affiliates reach all households in New Jersey on TV and radio, and The Bergen Record and its Gannett sister publications would live stream the debate online. Questions would come from a panel of journalists, a university student and residents around the state. Partners would hold statewide "virtual town hall meetings" in the weeks prior to the debate to develop questions. The university has hosted three gubernatorial or congressional debates since 2009.