In the New York Spring Summer 2018 shows, sportswear still dominated. But designers have turned bold in line and color, emphasizing utilitarian work clothes as well as military dress, the severity of which was balanced by bold color, stripes and patterns.
THE COAT
New York designers positioned the coat, buttoned up, fastened, belted, strapped, and often obscuring or rendering irrelevant anything worn underneath, as a must-have. Or at the very least, an antidote to the hoodie. Deveaux showed sharply tailored, full length dusters or slightly shorter versions akin to the lab coat, worn effortlessly like a jacket. Raf Simons offered molded and curvaceous Macintoshes and funnel coats in cadmium, red, plaid, or in solid, impenetrable black.
COLOR BLOCK
Layering colors with an almost geometric precision produces a totemic or striated visual effect. Think Jean Paul Goude's hieratic pictures of Grace Jones in which her body appears cut and divided into color blocked or banded horizontals and you'll get the idea. Carlos Campos, Represent, and Ovadia and Sons achieved this by combining long, untucked shirts with longer jackets or by layering shirts and jackets over shorts, and finishing with long socks and lace-ups.
MILITARY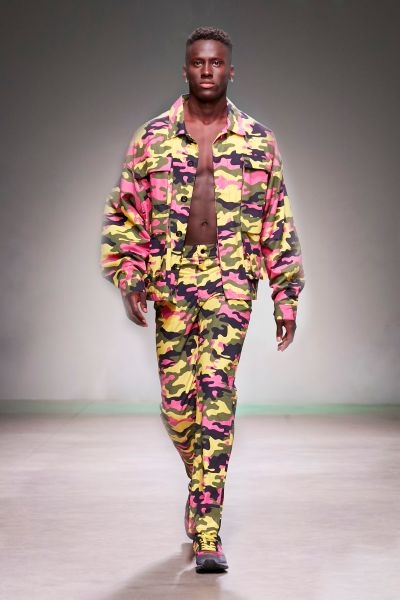 We must be living in turbulent times. Khaki, army green, camouflage, and olive green were a dominant color and pattern message. Kenneth Ning's mixed camouflage fatigues with asymetric denim jackets along with traditional tailored coats and trousers in khaki were more suave than safari. R.Swiader more or less bathed his entire collection of suits, boxy jackets, and vest in a modified camouflage pattern. If traditional army green is too literal, Landlord accented the camo colorfield with yellow, black, and pink.
BRANDING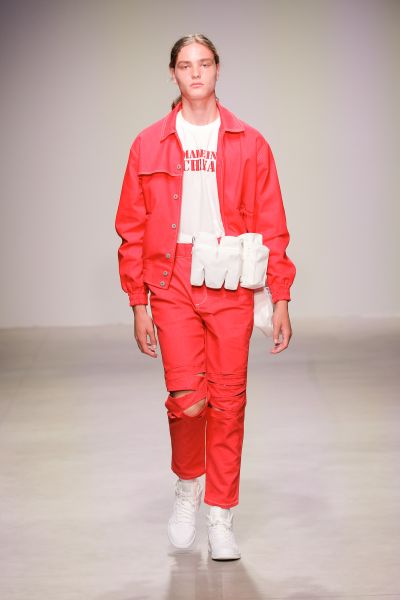 Globalism and its effects were writ large in Feng Chen Wang's utilitarian collection. Her "Made in China" t-shirt under overalls made sensitivity to the power and relevance of regional and national borders very plain. She wasn't the only one. But unlike the impersonal yet universal brand symbolism of, say, IKEA, many New York designers expressed the idea of clothing as just another product or good in "post-commodity" terms, using personal narratives that are tied to regional, multi-ethnic, or local origins. Landlord did this with a knit polo emblazoned with "Jerk Chicken". Bode showed a collection of homespun, patchwork and an embroidered fabric clash. A pair of Bode's cropped pants stamped with "Cleveland, TN" hinted to local sources. Patrik Ervell reached into the memory of growing up in Northern California, referencing his nostalgia for the touch and feel of sleeping bag and tent fabric to produce looks in nylon ripstop.
CAPE
Any discussion of capes, ponchos, parachute fabric should include a reference to the billowy "parangolés" by Brazilian artist Hélio Oiticica. Coincidentally an exhibition of his work just opened this week at the Whitney Museum. Although he died in 1980 and his work is little known here, his cloaks, ponchos and capes, which were made in the late 1960's and early 1970's, loom large, at least for me, as I made my way through the New York collections. With his unstructured parangloles, which viewers can try on and wear, Oiticica aimed to liberate modern, abstract painting from two-dimensional form. A similar three-dimensionality and libration of the male form shows up in a show stopping parachute cloak by N-p-Elliott and Heliot Emil.
THE TRAVEL PRINT
The bold, bright, loose fitting Hawaiian print shirt has returned. However the floral motif is less staid than those associated with Dad wear or cruise ship tourists. These prints are decidedly more wild. Palmiers du Mal took the idea of the travel print further than the simple travel shirt with long shirt tunics in animal print or sport coats and pants in clashing patterns.