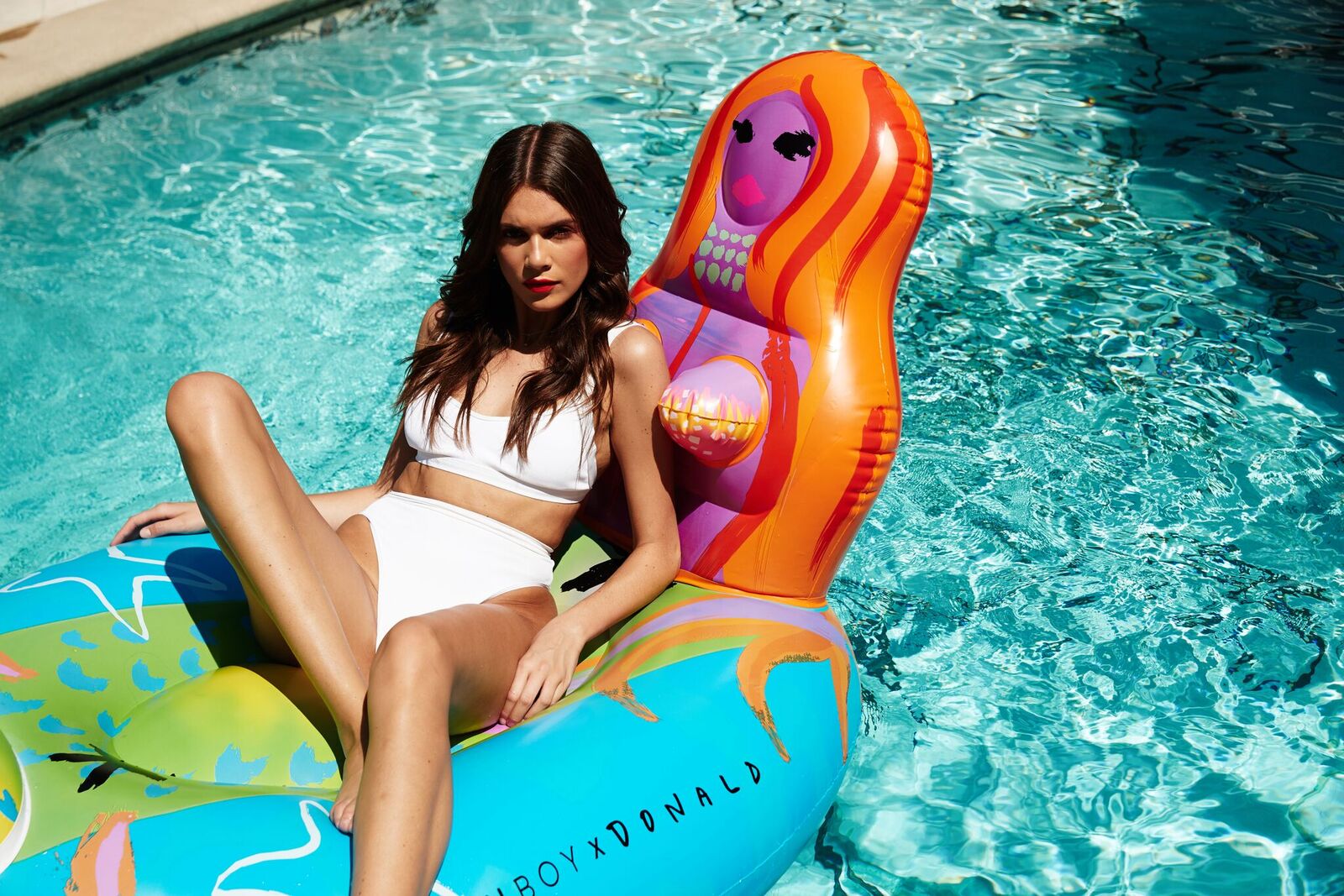 Once upon a time, all someone needed in their pool to enjoy themselves was a noodle, available for under $5. But in 2015, when Taylor Swift debuted a picture of her boyfriend, DJ Calvin Harris, riding atop a swan (introducing #SwanGoals) and posed with her newest squad members with the floats as the backdrop, tropical weekends weren't the same. Suddenly, thirst trapping necessitated playful props, and Swift's favorite float company, Funboy, delivered.
The pool float purveyors created the swan moment, followed swiftly by a unicorn (although they were not the ones behind the Swarovski $6,000 unicorns—that was their competitor, #FLOATY). This summer, they're busting out their latest props, sure to be posed on by anyone who promotes SugarBearHair on Instagram or had a hit single sometime in the past few years.
In the days before social media reigned supreme, it was enough to go on vacation and force your friends to look at photographs, or to return with a particularly colorful hair wrap to show off your time spent swimming with the dolphins and perfecting your sunburn. Now, a long weekend in the Hamptons or even a trip to the Rockaways is incomplete without an inflatable slice of pizza, a unicorn or a donut.
The Funboy floats, some of the most popular on social media, are priced from $24 (for three inflatable, lip shaped drink holders) to $267 for the "swan squad," consisting of three of Swift's favorite float, in silver, white and gold.
Co-founder Max Barrett predicts the bright white angel wings float ($128), the rainbow cloud daybed ($169, $39 for the matching floating bar) and the yacht daybed ($128, with cup holders and room for a cooler) will be this summer's biggest hits, so prepare to dole out Insta-likes accordingly, or consider purchasing your own.
The company launched their first collection of pool toys in June 2015. Since then, Funboy has become synonymous with Instagram influencers. Pop star Demi Lovato, assorted members of the Kardashian family, the entirety of the Snap Pack, Swift's nemesis Katy Perry, Pretty Little Liar star Shay Mitchell and Angel Alessandra Ambrosio have all garnered thousands of likes with the floats as unlikely co-stars.
"We're a bit unique in that we founded the company as a true family team," Barrett explained, as he started the company with his brother and their wives. The brothers grew up boating and were competitive swimmers, so the shift to swimming pools was not unexpected.
While they've been connecting with influencers from the beginning, the brand really took off on July 4th, 2015, when Swift started posting with the floats during her yearly party. After she snapped photos with her friends sprawled on the floats during peak squad season, the company promptly sold out their first limited edition summer collection before it even arrived.
Now, the company has expanded, and even has their own rosé line. For $75, you can be on trend and aesthetically pleasing (of course, their new floats have ample room for the bottle, ice and glasses). Taylor Swift might be a divisive figure, but her annual July 4th party kicked off a trend that's outlasted her squad members.