If you've been lucky enough to snag a table outside of Sant Ambroeus in Soho over the past few months, perhaps to enjoy a plate of avocado toast or to tuck into a bowl of cacio e pepe, surely you've spotted Gucci's rotating murals. This past February, it first appeared as an intricate black and white painting of a woman peering through a telescope as she soared through the evening sky. Then, in May it became a cheeky striped painting that screamed "Criminal Couture!" But by the end of June, that wall, which is punctuated by windows asked a simple but pressing question: "What are we going to do with all this future?"
It all sounds nice and entertaining, almost like dinner and an art show, but what is the significance of it all? The rotating artwork is part of a project that Gucci has embarked on until the end of 2017 and so far, it has been supporting female artists. That searching woman was painted by Jayde Fish; Angelica Hicks is responsible for combining style and crime; and Coco Capitán is the latest female artist who has been embraced by Gucci.
As for what Capitán's saying means, well, you can read into that. "I don't think the work is directly linked to politics, necessarily, but it is definitely about wondering about what will come next. What a future is even really about," she rambled to The New York Times.
This Gucci project shows the Italian brand's interest in furthering the creations of female creatives. Not only do the women have their work plastered where massive crowds can see (in both Soho and Milan's Largo la Foppa), but they have also partnered with Gucci's Alessandro Michele on various collaborations and capsules. Now, a wider audience can not only consume their art, but can wear it out of the house, too.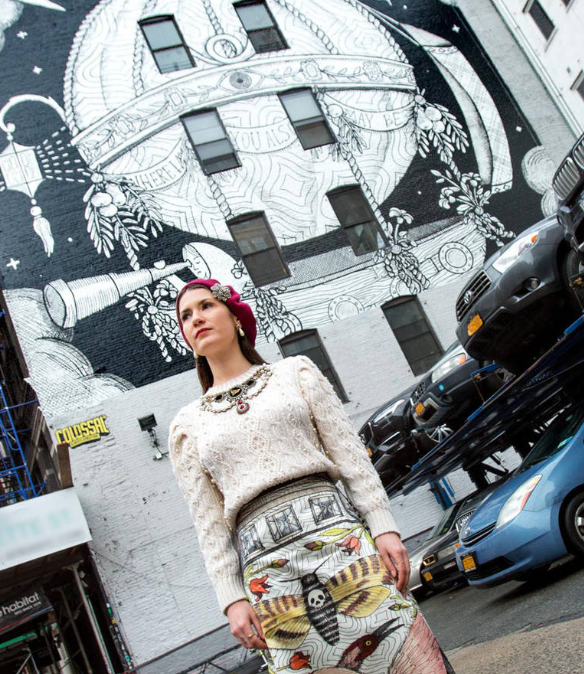 For example, long before she had the mural, Fish, a San Francisco-based artist, was drawn to Michele's work and began incorporating his creations into her designs. When she started hashtagging his name in her Instagram handles, she finally caught his eye and the two began an unlikely collaboration for the Spring 2017 range. Fast forward to May of this year, when Lana Del Rey wore one of Fish's skirt designs, with a moth painted on it, on the cover of ELLE UK.
Capitán's collaboration preluded her mural as well, when her signature scrawling and mysterious quotes ended up on a few t-shirts in the fall 2017 range—Michele even wore a t-shirt with a saying from the Spanish artist to take a bow at his show this past February. The shirt read "I want to go back to believing a story," in fitting fashion.
Meanwhile, Hicks' partnership with Gucci materialized at the same time as her mural. Celebrated with a dinner at Sant Ambroeus in Soho, the brand rolled out 100 t-shirts featuring her tongue-in-cheek doodles, all of which served as a sort of extension of her beloved Instagram account.
"Seeing my illustration on such a large scale, akin to a billboard, is insane," Hicks confirmed to Vogue. She also waxed poetic about the undeniable talent that Michele has.
Capitán's creations for Gucci are readying to hit store shelves around the end of July, including a slew of t-shirts, sweatshirts, backpacks, tote bags and coats, all with the artist's signature scrawl. While shoppers can certainly consider these purchases as a designer acquisition, they're also pieces that will support a young female artist—and hopefully many more to follow in this rather creative Gucci project.
And for those young artists who also want to be discovered by Gucci on Instagram, don't forget to just keep creating…and maybe tag @lallo25 every once in a while.