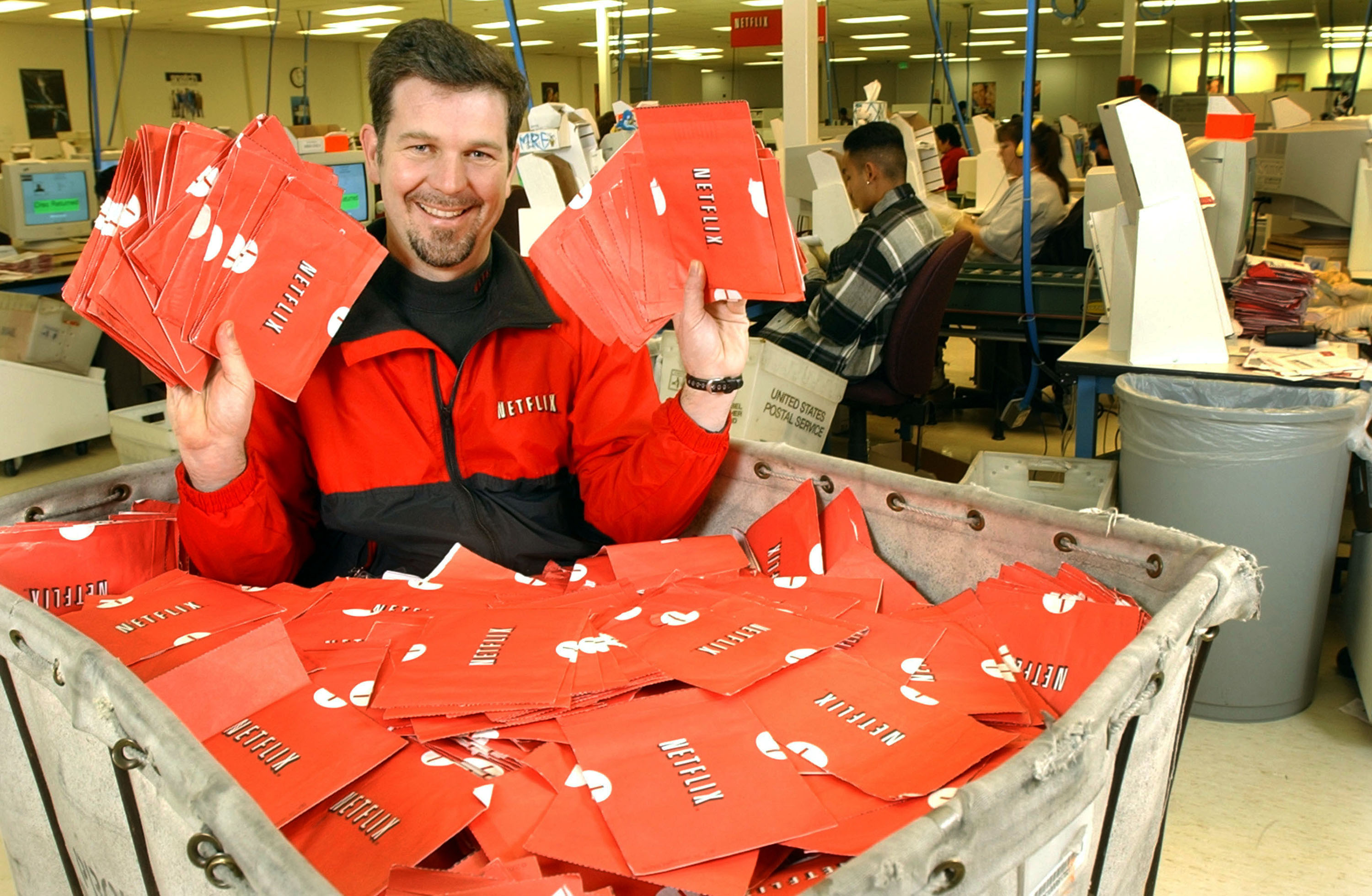 Netflix is one of the best performing tech stocks in 2017, rising 27% year to date.
While their recent success can be attributed to their bet on producing original content (on top of the hundreds of classic films available to customers), their foundations can be traced back to a key marketing strategy they embraced in the late 90's and early 2000's — they distributed coupons towards free Netflix DVD rentals inside the boxes of DVD players sold to consumers, and later on through retailers like Circuit City.
Netflix was founded in 1997 by Reed Hastings and Mark Randolph. The company had bold ambitions to grow, but was limited by the number of consumers in the market who could actually use their service because they didn't have DVD players.
At the same time, DVD Player manufacturers were struggling to sell their players, as it was difficult for consumers to get access to DVDs to use their machines.
"It was tough at first to find effective ways to reach people who both owned DVD players and shopped online. Randolph mused that out of a thousand banner ads, perhaps one would reach a target consumer."
While Netflix was a service you accessed online, the team realized that offline tactics would have to be the key to their success.
"In January 1998, [Netflix] approached representatives of Sony, Toshiba, Pioneer, Panasonic, Philips at the Consumer Electronics Show — cornering them in corridors and speed talking through five-minute pitch meetings [to convince them to include coupons for free Netflix DVD's alongside their DVD players.]"
It took over a year to get coupons into the DVD Player boxes, but "[m]anufacturers quickly discovered that Netflix offered a way out of a dilemma that was holding down sales: consumers did not want to buy DVD players because DVDs were not widely available in stores. By including a Netflix coupon in the box, [they] could promise consumers access to a library of more than one thousand titles."
By July 1999, Netflix had struck up partnerships with manufacturers like Panasonic, Philips, Sharp, JVC, Kenwood, Mitsubishi, Sony, Toshiba, RCA/Thomson Consumer Electronics and Pioneer, putting Netflix "in all key DVD player boxes shipped [in 1999]."
This partnership later expanded to working with retailers like Circuit City. From March to August 2000, Netflix distributed in-store coupons for 13 free Netflix DVD rentals across 600 Circuit City stores.
Results
From December 2000 to February 2002, Netflix's subscriber base doubled from 250,000 subscribers. to 500,000 subscribers.
Over that same time period, there were approximately 12.7 Million DVDplayers sold in the United States in 2001, approximately double the 6.4 Million DVD Players sold in 2000, showing a clear correlation between the growth of DVD player sales with the growth of Netflix's subscriber base.
If you were to assume that there was a Netflix coupon in every DVD player sold, and all new subscribers came as a result of that program, that represents roughly a two-percent conversion rate from coupon-to-subscriber.
Why was this successful?
Netflix came as a match made in heaven for DVD player manufacturers. The partnership made all three parties, the consumer, the advertiser (Netflix) and the distributor (DVD player manufacturers), happy:
Complementary Consumers. Individuals buying DVD players were naturally the same consumers who would be a potential Netflix consumer. It made sense to partner-up and reach the same consumer together.
Netflix gave value first by sampling their service. Netflix sampled their service to consumers, letting them get a certain number of free rentals before ever asking them to pay for the service.
Profitable Customer Delight. DVD manufacturers got the triple benefit of (1) delighting their customers with an extra gift, (2) increasing the usability of their own product by giving them a steady supply of DVD's to play and (3) they earned highly profitable revenue on every Netflix co-promotion.
How can you replicate this?
The eCommerce industry is expected to grow to over $440 Billion in 2017. Advertisers now have the opportunity to replicate this strategy across all categories and products.
Wealth management companies can partner with retailers servicing new couples at David's Bridal or new parents at Zulily.com who are looking to invest for the first time, offering them free wealth management services for 3 to 6 months as a perk for shopping at their favorite retailer.
Wine subscription companies can partner with appliance manufacturers like Danby or retailers like Lowe's to include offers for their wine subscription inside purchases of wine coolers or mini fridges.
Food and beverage companies can partner with the likes of Foot Locker or Eastbay Sports, providing coupons for their healthy snacks or energy drinks, to equip athletes with the fuel they need to perform at the highest levels.
Here are three ways brands can take advantage of this new customer acquisition channel:
Business Development. Assign someone on your team to reach out directly to complementary partners you think sell to the consumers you're trying to reach. Preferably this person is strong in client-facing / sales environments. You can either offer to pay other eCommerce retailers to access their customers, or agree to a swap where you offer to promote their business in exchange for them promoting yours. Gary Vaynerchuk, 4 x NYT Best Selling Author, Founder & CEO of VaynerMedia and investor behind Facebook, Uber, Twitter, Snapchat… etc., is a huge proponent of using Business Development to grow your business.
External Agency. There are a number of agencies who you can work with that charge a commission or a monthly retainer to manage these partnerships on your behalf. This may increase your overall spend, but reduces the overhead of having to build an internal team yourself. You additionally benefit from the expertise the agencies have in this channel on how to run the best campaigns.
Self-Serve Platform. Ad Age recently profiled a self-serve platform that my team and I are building at Exact Media called Connections, which lets advertisers connect directly with a network of eCommerce retailers at scale. An internal resource is needed to use the system, but costs less than building a full business development team or using an external agency.
Don't get caught up in just focusing on digital.
Blue Apron, currently worth $1.4 Billion, spends more on offline media than online media.
Casper, the mattress company, is growing rapidly by using New York subway ads. They recently turned down a reported $1 Billion acquisition offer from Target.
Amazon is opening up pop-up stores and acquired Whole Foods for $13.4 Billion.
Netflix started it all using simple coupons. Offline media is alive and well.
Daniel Rodic is the co-founder of Exact Media and Co-Host of the Connections Podcast. He was named Top 30 Under 30 by Forbes Magazine and Marketing Magazine, was named EY Entrepreneur of the Year Finalist in 2016 and represented his country at the G20 Entrepreneurs Summit in Moscow and Beijing.