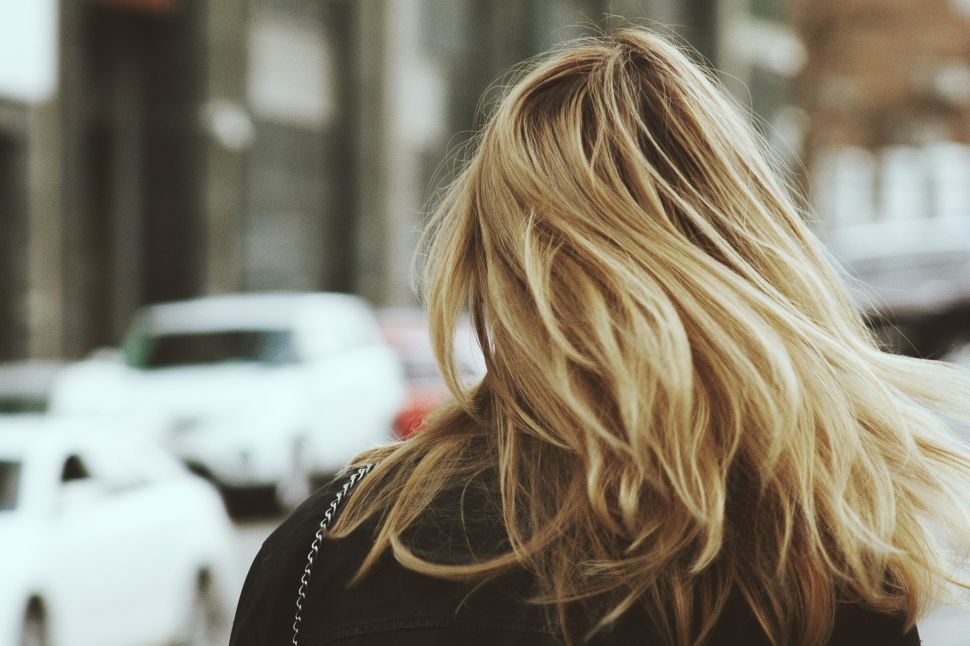 If yoga were a person instead of a $27 billion industry, I would recognize her immediately at my high school reunion.
Yoga the Person would be female with a long golden ponytail and muscles that popped when she nailed crow pose on a bar stool at the party hall. No matter that I am also kind of blonde, she would be blonder and better than me in every endeavor. Without wrinkling her sundress or messing up her name tag that bore a Sanskrit alias, she would squeeze me in a generous hug that made me realize how much I loved and hated her.
In the embrace of this woman once known as Jen but now called Chandra, I could sense a union of opposites: the musky perfume of marketing yoked to a sister who guided me toward a 5,000 year-old system of wellness. I thought of Yoga the Person every time I rolled out a mat and struck a dancer pose in my crowded New York City apartment lined with car hair. Circus tricks are fun after all. But in my dark fantasies, she perfected handstands before losing her balance and toppling belly first into the ocean.
Like all former teen queens, Yoga the Person has secrets beneath her rhinestone tiara: sexual deviancy, bulimia, family dysfunction, narcissistic tendencies, co-dependency, jacked-up finances, torn hamstrings, PTSD, addiction and acne all conveniently hidden by the magic of Photoshop.
Just like converts in all spiritual traditions, Yoga the Person is prone to grandiosity because she doesn't have a strong locus of control. Not out to destroy your FICA score, she adores trends and wants you to buy her baubles. As a general rule, she is not a megalomaniac. She's less Bikram and more a hot mess of the John Hughes variety. Like Caroline Mulford in Sixteen Candles, Yoga the Person occasionally wakes up holding chunks of her own hair while lying beside a guy in a mouth guard.
At her worst, she can be emotionally immature like Christie Masters, the mean girl in Romy and Michelle's High School Reunion, or she might be more evolved like Lisa Luder, the brainy beauty who appreciated Romy and Michelle's fashion sense but was still kind of snotty. At her best, she is as delightful and kind as Josie Geller in Never Been Kissed. As long as Yoga the Person sticks to the eight limbs, peers bask in her glory because her dedication helps trigger confidence. But when Yoga takes credit for good feelings, she turns into Blair Warner with one of her brilliant ideas.
To be clear, Yoga the Person represents the whole commercial machine cashing in on an ancient practice: everything from retreats to ads selling products ranging from ovens to Lululemon's see-through pants, a public relations nightmare.
When Yoga the Person gets too big for Chip Wilson's stretch pants that "don't work" on some women's bodies, she always returns to savasana, humbled once again in the face of a tradition that is now has 36 million followers in the United States. That's why it's difficult to dismiss Yoga the Person; her efforts stumble in the direction of north. Underneath the glamour of Instagram, Yoga the Person gravitates toward yoga because the practice holds her together at 3 a.m. when she is all alone and convinced her teeth are made of chalk.
Yoga the Person isn't a threat as long as you maintain your values and don't become seduced by her siren song. Rather than being a tyrant, she is an adorable pain in the ass who spends $16 billion a year on fashions she will later model on Instagram. She is forever hungry and needful of attention, as evidenced by her endless Snapchat streaks about cleanses and lifestyle brands.
But Yoga the Practice only requires a body and a little bit of breath guided by the yamas and niyamas. This true presence creates healthy independent people of all shapes, colors and ages.
Yoga the Person symbolizes ego. By virtue of being human, she will always let you down if given the chance, but you don't have to feed the cycle.
If you can picture Yoga the Person at your next reunion, go ahead and give into her affection. Tell her she looked great on the cover of Yoga Journal and that her jade malas are pretty because they are. Trust the yogic tradition that has supported practitioners since ancient times and continues to comfort you. You are in charge. High school is in your past.   
Ann Votaw is a freelance writer in New York who has a M.A. in Health Education. She teaches yoga and physical fitness to adults 60 and better.