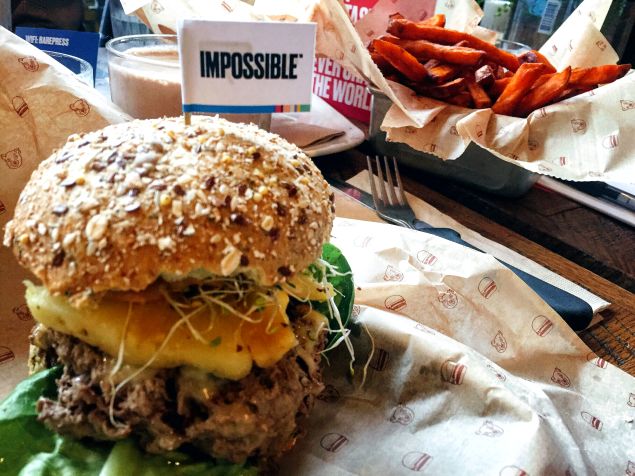 The Observer has been obsessed with the Impossible Burger for about a year now. Created by Silicon Valley startup lab Impossible Foods (which Bill Gates invested in), the burger looks, cooks, smells, sizzles, tastes and even bleeds like ground beef. But it's made out of plant-based ingredients like water, coconut oil and protein from wheat and potatoes as well as natural flavors, micronutrients and a yeast molecule called leghemoglobin or "heme." It also has a much smaller environmental effect than a beef burger, saving 75 square feet of land and enough water for a 10 minute shower.
The Impossible Burger has been served at highbrow New York City restaurants like Momofuku Nishi, Saxon + Parole, The Daily and PUBLIC (the last two restaurants recently closed). But it really came to wider notice in March, when Bareburger began offering the Impossible Burger at its flagship New York City location on LaGuardia Place.
The initial Impossible Burger trial was only supposed to last one month, but it's been a top seller over the past four months. So Bareburger is expanding the partnership in a big way.
Starting today, the Impossible Burger will be available at five new Bareburger locations in New York City. It will continue to expand to about 20 more Bareburgers nationwide over the next month—the chain has 43 locations in all.
"Bareburger has been a great partner of ours since the beginning," Ashley Kleckner, director of marketing for Impossible Foods, told the Observer. "It's a beautiful relationship that we plan to continue for a long time."
"This burger has our guests going nuts, and we want to get it to guests from New York to DC and Chicago to Ohio," Bareburger CEO Euripides Pelekanos added.
To celebrate the growing partnership, the two companies are hosting a joint cookout this Sunday at Bareburger Astoria. The event will feature Impossible Burger demos, along with kid-friendly cooking classes from Allergic to Salad.
It's not just New York and Silicon Valley, however: the Impossible Burger is a success in the heart of cattle country, where it's being served at Hopdoddy Burger Bar in Texas.
These collaborations are part of Impossible Foods' aggressive expansion efforts—it wants to be in 1,000 restaurants nationwide by the end of the year. The company has production facilities at New Jersey's Rutgers Food Innovation Center and at a warehouse in Oakland, California—the latter facility will make enough burgers to serve four million people a month by year's end.
"We're ramping up supply and are working tirelessly to get the burger into as many communities as we can," Kleckner said. "Partners like Bareburger are how we're going to be able to deliver on the demand."