The concept of flying cars has long sparked the imaginations of some of our favorite storytellers. Think Chitty Chitty Bang Bang, and the Weasley family's flying Ford Anglia from Harry Potter.
Although we may not be able to take a ride in flying cars, just like in our favorite childhood books, Airbus Corporate Jets and luxury car company Pagani Automobili want to make this soaring automobile dream a reality. Their version, however, is way more luxurious than your average automobile.
In May, the two companies announced they would be collaborating on a new design for the ACJ319neo, called the Infinito cabin. When you mix their purposes and aesthetics together, you get the Italian luxury, style and elegance of the finest cars ever driven—and you can experience them while effortlessly cruising through the sky—thousands of feet above any highway—for the most elite travel experience yet.
Although this isn't the first time a car company has paired up with a plane company to creative a lavish flying experience (Mercedes-Benz and airline Lufthansa Technik did so in 2015), their cabin offers never before seen innovative features.
The sky ceiling is quite possibly the most unique aspect. It creates the illusion of being in a roofless jet, drawing comparisons to the "convertible car" of planes. Of course, the jet does have a ceiling, but it's covered by a screen that projects a slew of realistic images, including a live view of the sky, in order to create the feeling of being exposed to the elements, all while soaring in an A-list jet.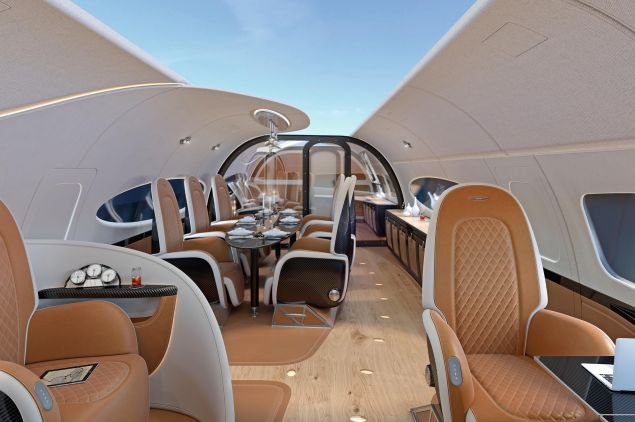 Horacio Pagani, the founder and chief designer of Pagani, expressed his excitement for the new collaboration on the Airbus website, stating: "The combination of state-of-the-art composite materials never used before in an aircraft, such as CarboTitanium, with the typical design language of Pagani Automobili, has always represented our signature. Applying our Renaissance touch into the wider spaces of Airbus corporate jet cabins is the beginning of an exciting new venture for us."
For Benoit Defforge, Airbus' managing director, this collab is perfect for their elite, high standard customers. "In bringing together the best of the supercar and business jet worlds, we enable an elegant and seamless link for customers of both, while bringing a fresh approach to cabin design and satisfying very demanding standards," he said.
It's not yet known when the first flight will be taking off, but we do know that eight passengers will fit comfortably on the luxury jet, and they can fly to any destination within a 15 hour range.