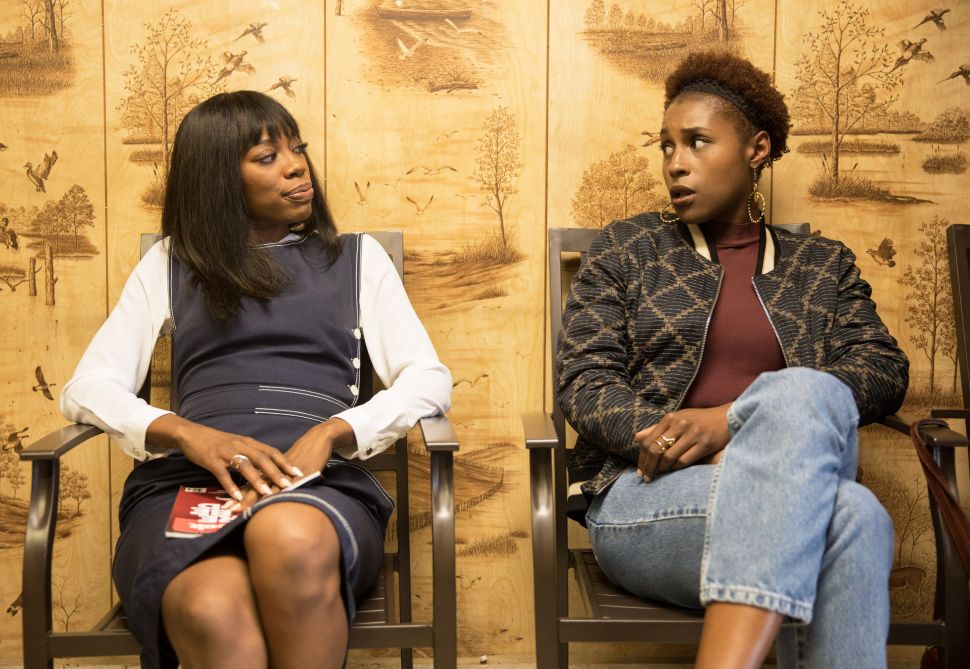 Do you love to laugh? Of course you do. Do you love good quality entertainment that makes you think about life? Of course you do. That's why you're one of the many people excited for the return of Issa Rae's HBO dramedy Insecure tonight.
Rae originally gained a following as the creator of the impressive web series Awkward Black Girl before truly breaking on to the scene with Insecure's rookie season in 2016. HBO wasted no time in giving her specific form of social satire a platform for a second go-around, which finally debuts tonight. You'll laugh, you'll cry, you'll pour a third glass of wine despite your better judgement. Classic Sunday night.
Fans were not happy when Insecure didn't receive any 2017 Emmy nominations (HBO put its considerable campaign muscle behind the big and splashy Westworld rather than its smaller series like Insecure and The Leftovers), which is understandable. But since when did the Emmys get anything right? Don't let that taint your premiere viewing experience.
For those of you who are new to Insecure, the series co-stars Yvonne Orji, Lisa Joyce and Jay Ellis.
According to Indiewire, "Season 2 will pick up with a newly single Issa as she tries dating and contemplates getting back together with her man. Her best friend Molly, meanwhile, discovers she's being paid less than her white male coworkers, which will certainly bring a new social commentary to the series."
You can check out the official Season 2 trailer below. Enjoy!
https://www.youtube.com/watch?v=bQntBFGoNXQ