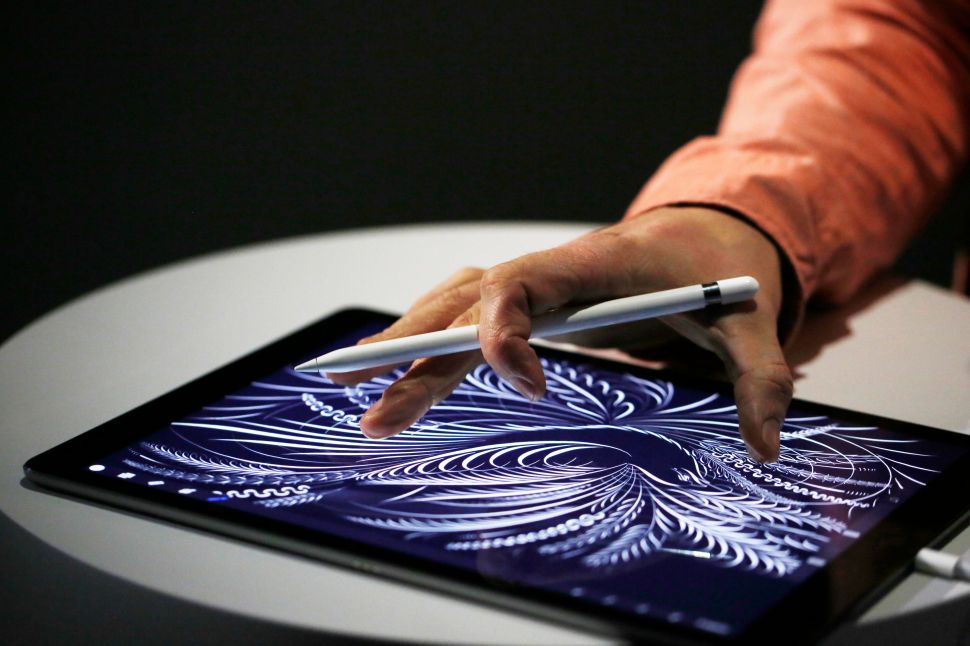 Make no mistake about it, the iPhone 8 is going to be one beautiful device. As MacRumors notes, at least one version of the device will have a 5.8-inch edge-to-edge OLED screen with an increased pixel resolution, an advanced A11 processor and a glass body. There allegedly won't even be a physical home button, and there are rumors that Apple has perfected facial recognition to the point that there is no need for Touch ID. Finally, Apple is set to add wireless charging capabilities to the iPhone—something Samsung has done with its phones since 2014.
In addition to the dual-lens rear camera, the iPhone 8 is said to have a front-facing camera with 3D sensing capabilities to map the location and depth of objects. Apple will also mix in augmented reality capabilities with their new smartphone. It's the iPhone's 10th anniversary, so you can bet Apple is building a device sure to wow. Whether or not Apple's new smartphone makes its way to our hands in September, the month Apple usually releases new iPhones, remains to be seen.
The iPhone 8 is an almost guaranteed hit. However, if Apple wants to overshadow Samsung's Galaxy Note 8, they need to understand that many people buy the Note for its inking capabilities. In 2007, Steve Jobs laughed at the idea of a smartphone stylus, and many others thought it was passé. Jobs was a smart man, but he couldn't have been more wrong.
At the time, the type of devices that used styluses were resistive, meaning their screens responded to pressure. Windows Mobile and Palm devices were known for including plastic styluses, since using a finger required too much pressure. By the time Apple made the capacitive touch screen (which relies on electrical impulses from light touches) mainstream in 2007, fingers easily replaced the need for a stylus.
But what about people who wanted to take notes on their devices? Many third party developers came out with capacitive styluses in which the rubber tip mimicked the impulse of a human finger. They were commonly used for iPads, and developers came out with software that was friendly to the capacitive stylus. The iPad's Penultimate, which was like having your own drawing pad with you at all times, took advantage of third-party styluses. Still, writing or drawing did not feel real.
Samsung realized there was a market for people who want to comfortably draw or take notes on their devices with different pressure points while mimicking several different writing devices such as a pencil, marker, regular pen or calligraphy pen. The S Pen, a thin digital stylus, made this possible. Best of all, the S Pen could be attached inside the device, making it hard to lose. Many laughed at the first "oversized" Samsung Galaxy Note that was released in 2011, but by the time the Note 2 was released in October 2012, it was obvious Samsung was onto something.
It took a couple more iterations for Samsung to perfect the writing capabilities, and 2015's Note 4 became the ultimate smartphone beast; it allowed you to take notes without even turning on the device. Samsung's device was the most sought-after by business users. Then, 2016's Galaxy Note 7 (known to some as the "Galaxy Nuke 7") was recalled (twice!). Despite problems with the Note 7, business users will still likely flock to the Note 8 if Apple doesn't add Apple Pencil capabilities to their new iPhone.
There is no excuse for failing to make the iPhone 8 compatible with the Apple Pencil. While it's true that people will have nowhere to attach the large pencil-shaped stylus, that's a minor inconvenience that could be overlooked if the Pencil works just as well on the iPhone 8 as it does the new iPad Pro. If anybody at Apple thinks that a Pencil-enabled iPhone will take away sales from the iPad, they need to realize that iPad sales are already in the dust.
There are conflicting reports on whether or not Apple will make at least one of the new versions of the iPhone 8 compatible with the Pencil. If Apple does include support for this, the iPhone 8 will not only become the best gadget in the world, it will be the most productive one. Let's hope Apple is listening to customers and delivers an iPhone fit for all types of users.