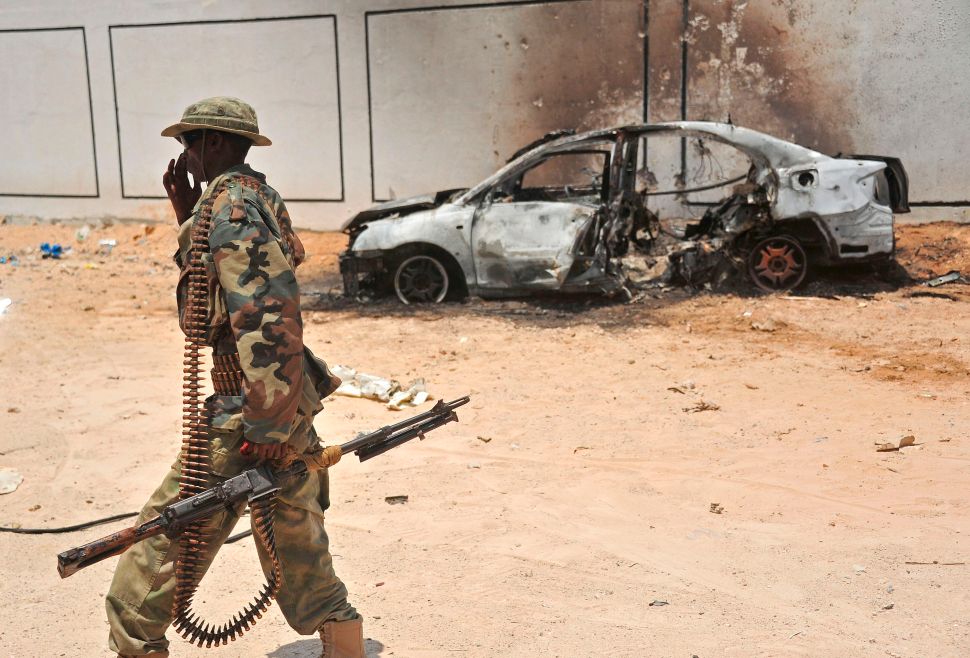 As the Islamic State loses their grip on declared caliphate territory, al-Qaeda has steadily been making moves to turn ISIS' loss into their gain.
In some ways, they're mirroring the tactics of ISIS as they lure new recruits from the West, and they're most certainly still the old al-Qaeda at heart with the same focus on killing Americans. But in so many other ways they're 10 steps ahead of the minions of Abu Bakr al-Baghdadi, utilizing his group's best practices while identifying and improving upon ISIS' organizational and operational flaws.
Recent propaganda and recruitment activities indicate that al-Qaeda is salivating at the very near prospect of the caliphate going down. Sure, they've been ready with their "I told you so" barrage since al-Baghdadi first climbed the steps in Mosul and declared that he was top dog of the one true Islamic state. The al-Qaeda response at the time was essentially "don't come crying to us when you crash and burn." Now they're moving from "don't let the door hit you in the butt on the way out" to "come on in, the water's warm."
Jihadists loyal to al-Baghdadi will still exist after he's dead and gone, and after Raqqa and Mosul have returned to their new normal—rebuilding shattered neighborhoods, mourning the dead, reuniting families, getting back to school and work, restocking libraries, and wiping every last trace of ISIS from their cities. They'll be looking over their shoulders for a long time, wary of drone IEDs from the sky and car bombs where their children play, remnants of an extremist army determined to get in their last licks. There will still be propaganda videos and magazines, especially from far-flung parts of the globe where ISIS is trying to establish a foothold. But ISIS will have to grudgingly transition into an organization more like al-Qaeda if they want to survive.
And al-Qaeda is planning on benefiting from every minute of it.
The June issue of al-Haqiqa, a new English-language al-Qaeda magazine, sounds an awful lot—though noticeably older and wiser—like the ISIS e-books and propaganda rags that employed westerners to lure their countrymen to join the once-impressive ISIS stable of foreign fighters.
"Jihad is a standing obligation until the end of the world," an article in the magazine states, and western Muslims should take a look at the sinful cities in which they're not accepted, leave their "pointless TV shows, massive dance parties and endless fast-food restaurants," come to Syria and join the jihadists. A notable point of difference from the come-as-you-are Islamic State is the caveat that would-be jihadists need sponsors to vouch for their credibility, a modern update to the al-Qaeda job application discovered in Osama bin Laden's Abbottabad compound.
Toward the end of June, a coalition of foreign fighters from al-Qaeda-linked groups released a slick 35-minute film in English, German and Turkish trashing "putrid society" in the West and calling on Muslims in these countries to pack up and head to Syria, rather than stay in countries that allow horrid things like tolerance and equality. Al-Muhajirun (The Emigrants) used a clip from Monty Python's Life of Brian to paint the West as mocking of faith and Planet of the Apes to slam a society accepting of evolutionary theory.
The message was narrated by a German convert who declared a media war on religion and sounded enough notes on socially conservative issues from abortion to same-sex marriage that he was casting his recruiting net pretty wide.
Then came the publication of a new "code of conduct" for jihadists from al-Qaeda in the Indian Subcontinent that trumpeted the terror group's strategic differences from the slash-and-burn caliphate: Don't kill Muslims, the guide states, and hold jihadists accountable who even accidentally hurt Muslims in operations. Don't attack "when hitting or killing such targets does more harm than good to the jihadi movement." And target Americans as "the central enemy standing against Islamic and jihadi awakening."
AQIS, which hacked to death Avijit Roy of Atlanta on a Dhaka street in February 2015 for running an atheist blog and assassinated USAID worker Xulhaz Mannan the following year for founding Bangladesh's only LGBT magazine, has previously vowed to "not tolerate anyone insulting prophet Muhammad" and also target broad categories of alleged enablers.
With a multi-pronged effort of West-focused recruitment and instruction across its myriad chapters and allies, al-Qaeda is strategizing to benefit from the Islamic State's defeats—and our counterterrorism strategy, including political rhetoric currently focused wholly on ISIS, must be ready.
Bridget Johnson is a senior fellow with the news and public policy group Haym Salomon Center and D.C. bureau chief for PJ Media.