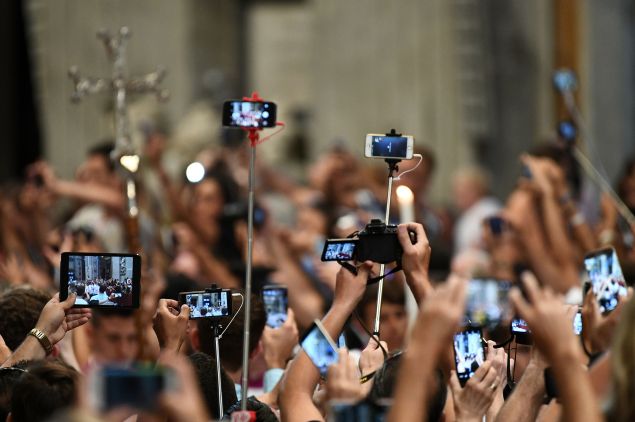 It has a reputation as one of Europe's brightest jewels, but Italy has actually had a pretty ugly garbage problem in recent years. The streets of Rome and Florence are filled with trash and urine, and Milan has been plagued by fashionistas carrying selfie sticks.
So this summer, all three cities have taken steps to curb the filth.
The most recent, tech-based ban went into effect this week, when Milan prohibited selfie sticks on all city streets. The new regulation aims to reduce distracted, "anti-social behavior" among both residents and tourists, according to The Local.
A related ban is clamping down on food trucks in the city. The rule prohibits "moving trade" in public areas, with street food specifically singled out because the wrappers become street garbage. Glass bottles, cans, firecrackers and fireworks are also banned because they contribute to the litter problem.
Carmela Rozza, Milan's counselor for security, encouraged people to drink from plastic cups instead—never mind that plastic also presents a myriad of litter problems.
It's not clear yet what the penalty is for violating Milan's new rules. All of them are effective until August 13, when the city will determine whether renewal is necessary.
And since apparently no one can have nice things, other Italian cities are also taking a stand against annoying tourists. Last week Rome banned late night alcohol sales and drinking on the street through October 31. It also prohibited tourists from throwing anything except coins into the city's fountains—people had been climbing on them, eating and drinking near them and swimming in the water. Anyone who flouts these bans is subject to a fine of $60 to $350.
Mayor Dario Nardella of Florence also wants to dampen the spirits of any would-be litterers in his city. Last month he started a new program in which the city streets and church steps were hosed down with water at lunchtime so people wouldn't be able to sit and eat there, leaving their garbage behind.
"We want to put people off from camping out. If they sit down, they'll get wet," Nardella told The Guardian.
Maybe Milan should institute the same system: take a selfie, get hit with a Super Soaker. That might be the best possible way to end the selfie stick menace.