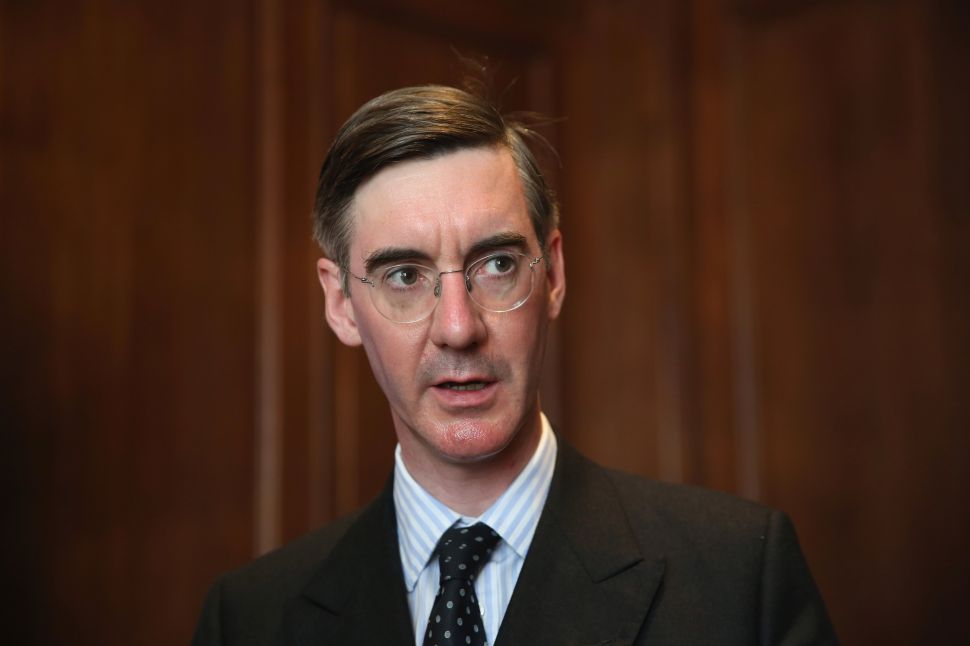 MP Jacob Rees-Mogg is emerging as a real contender to be the next British prime minister.
Upsets in the last few years have stunned the established order. Just look at the meteoric rise of Donald Trump or the surprise departure of Britain from the EU. The latest potential upset is a humdinger: A solid gold, plummy aristocrat looks poised to become Britain's next prime minister.
Jacob Rees-Mogg is the son of a member of the House of Lords, his accent sounds like he is from the time of Dickens, and he didn't even change out of his double-breasted suit to meet his sixth child at the maternity ward. He named the boy Sixtus Dominic Boniface Christopher Rees-Mogg.
In the past, Rees-Mogg's old fashioned ways made him an instant target of the Conservative leadership. Before he entered Parliament in 2010, they even tried to prevent him from standing. He was described as "David Cameron's worst nightmare" because he drew attention to the privileged upbringing of many Conservatives.
But that hasn't stopped him becoming an internet sensation. His speeches have been viewed by millions on Youtube. He has even gained a cult following among millennials who seemed to have little time for anyone on the right.
He first grabbed the public's attention in 1997 when he ran unsuccessfully in the Labour stronghold of Central Fife. He famously campaigned with his nanny, who has worked for his family for 50 years, and drove around in a Mercedes. "A Bentley would be most unsuitable for canvassing," he later informed the Spectator.
A petition to make him prime minister (entitled "Ready for Mogg") already has 12,000 signatures, and every time he speaks or shares a photo to his 32,000 Instagram followers, #Moggmentum trends on Twitter.
His rise comes as Prime Minister Theresa May is flagging in the polls and seems unlikely to contest the next election. One poll found that 60 percent of those polled said he should be the next Conservative Party leader.
Rees-Mogg is further evidence that voters react well to politicians who are authentic. It seems to be irrelevant whether that authenticity is working, middle or upper class. They also clearly reject the middle of the road, 'safe' politicians that have dominated government in the West for decades.
In this context, it isn't hard to see how a country that took to Nigel Farage would embrace Rees-Mogg. They are both traditionalists in their mannerisms. Farage is a hard drinking City of London financial sector barrow boy, and Rees-Mogg is an Oxford University aristocratic intellectual.
Both of these bedrock groups in society contributed huge numbers of people to the British government in the past, not least during times in the country's history when it was doing a lot better than it is now. They say what they think and are proud of Britain's heritage. They aren't the sort of people who take kindly to the crappy concept of Cool Britannia that was so graphically on show at the London 2012 Olympics' dire opening.
Despite his posh exterior, Rees-Mogg has impeccable credentials for the latest right-wing populist fad. He fought for Brexit for decades, becoming one of the campaign's leading lights. He also backed Donald Trump's bid for president, saying he respected Republicans' right to choose their own candidate.
He refuses to criticize voters when he disagrees with them, instead saying the British people know best. He once described himself as "man of the people—vox populi, vox dei."
If Rees-Mogg becomes prime minister in the next few years, we can expect razor sharp intellect and an unrivaled public speaking ability. So it's time to get on the Rees-Mogg bandwagon—even if only because he has the record for using the longest word ever used in Parliament: floccinaucinihilipilification.
If you have no idea what that is, time to look it up. Things are about to get interesting!