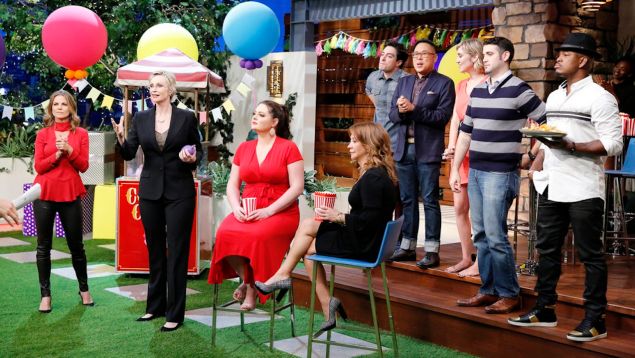 "For us, it's a dream. We get to have fun with games, with drunk celebrities, on primetime television."
This is Michael Agbabian talking about his work as Executive Producer of Hollywood Game Night at a recent Television Critics Association event.
The series, now in its fifth season, is hosted by Emmy Award and Golden Globe winner Jane Lynch. Celebrities this go around include the cast of This Is Us, Superstore, and celebrities like Taye Diggs, Margaret Cho, RuPaul, Tony Hale, and many others.
New party games and a new set are also featured this season and the winning civilian contestant has the chance to take home the grand prize of $25,000.
Primarily an actress, having appeared in the series Glee and in big screen projects like Julie & Julia, Lynch admits that hosting a game show wasn't something that wasn't initially on her radar. "Well, it wasn't on my list for sure. But, I'm one of those people, it seems that any time I try to get a plan of what my career is supposed to look like, something rolls in at my feet and shows me that that's not what's going to happen, this is going to happen and that's what happened with this show."
Understandably, Lynch takes her role as host seriously. "One of the things that I've learned doing the show is when to let the buffoonery between the contestants and the celebrities happen, and then when to pull it back and say, "Okay, we've got to move on with the game,' and make sure that the rules are being followed. Sometimes it does feel like herding cats, but it's fun."
The alcohol provided to the contestants plays a big role in the series, says Dwight Smith, also an EP of the series. "The booze loosens everybody up. It's a party. So we let the booze flow, absolutely."
Lynch admits that they have had some things go awry because of the alcohol consumption. She laughed as she said that, yes, they have had someone who became too drunk to continue to participate. "It's happened, and, of course, we won't say who. That's all we're going to say about it." Lynch also revealed that she, personally, never imbibes. "Oh, no, absolutely not," she said quickly and purposefully.
What the audience wants overall, says Lynch is sort of controlled chaos. "I look for those moments where it just goes completely off the rails, which is so much fun, because you know that the audience is going to love that."
This season, the creative crew has added a few elements to the series. Smith says that the biggest change has been adding a 'backyard' to the set. "We're really excited about it because it's a whole new element that's allowed us to develop a whole bunch of new games; they're bigger with more physicality to them and a whole different sort of sensibility to them."
The stars that appear on the Hollywood Game Night continually impress the host, says Lynch. "What I am endlessly grateful to these celebrities for is that they show up ready to play, they're not afraid of looking like an idiot, which they are probably going to do."
Some guests have surprised Lynch, she admits. For example, "Michael Bolton. This is absolutely not his milieu, and he was fantastic. NE‑YO, too. He was wonderful." Agbabian jumped in to add, "Xzibit was fun." And Smith pointed to a dramatic actor as a revelation, saying, "I also think Sterling K. Brown ‑‑ because you see him on 'the O.J. show' and This Is Us, which are very serious –[you think he's just very serious all the time.] He was hilarious."
Agbabian says everyone participating realizes the real point of the series. "Sure, it's a lot of fun, playing the games and everything, but all of these people are also working together to help someone actually win money. And, we don't really know these people's stories, but it's pretty safe to assume that that money means a lot to them. So, watch our show for some good laughs and root for someone to win some money. It really is a fun way to spend an hour."
Hollywood Game Night airs Thursdays at 8/7c on NBC.