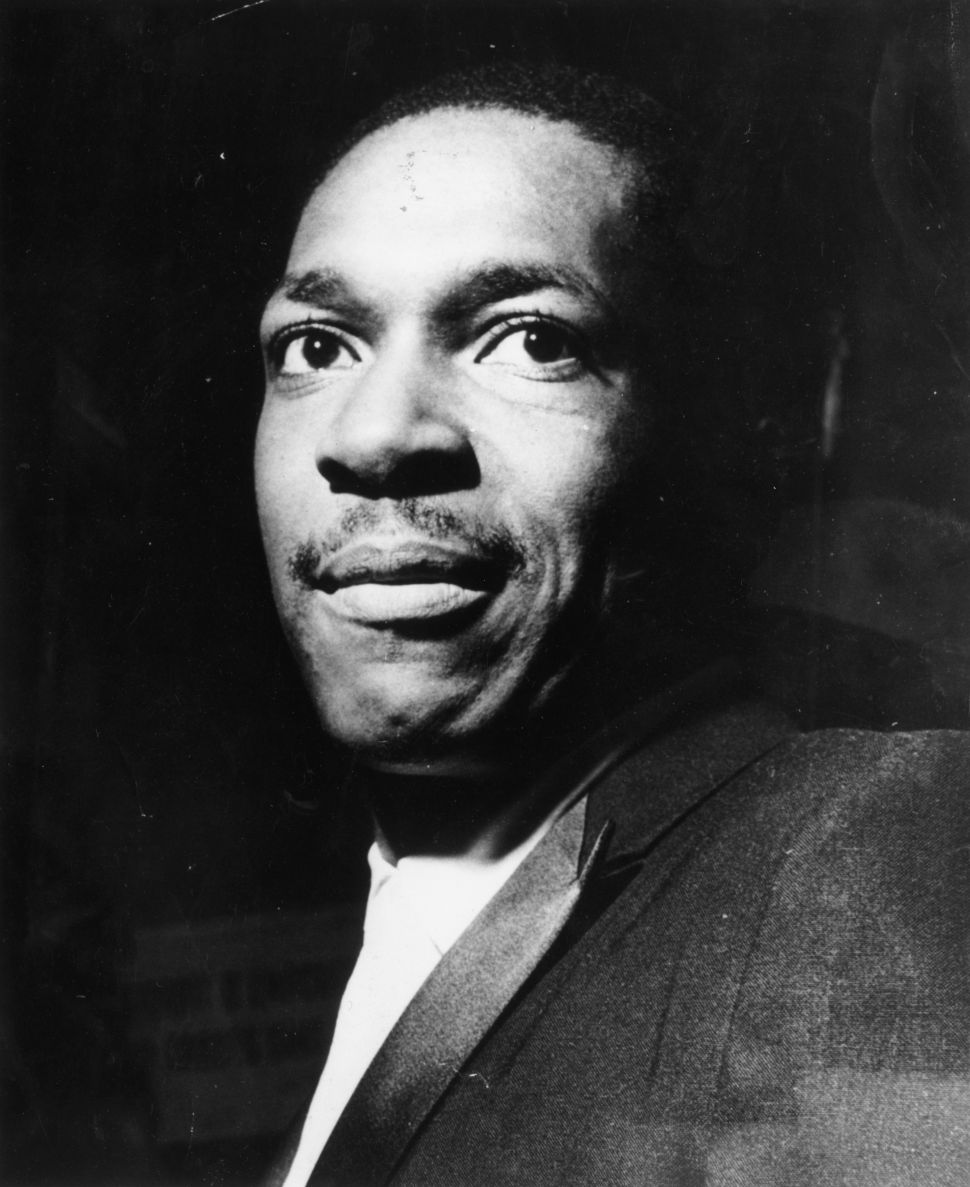 It was 50 years ago this past July 17th that John Coltrane—arguably the greatest saxophone player who ever lived—had his life cut short following a valiant battle with liver cancer. He was only 40 years old. For many of us who have been listening to jazz for a good portion of our lives, Coltrane was one of the first jazz musicians we were introduced to in our youth.
Speaking of my experience personally, it was U2's "Angel of Harlem" and Bono's namecheck in the lyrics to the Rattle & Hum hit that put him on my radar. But it was once I began listening to John Zorn's Naked City that I began to recognize the feeling which emanated from 'Trane's reeds. Thanks to an amazing college friend who wound up working in the publicity department at the Verve Music Group (Hi, Lauren!) for hooking me up with the great majority of his Impulse! Records catalog for giving me the means to fully comprehended his genius.
The hours I spent listening to 'Trane during those first couple of years after college, when I was living alone in a rathole utility apartment on Long Island, helped me through the struggle of putting my adult life together. Recordings like Africa/Brass, Sun Ship, the Village Vanguard box, Interstellar Space and, of course, A Love Supreme were like church to me. In fact, about ten years ago, a friend and I made a trip to his house in Dix Hills, N.Y., for a story I was doing about how a group of musicians were working in tandem with a couple of good folks in Suffolk County politics to successfully preserve the home as a cultural and learning center. Wandering the property, looking through the foggy windows of this modest home where so much magic transpired by both Coltrane and his widow, Alice, before she relocated to California, was such a special moment for me. It felt like hallowed ground and it gave me the damn chills walking around that place.
Losing Coltrane at such a relatively young age, on July 17, 1967, was one of the biggest crimes committed against music. To think of what this gentle giant would have accomplished as the psychedelic era of jazz began to take flight in the late 60s/early 70s is overwhelming. When you listen to a live album, like Offering: Live at Temple University from November of 1966 with Alice on piano, Sonny Johnson on bass, Rashied Ali on drums and Pharoah Sanders playing both tenor saxophone and piccolo, it's astounding to think the literal sheets of visceral noise emerging from the horns of Sanders and Coltrane were done without the use of amplification. It was all brass and lungs creating these torrential blasts of sound that I can only compare to the experimental thunder clapping from the waves of feedback created by Lee Ranaldo, Kim Gordon and Thurston Moore at Sonic Youth concerts. Yet there was no delay or fuzz pedals facilitating the process. Once again, nothing but brass and lungs. Then, to go back and listen to his work with Miles Davis in the mid 1950s for Columbia and his albums on both Prestige and Atlantic in the late '50s and early '60s, and find yourself enrapt in the sheer beauty of his playing, it's hard to imagine you are listening to the same musician.
The fact that Coltrane and his music remains as vital as ever in 2017 is a testament to his enduring legacy. Rhino Records just released a gorgeous single-disc "Best Of" set entitled Trane: The Atlantic Collection featuring nine of his most beloved compositions from the Atlantic era, while filmmaker John Scheinfeld's incredible, comprehensive documentary Chasing Trane is screening this summer and fall all throughout the world.  And with companies like Universal, Rhino, Resonance and Concord still in possession of rights to his music, the notion of more Coltrane-related titles to emerge in the coming years only serves as more fuel for the fire of this renewed interest in the man and his music.
In honor of this rather sorrowful but important anniversary, Observer spoke with some of the most renowned saxophonists in pop, rock and jazz to offer their own personal accounts on discovering John Coltrane and what his untouchable tenor meant to them through the years.
Joe Lovano
https://www.youtube.com/watch?v=PFRdq3npzZs
I grew up knowing about and listening to John Coltrane. My dad ,Tony Lovano, was one of the tenor players on the scene in Cleveland, Ohio, in Coltrane's time, heard and played a jam session with him in the early 1950s when he came through town in a blues band on alto. My dad fell in love with his playing and through the years had many of his recordings, all of the different periods. I never heard him live, I was 15 when he passed. The record Soul Trane was my favorite growing up and taught me many things. In my teenage years I embraced all of his beautiful music each step of the way.
Dave Liebman
I saw Coltrane play for the first of many times at the famous New York jazz club Birdland in February 1962 at the age of fifteen. To say it changed my life would be a gross understatement. The intensity, sincerity and musicianship opened the door to what is possible with a saxophone and a few sympathetic folks who comprised that group.
Greg Osby
I first heard Coltrane's A Love Supreme when I was 13 and had only been playing for one year. Although I had no concept of what was taking place, there was an unusual attraction and familiarity to the chant-like nature of much of the suite. Of course, it was years later that I came to realize how that piece was the result of a sophisticated and deliberate personal evolution.
Jake Clemons of Bruce Springsteen & The E Street Band
John Coltrane was who I studied when I was in school. To me, he personified what jazz meant, to me. My aspirations when I was growing up was to sound like Coltrane and feel like my uncle, Clarence Clemons, who was never that big into jazz. But Coltrane was what I learned in school when I was studying the saxophone. He was one of my biggest influences from a very young age.
Binker Golding of Binker & Moses
It's funny how you can love the work of an individual and at the same time understand how it could be hated by others. When I was 18 I honestly thought he made the album Sun Ship just for me.
Adam Turchin
Similar to eating avocado, watching historical documentaries, and even enjoying beer; John Coltrane's colorful and complex avant guard approach was one of those things in life I didn't actually love at first go, rather developed a pallet for, becoming deeply mesmerized with having my entire musical approach continually morphed—how I listen, create, experience and digest all things music!
I had my first aural experience with Coltrane as young boy stumbling into the Princeton Record Exchange, buying a used copy of Giant Steps with cracked CD Jewel case for 50 cents from the pre-owned jazz section.  This would become a soundtrack to my life that would send me down a path I'm still discovering.
While traveling through my personal journey I've found Coltrane seemingly always popping up in various stages of life. As a young boy while studying saxophone I became completely infatuated with Coltrane. Hearing his records for the very first time, I experienced them as a blank canvas, each with a fresh tonal pallet to soak in.  Then, as I continued maturing, I found myself going to jazz school in Philadelphia and being fully immersed in both saxophone and art, studying Coltrane's techniques and proprietary style all while living very close to Coltrane's house. I then eventually manifested my destiny traveling west to Los Angeles where I stepped into the West Coast jazz scene as professional musician. There, I actually became personal friends with Coltrane's best friend, band mate and jazz legend Pharaoh Sanders. We shared our love for vintage sax mouthpieces playing on John Coltrane's personal Otto Link mouthpieces gifted from Coltrane to Pharaoh, and I heard stories direct from the source on the personal life, playing, and recording with the man Pharaoh simply refers to "John."
Johnny Butler

For Christmas in the fourth grade I got two presents I will never forget: an alto saxophone and John Coltrane's album Blue Train. I would stand with my saxophone by the CD player in the living room for hours trying to play along and learn the melodies. I listened to that CD so much I had to buy another copy in high school and a third in music school because they were so scratched up.
After leaving my hometown of Seattle, I went through a bit of a dark time. It was cold and lonely my first January in Oberlin, Ohio, where I was attending the Conservatory. Walking back from a rehearsal, I had slipped on the icy sidewalk and fell onto my saxophone, squashing the Eb key into the bell of my horn. I was so low at the time I didn't even care. Then one night, a friend lent me a copy of John Coltrane's Interstellar Space. I went back to my dorm room, put the CD into my Sony Discman, and was blown away. Not only was Coltrane's playing absolutely ferocious, but it was beautiful, spiritual, and somehow healing, as if inside the fire of his playing there was a deep transcendental calm. After I finished listening to the album, I opened up my saxophone case, took out my horn, and held it in my hands, feeling the cold metal on my fingers. The next morning, I took the bus to Cleveland, a 90-minute ride, to the nearest saxophone repair shop.
Zem Audu
I've always heard that thing in Coltrane's music, a burning fire and the strong presence of spirit. I remember as a kid going to the library with my dad on the weekends. We'd look through the music section and bring home some gems. One day we brought back My Favorite Things by John Coltrane. The first thing that struck me was how beautiful, free and intense Coltrane's sound was. Sometimes uncomfortably intense. But most importantly there was somehow a spiritual feeling I got listening to it. That was my first Coltrane experience. I had just started playing sax at the time, so I was around 13 or 14 years old. That spiritual feeling was a huge influence for me. I knew then that I wanted to be able to do that in my own way.
In college I'd learn Coltrane solos with my sax teacher and play along with the records trying to channel that vibe. That's when I started to understand how genius he was as a musician and saxophonist. His vocabulary, phrasing, harmonic and rhythmic information was unreal. It felt like the whole world of music was right there.
I was always drawn to Coltrane both as a sax player and composer. His songs would floor me with their beauty, and his interpretations of standards were so unique that it was as if he composed the song himself. One of the first Coltrane songs that I learned to play in high school was "Naima."
I used to stay up for hours at night listening to his albums on repeat. No matter how intense his music is, it always felt to me like there was a deep calm at the center that felt good to listen to at those quiet late night hours.
His song "Dear Lord" remains one of my favorites.
Ralph Carney
https://www.youtube.com/watch?v=Gom6B_T6Spo
I was aware of John Coltrane for the first time when my older brother Jim, brought the My Favorite Things record from the library. I must have been 11 or so and I thought it was just insane and not music. Move up 5 years to 1973, by that time I was full blown trying to play sax which I got the year before and was self-taught. I bought Coltrane Live at Birdland and my life changed. I've been a devotee ever since. I remember slowing down "Giant Steps" to 16 r.p.m. to try to hear what he was playing so fast! A true master.
Dana Colley of Morphine
https://www.youtube.com/watch?v=0BcR1Er7nR4
John Coltrane was a giant. But that only scratches the surface. The deeper you go into Coltrane, the deeper he got. The arc of his musical expression was staggering. His solos encompassed so many levels of harmony, tone, math. Combined with an unquenchable curiosity and something that can only be described as "a searching," he had  a singular voice. He was a personification of the instrument.  After hearing Coltrane, a tenor saxophonist had one of two choices, either you quit, or work harder. Because no musician practiced like Coltrane. Sometimes he practiced entire scores to push himself into ranges that were not common territory to the tenor.
In thinking of Coltrane, I'm reminded of a particular quote on pg. 199 in Bill Cole's book about John Coltrane from 2001:
When Trane left jazz, he left it at a place where just in terms of musicianship a tenor saxophonist had to be able to, as a basic criterion, play all the fundamentals and the harmonics of the instrument in tempo so quickly that it would turn cream into butter…The instrument itself went throughout a metamorphosis and became an extension of his mind.
Chris Potter
My first exposure to Coltrane was via my parents' Miles Davis records, they had Workin' and Steamin' with the Miles Davis Quintet. I enjoyed those recordings a lot, though at the time I appreciated Miles' playing more than Coltrane's. This was around maybe age 10, when I started playing the saxophone. As my interest in the saxophone and jazz music grew, I kept reading about how great Coltrane was, so I decided to check out the only record of his they had at my local library in Columbia, South Carolina. This recording was Expression, which was the last recording of his released during his lifetime. It was very free, not the easiest music to understand, and I totally wasn't ready for it! I remember I couldn't believe this was the same musician who played only a few years earlier in Miles' band, I just didn't understand what was going on or why they were playing that way. It wasn't until I heard the Giant Steps album a little later that I started to put the pieces together and appreciate what a phenomenal force he was. The sheer power and focus of his playing on the Giant Steps album blew me away, and I loved the deep humanity of his sound, especially on slower pieces like "Naima." Since then, of course I've grown to appreciate his whole recorded output and what a tremendous musical and spiritual journey he took during his short life. He's a big guiding light for me, both as a saxophonist and a person, someone who I think about often as I try to make decisions about my own musical values and path.