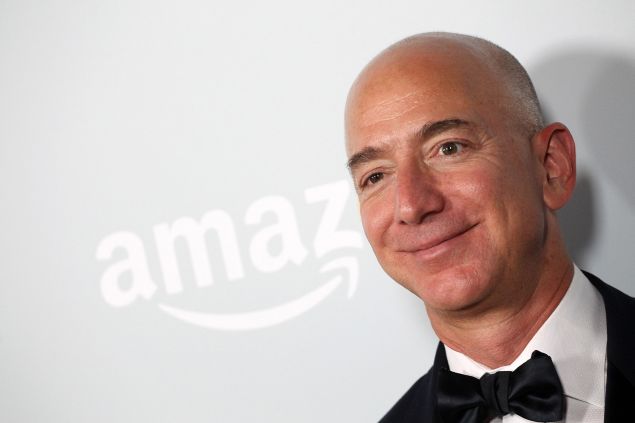 UPDATE: Bezos was only the richest man in the world for a few hours—Gates overtook him Thursday afternoon. His current net worth stands at $89.7 billion, while Bezos' dropped to $88.4 billion.
Step aside, Bill Gates. There's a new sheriff in town.
Amazon founder, chairman and CEO Jeff Bezos officially became the world's richest person this morning. He now has a net worth of roughly $90.7 billion according to Forbes, compared to Microsoft co-founder Gates' $90.1 billion.
Bezos' newfound wealth can be attributed to Amazon's stock performance—shares were up 1.6 percent in early trading Thursday, adding $1.4 billion to Bezos' net worth and pushing him over the edge. According to a an April SEC filing, Bezos owns nearly 81 million shares of Amazon —almost 17 percent of the company.
Gates has been the richest person in the world for 18 of the last 23 years—in fact, only seven people have held the title since Forbes started tracking billionaires in 1987.  Bezos first appeared on the Forbes 400 in 1998, when he had a $1.6 billion fortune thanks to Amazon's IPO.
It's not clear how long Bezos can keep his position at the top—the last person to overtake Gates, Spanish retail giant Amancio Ortega, lasted only two days as number one.
But what helps Bezos is that Gates has been giving money away ever since he stepped down as Microsoft CEO in 2000 (he still owns a two percent stake in the company). Gates and his wife Melinda are now focusing full time on philanthropy through their foundation.
Gates is also encouraging fellow billionaires to follow his lead through The Giving Pledge, which asks the world's richest people to give away at least half of their money during their lifetimes. More than 150 people have signed the pledge—including Warren Buffett and Mark Zuckerberg—but Bezos isn't among them.
Indeed, Bezos has aggressively expanded Amazon through deals like the company's planned acquisition of Whole Foods (which may violate antitrust laws). He's also boosted his portfolio as the owner of The Washington Post—Amazon includes a six-month digital subscription as one of its benefits for Prime members.
There are signs, however, that Bezos may be turning his interests toward philanthropy—last month he tweeted out a "request for ideas," asking his followers to suggest worthwhile charitable organizations.