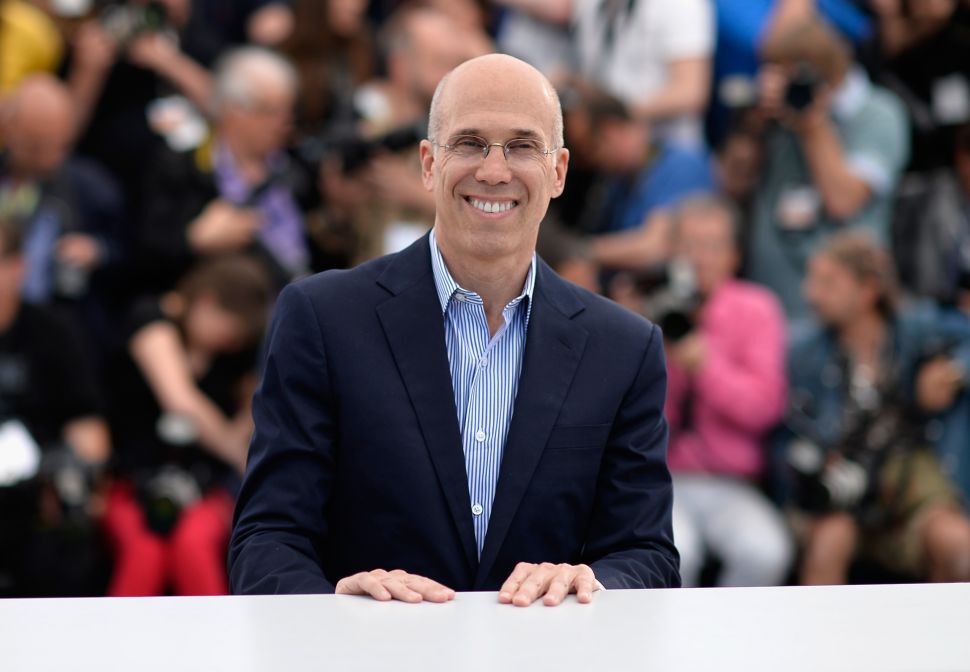 Last August, entertainment titan Jeffrey Katzenberg left DreamWorks Animation—a studio he sold to Comcast's NBCUniversal for $3.8 billion—for the unknown. Industry insiders have been wondering what was next for him ever since. Now, we know: he wants to revolutionize entertainment. Again.
Katzenberg attended the annual Sun Valley conference last week in Idaho and spoke with Variety about his plans for the future. His latest venture will require a $2 billion entry fee from any one of the number of tech powerhouses he's been courting. While he didn't get into specifics when it came to which executives he's been whispering to, Katzenberg was seen at Sun Valley meeting with the likes of Apple (AAPL)'s Tim Cook and Eddy Cue, YouTube's Susan Wojcicki and Verizon's Lowell McAdam, Marni Walden and Tim Armstrong.
"Is this a gigantic undertaking? The answer is yes," Katzenberg said. "Is it bigger than DreamWorks? I hope so."
So what is this master plan?
Katzenberg wants to create a new form of entertainment targeting 18- to 34-year-olds. Specifically, his goal is to begin producing short-form video series made with the production values and budgets of a primetime TV and complete with elite talent both in front of and behind the camera. Basically, he wants to make a prestige Peak TV series that is delivered in 10-minute episodes for mobile consumption. Or a seven-minute talk show. Or even a two-minute newscast.
The man has quietly been pitching Hollywood's brightest on supplying content for this new ambition. Disney (DIS) CEO Bob Iger, whose company may produce content for what Katzenberg is dubbing New TV, sees value in the idea. "The explosion of short-form video is obvious to all of us, but a lot of what we've seen is the production of amateurs—user-generated content," Iger said. "Taking a professional approach to this kind of content, we haven't seen that yet in a concerted way, and I think that's a smart thing to try."
Imagine all of the biggest YouTubers being given budgets and production resources to match their creative scope. Or how about A-list stars being handed free reign to produce quick-hitting passion projects. New TV could immediately target and ensnare the commuting demographic from metropolitan areas while slowly eating into the audiences of traditional television and streaming services.
Yeah, it sounds a bit farfetched, but Katzenberg is the same guy who turned standard film animation and 3D upside down. Innovation is his game.
"Remember, I'm someone who got fired from Disney and eight days later started the first studio in 65 years with two of the most brilliant, successful people in the history of the entertainment business, doing something everyone said was somewhere between improbable and impossible," he said, referring to the 1994 founding of DreamWorks SKG with Steven Spielberg and David Geffen. "I'm afraid that's exactly what I love doing."
Can Katzenberg pull off the impossible yet again? You can bet the rest of the entertainment world will be paying close attention to find out.