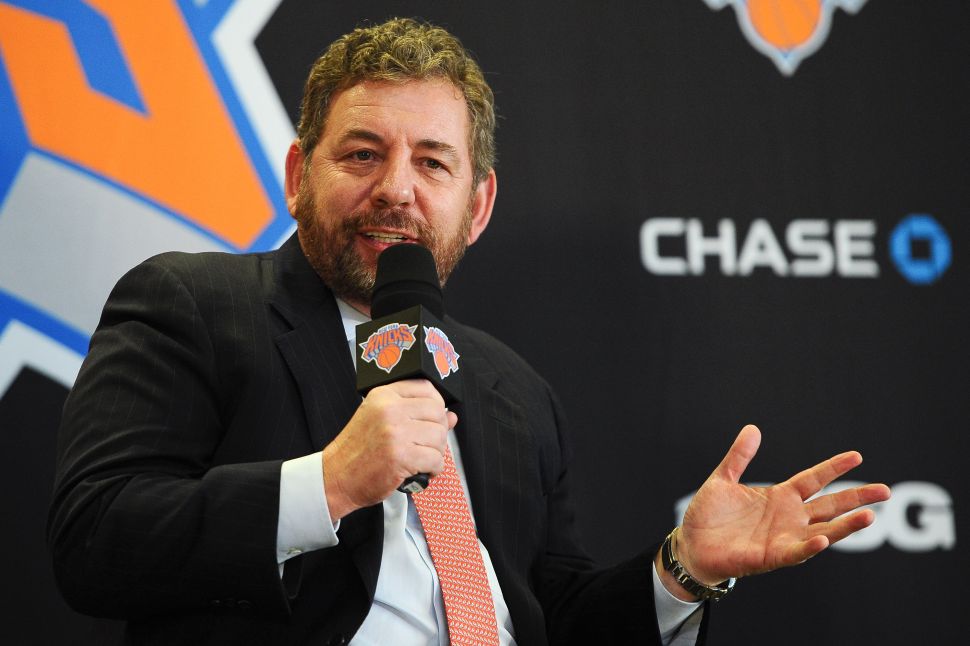 Dear Jim,
When a letter begins with "We're longtime Knicks fan and season ticket holders," you can probably predict where the rest is heading and deposit it in the circular file. Not this time.
This is not a letter of complaint nor frustration. It's to say that when your friends who consider themselves to be savvy New Yorkers tell you that this isn't a town that tolerates a rebuilding effort, don't listen to them. They're living in the past and their grizzled wisdom only puts you in an untenable bind.
The "New York is for winners" ethos is a relic of the Giuliani/ Steinbrenner/ Trump in his heyday as a developer era. People think differently now—they get that process often matters as much in life as the result itself.
Think about all of the hoopla around the league's offseason. Watching CP3 and PG-13 and Jimmy Butler get traded was more fun than the finals. We knew Golden State would win the title. We didn't know where Gordon Hayward would sign. And your (very good) decision to part ways with Phil was more delightful than the team's 31 wins last season combined.
Or think about your own life. Sure, the sale of Cablevision to Altice must have been satisfying—you and your family created something, nurtured it, fought for it, built it, and then turned it into a very lucrative exit. But at the end of the day, what was more fun: the sale of the company or building it into what it became? The process—even with all the stress and uncertainty—always ends up being more fun than we expect. And the outcome—even when we win—is rarely as satisfying and lasting as we hoped.
The same is true in basketball. We have a young, talented core in KP, Hernangomez and Frank. We have our first round pick next year in a loaded draft. And if your execs can create additional cap space, then we would potentially have four young, exciting players a year from now and plenty of room to chase Westbrook, Paul George, Devin Booker, Boogie Cousins, Isaiah Thomas, and even LeBron.
As fans, just writing those names is exciting. Will we get any of them? Maybe not. Will all of our young guys turn out to be good? Unlikely. But there is hope and potential. You can envision being a championship contender, even if not for a few years. The process is fine. We would far prefer it to finishing roughly 41-41 every year and drafting 14th. Philly had it right, and for lifetime New Yorkers, that's not a sentence we ever expected to write.
Yes, your friends in Hollywood and on Wall Street who still fashion themselves as tough guys from the Bronx will insist you have to make a splash now. The old guys on WFAN will demand the same thing.
Ignore them. Knicks fans are savvy. We're in it for the long haul. We want potential. We want to dream. We want to hypothesize and speculate. And we want to be on a path that means one day, maybe we actually win a title.
You're already on that path. You built a great fan experience at MSG. You invested a lot of your money in renovating the place and that makes it fun for us to keep going, even in the midst of a long rebuilding process. We hope you stick with it.
Sincerely,
Bradley Tusk and Howard Wolfson
Bradley Tusk is the founder and CEO of Tusk Holdings, the parent company of Tusk Strategies, Tusk Ventures, Kronos Archives, the Ivory Gaming Group and Tusk Montgomery Philanthropies. In 2009 he served as Mike Bloomberg's campaign manager, guiding Mayor Bloomberg to a third term.
Howard Wolfson is a lifelong Knicks fan and former deputy mayor of New York City. The greatest moment of his childhood was witnessing Bernard King's 60-point game in person on Christmas Day 1984.