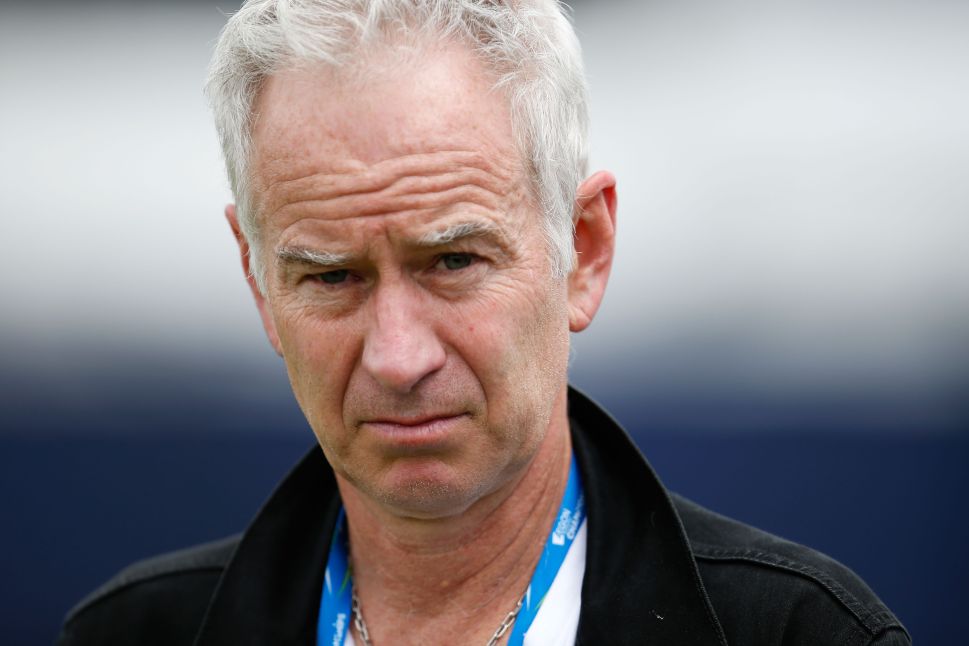 During an interview for his new book, But Seriously, John McEnroe reaped a great deal of attention for his appraisal of Serena Williams' chances on the tennis court against the world's best male competition. But lost in the commotion were the stories he told in the book about his experiences in the art world. They not only involve some of the biggest names, but should also give buyers pause.
McEnroe's exposure to valuable art came early: at Stanford he became close friends with Norton Simon's grandson, Doug, and writes of visiting the family home and being in the company of Matisses and Picassos. Just a few years later, McEnroe would encounter the work of Basquiat when he was just an "up-and-coming" artist.
McEnroe's storytelling is refreshing, and just as it was when he was on the court, his trademark blunt language is oddly endearing. He remembers seeing a Lichtenstein for the first time and thinking "that's total crap." And, when Simon recommended that he invest one of Basquiat's works early on, McEnroe replied "I wouldn't pay a thousand dollars for this piece." Today he owns one that he says he loves.
He also recounts his encounters with Andy Warhol, whom McEnroe found annoying. Warhol hounded him at the popular discos of the era, snapping photos like an ordinary paparazzi. It fostered some animosity on the part of McEnroe, who already didn't like the artist's work. "[A]t the time I though his art was totally lame," he remembered. "But what did I know? I was only a kid." Shortly before Warhol died, McEnroe bid for the chance to have a portrait of himself painted by Warhol. He won for the price of $30,000. Warhol painted McEnroe together with his then wife, actor Tatum O'Neal. He later sold it for $440,000.
McEnroe's forays into art investing didn't always take such a profitable turn. In fact, it proved far more troublesome than Warhol's Polaroid-stalking. He details the turmoil that buying paintings through Larry Salander brought him. In 2004 Salander helped him invest in two paintings by Arshile Gorky, Pirate I and Pirate II—or so he thought. Without McEnroe's permission, Salander went about selling interest in the art, causing a number of individuals to believe that they too owned McEnroe's works. "It turned out Larry had done a The Producers type of thing, where he'd gone 50/50 with another guy as well, who'd ended up paying twice as much as I did while Larry hadn't contributed a cent," the tennis legend writes.
McEnroe goes on to reveal that Salander had played similar games with Robert De Niro, with whom he has had "many conversations where we try to laugh rather than cry about this."
In the end, investigators determined that Salander had embezzled around $125 million worth of art. McEnroe describes his involvement in the whole affair as "a Steve Martin film waiting to happen."
The allusion to Martin was probably coincidental, but he picked the perfect actor for the role. Martin—who has co-curated a show at Boston's Museum of Fine Arts, authored the successful work of fiction An Object of Beauty based around an art-world protagonist, and has an estimable collection in his own right—paid $860,000 to a Paris gallery for a painting purportedly by Heinrich Campendonk. Landschaft mit Pferden (Landscape with Horses) joined works by Picasso, Francis Bacon, and Edward Hopper on Martin's walls. It was later determined (as I describe in The Art of the Con) that Martin's Campendonk was actually made by the German forger Wolfgang Beltracchi, who created dozens of forgeries that fooled experts in Europe and beyond.
Still, McEnroe's experiences with Salander haven't left him completely jaded. He continues to operate a gallery: The John McEnroe Gallery (for a trip back to the mid-nineties internet, visit its website at johnmcenroegallery.com). The Soho space is open by appointment only, and is located in the same neighborhood where his close friend and fellow tennis champion, the late Vitas Gerulaitis, took him as a young man to explore the city's art scene—after first introducing him to Studio 54, of course.
As McEnroe describes in his book, he is perhaps a bit more mature and pragmatic about art, and as a result understands not just the beauty but the business of the art world. Reflecting on the biggest names in the field right now, he writes, "what's keeping them a step ahead of the competition isn't only their art, it's the fact that each and every one of them is a brilliant businessman who knows how to maximize the return from their talents." That he grasps this is a great indicator that John McEnroe has come a long way from the great but irascible temper tantrum-throwing tennis star we all recall.
Anthony Amore is an internationally recognized expert in the field of art crime. His experience includes serving as the Isabella Stewart Gardner Museum's chief investigator into the world's largest art theft, and in leadership roles with the Department of Homeland Security. He has published two best-selling books and is on Twitter @anthony_m_amore.