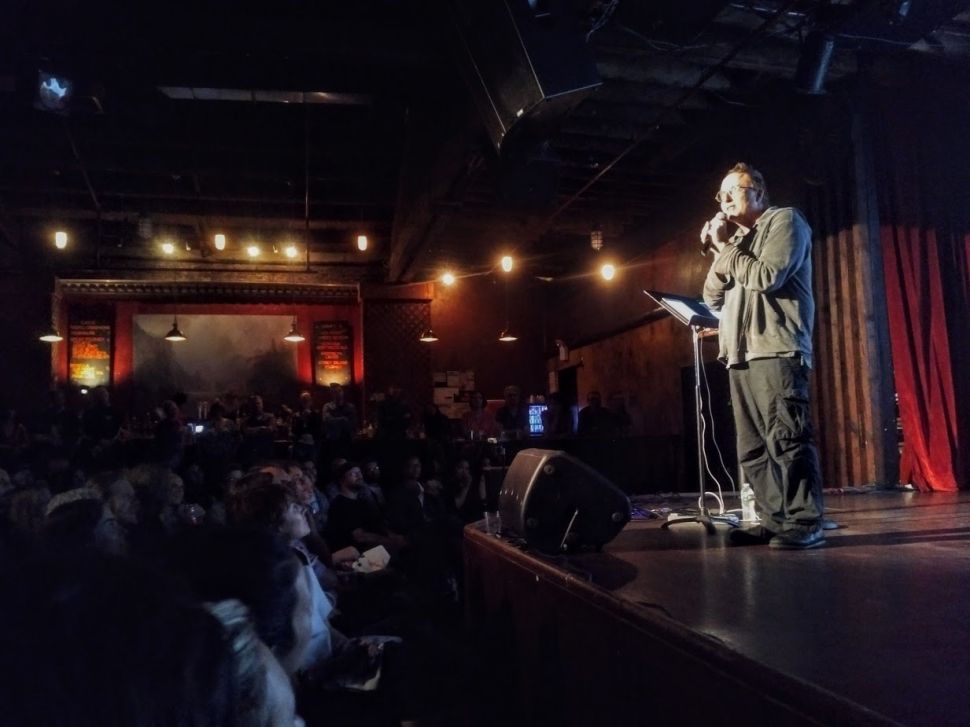 The whole history of pornography is available for free online, and that's a real problem for people trying to make money off sexy videos. On the other hand, a new podcast that dives deep into precisely that topic is also entirely free to download right now, and that might well be great for its publisher's bottom line.
Jon Ronson's new podcast, The Butterfly Effect, on the social cost of free porn, went live on Audible today. Anyone with an Amazon account can download it and listen now, whether they are Audible members or members of Amazon Prime or not. Act fast. It won't be free forever.
Audible launched its podcasting program, which it calls "Channels," a little over a year ago. It is a combination of short form and original content available to both Audible members and Amazon Prime members. The programming works like an extra perk, more free content to keep folks locked into Amazon and using it as the main way to get shoes, televisions and—soon—groceries.
What's interesting here, though, is that it's making this particular podcast free. Fronted by a best selling author who's written books that led to movies fronted by George Clooney and Michael Fassbender, one might think that this is exactly the sort of premium content a publisher would want to hold back and sell. On the other hand, it could be that the company believes Ronson's show will introduce more listeners to the original content, helping nudge them in the direction of a Prime or Audible subscription.
The show's page on Audible describes the program this way: "Hear the story of what happened when the tech industry gave the world what it wanted: free porn. Lives were mangled. Fortunes were made. All for your pleasure."
Tuesday night at Brooklyn's Bell House, Ronson previewed elements of his overall story. It explores a new sector of the porn industry, where wealthy men request custom videos that scratch their very peculiar itches (like watching women swat flies). It visits with a young autistic man who imitated behavior learned watching porn in text messages to a young woman only to get prosecuted as a sex offender. It visits actual porn shoots to learn about how old school porn producers are getting by as profit disappears from the industry.
Most interestingly to us, it also gets inside the company that's pumping out the sites distributing free porn—sites like Pornhub, YouPorn and RedTube, all of which are owned by the same company, Mindgeek. Ronson shows some photos from inside the company, but there were no people in them. This squares with our experience with Mindgeek, in which we are only ever able to communicate with one member of staff and only by email.
Ronson, however, manages to get deeper inside the company, and he doesn't like what he sees. "If there was a bad guy in the story, it would be the tech people," Ronson said during a Q&A at the end with Eric Nuzum, the Audible VP managing its original content.
We've listened to the full 3.5 hour program. Early on, Ronson manages to talk to developers working for the company and even the man who pulled the conglomerate of adult sites together, Fabian Thylmann. He made the company into a global conglomerate, selling his stake in 2013.
Ronson seems to be especially intrigued by the innovations in porn itself that have allowed some creators to stay afloat. After he gets the big picture from the tech companies running these sites, he heads to the traditional home of adult production, California's San Fernando Valley. He learns that keywords and social optimization has changed that world as much as they have changed everything else online (Aeon magazine has a great story about it). Porn viewers aren't looking for hot women, they are looking for very specific kinds of women. In particular, they want to see either very young women (teens) or women who still have it despite slightly greater years (MILFs).
This puts the merely beautiful in their 20's in a weird place. "I was really curious what porn women in the Valley do between 'teen' and 'MILF,'" Ronson said. One thing they do is webcamming, which has become an increasingly popular vehicle. Those live experiences can be captured and uploaded, but they aren't the same as experiencing them in real time. Now, fans can even do it in virtual reality.
Ronson being Ronson finds something new and much quirkier, the world of custom porn. Even porn stars can't believe what some people are into. For example, the fancy name for stamp collecting is "philatelism," which sounds kind of dirty anyway, but Ronson's podcast really takes it there.
The show's fascinating without being titillating. In fact, Ronson tells Nuzum that completely cutting the visual aspect probably helps the story, because it's tough to talk about serious topics to anyone watching people have sex on a screen. In fact, some folks might find the program a boner killer. His producer said she probably wasn't going to watch porn anymore because she knows how staged it all is now.
But free streaming porn itself may also be a boner killer. Ronson reports that erectile dysfunction is up 1,000 percent since the ascent of the tube sites. Making an ironclad causal link there is probably impossible, but Ronson brings some solid anecdotal evidence to the table on his new show. Try to get excited.
"I put all of this to Fabian," he said.