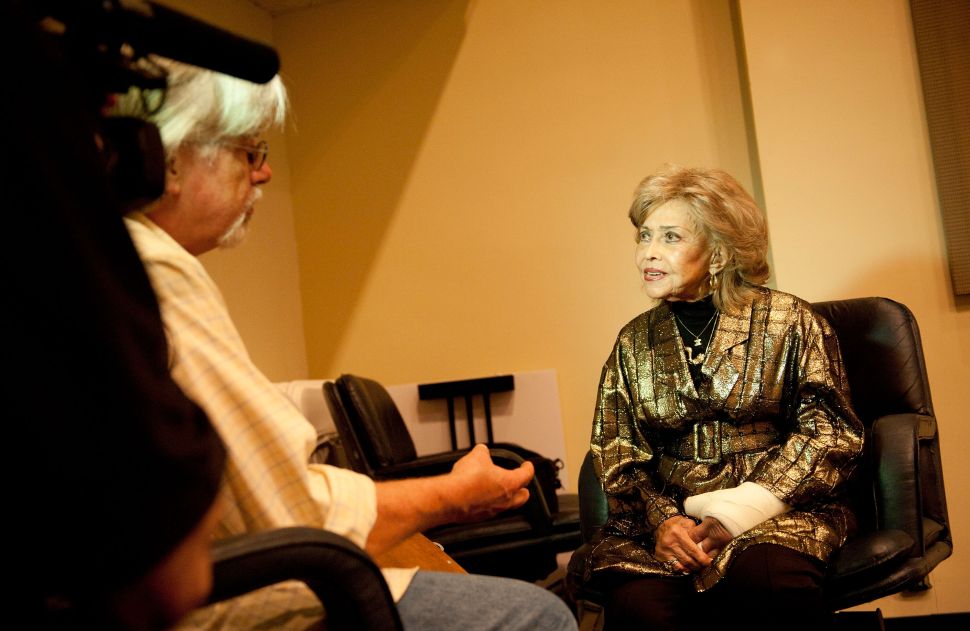 Legendary voice actress June Foray passed away Wednesday. She was 99.
Her close friend Dave Nimitz announce her passing on Facebook.
[protected-iframe id="c0a3c9cc48d45a5b165c2d05b46611bb-35584880-125099115″ info="https://www.facebook.com/plugins/post.php?href=https%3A%2F%2Fwww.facebook.com%2Fdave.nimitz%2Fposts%2F10211603523297243&width=500″ width="500″ height="702″ frameborder="0″ style="border: none; overflow: hidden;" scrolling="no"]
Foray was known as the groundbreaking "first lady of voice actors," an industry long dominated by men. She was best known for her roles as Rocky the Flying Squirrel in The Rocky and Bullwinkle Show, Pottsylvanian spy Natasha Fatale and Tweety Bird's owner Granny in The Looney Tunes cartoons.
In addition to voicing the famous Chatty Cathy doll, Forway also lent her vocals to The Twilight Zone in 1963's "Living Doll" as the killer plaything Talky Tina. Back in The Flinstones pilot, Foray's voice could be heard coming from Betty Rubble. She also was an early arrival to the superhero craze as Peter Parker's Aunt May in Spider-Man and His Amazing Friends. Other credits include I Love Lucy, The Simpsons, Mulan, Jerry Lewis' "The Puppy Dog Dream" record and many more.
Throughout her long career, Foray was honored with a Daytime Emmy (2012) for The Garfield Show and a Grammy Award (1968) for How the Grinch Stole Christmas. She also was honored with four Annie Awards, including one that "recognizes those who have made a significant and benevolent or charitable impact on the art and industry of animation," according to THR. That award is known as the June Foray Award.
In a 2000 interview, she was asked which of her characters was her favorite.
"I love the [Rocky and] Bullwinkle show because it's so mordantly witty. … But I love everything I do with all of the parts that I do because there's a little bit of me in all of them.
"We all have anger and jealousy and love and hope in our natures. We try to communicate that vocally with just sketches that you see on the screen and make it come alive and make it human."