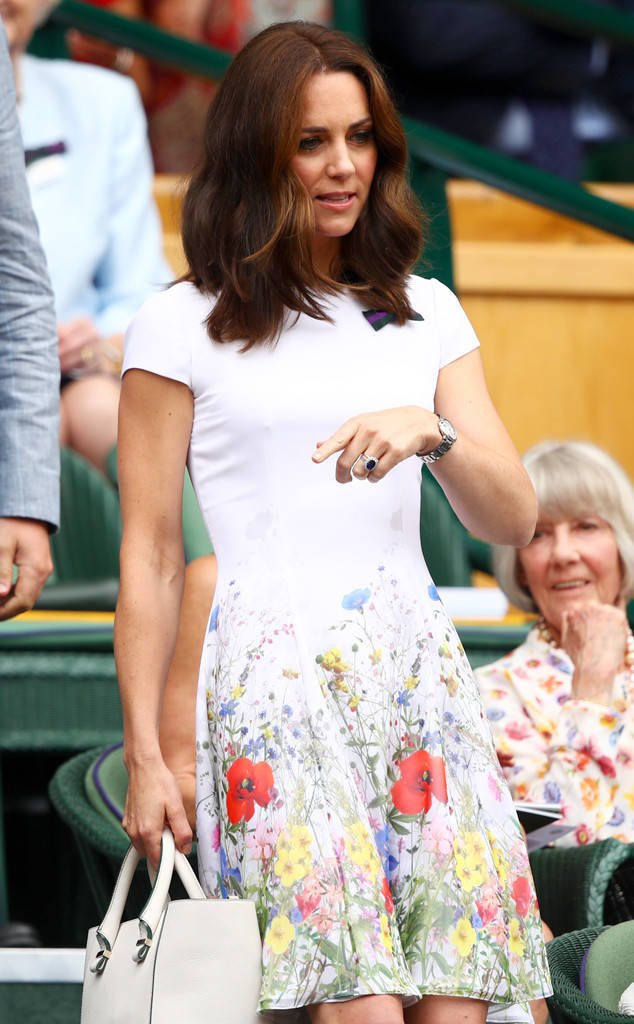 Kate Middleton certainly has a penchant for wearing all-white. Never mind the season, or the fact that the royal has two young toddlers under the age of four. She is frequently photographed in pristine white dresses, and most impressive of all, she's never spotted in something with a stain or even a wrinkle.
Over the past few days she wore not one, but two different frocks in what appears to be her favorite hue. The first was a floral dress by Catherine Walker & Co., which the Duchess of Cambridge wore to Wimbledon on Sunday afternoon. If the name of the local London designer behind this poppy-festooned frock sounds familiar, that's because it's the same brand that her mother chose to wear to Pippa Middleton's nuptials. In a rare twist of sartorial events, the Duchess ditched her go-to clutch for a white tote from a local designer who is a bit more globally recognized: Victoria Beckham.
Middleton recently became a patron of All England Lawn Tennis Club, a role that she has taken over from the queen. It's a perfect fit, because she has adored the sport for ages. "Every time Wimbledon is on I am thinking, 'Yes, I could do the same' and get out the racket. Sadly, never the same results," she admitted in a new BBC1 documentary on the tournament.
Middleton was properly dressed in tennis whites for the final day of the sporting event, where her family friend, Roger Federer, cinched his eighth Wimbledon title. The English tournament is known for having the strictest dress code on the circuit, where players must wear all-white, a rule that dates back to the 19th century. The dress code is so stringent that off-white is not allowed, nor are colored undergarments and trims wider than one centimeter; even the soles of the player's sneakers must be up to par. Perhaps this explains why the Duchess chose a white dress with white accessories—she was standing in solidarity with the players.
The rest of the Middleton clan also attended the final Wimbledon match, including Pippa, Carole and James, but they were not seated alongside Kate and Prince William in the royal box. Missing from this family affair was little Prince George and Princess Charlotte.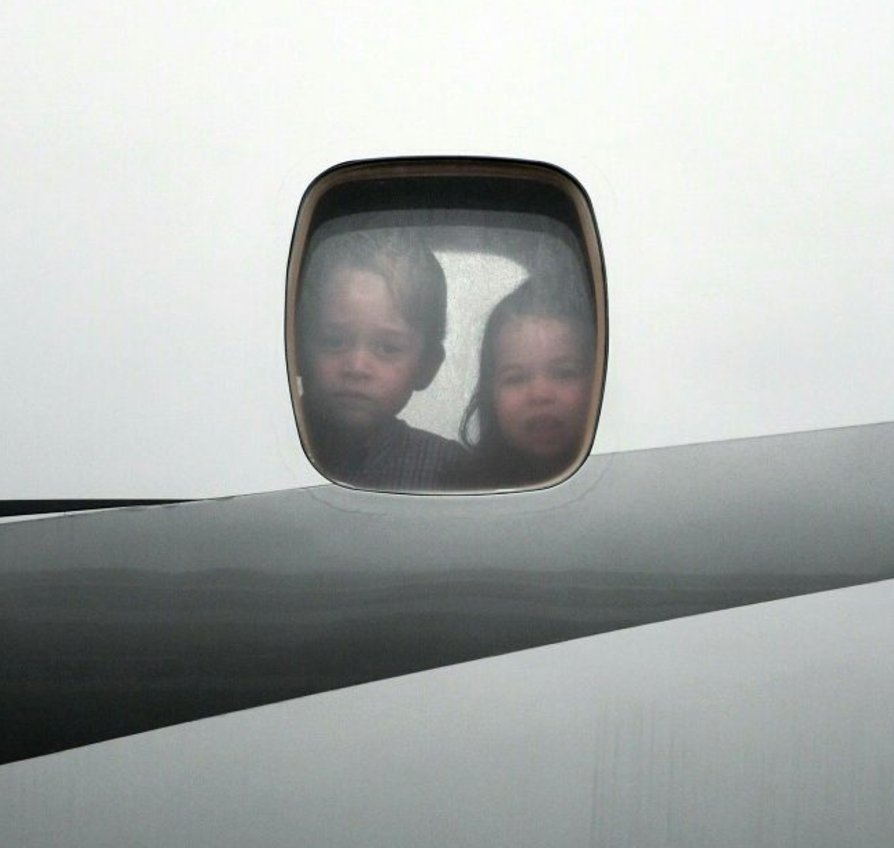 It seems the royal tots were simply resting up for their adventures ahead; the royal family of four jetted out of London the very next day, to embark on their tour of Poland and Germany. Upon their arrival in Eastern Europe, Prince George and Princess Charlotte were spotted excitedly peering out of the plane window. Once again, it appears Prince George had a bit of a fit and was scolded by his regal father, but dressed in his tiny blue shorts, it was an adorable little outburst.
Middleton, on the other hand, debuted her second white look in less than 24 hours. For this more formal event, where the royal family was set to meet with President Andrzej Duda and his wife Agata Kornhauser-Duda, she donned an Alexander McQueen suit and her favorite nude Gianvito Rossi heels. Featuring a flared peplum with a cinched waist, this outfit was purposely coordinated with Princess Charlotte's red and white floral dress for a diplomatic touch, as red and white are the colors of the Polish flag.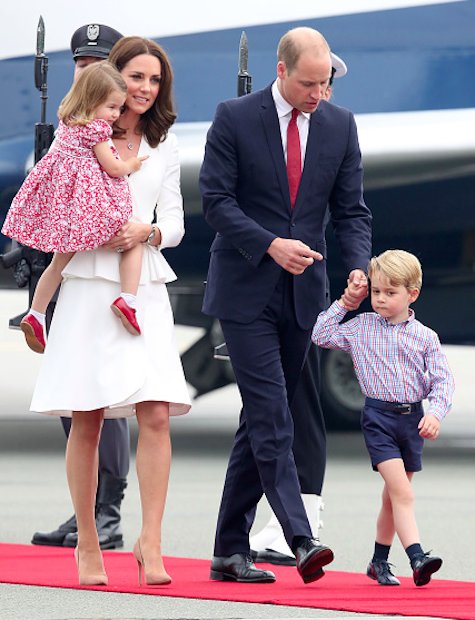 In fact, if you look closely, Middleton wore a necklace with a massive red ruby, meaning she didn't even need her daughter to make a tactful sartorial statement.