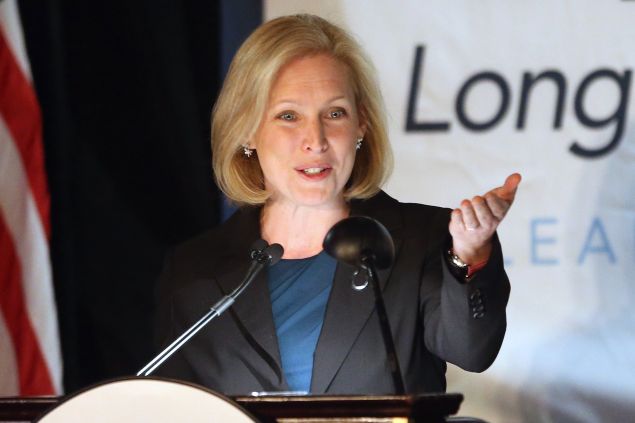 U.S. Sen. Kirsten Gillibrand said Monday she will not back the Israel Anti-Boycott Act "in its current form" until it is revised to make clear that it does not penalize any efforts by individuals to boycott the Middle Eastern nation.
Earlier this month, the Intercept reported that 43 senators backed the Israel Anti-Boycott Act sponsored by Sen. Benjamin Cardin (D-Md.) that modifies the Export Administration Act of 1979 to include bans on boycotts against allies of the the United States, boycotts encouraged by international governmental organizations against Israel and mandates that the the Export-Import Bank of the United States oppose boycotts against Israel.
Gillibrand and Senate Minority Leader Charles Schumer were among the senators who co-sponsored the bill.
In response, the American Civil Liberties Union wrote a letter to all of the senators requesting that they oppose the bill, asserting that the legislation would impose civil and criminal punishment on individuals "solely because of their political beliefs about Israel and its policies." Following the backlash, Glen Caplin, senior advisor to Gillibrand, explained that they have a "different read of the specific bill language" but after seeing the ACLU letter, she invited them to meet with her to "discuss their concerns."
"I would never support any bill that chills free speech," Gillibrand said at a community town hall in Flushing this afternoon. "I would never be for something that you stated the bill says. It's not something I would support. I met with the ACLU and we sat down…and why they believe it says it chills free speech, which leaves the bill as ambiguous. So I am going to urge the authors of the bill to change the bill and I will not support it in its current form."
According to the ACLU, violators would face "a maximum civil penalty of $250,000 and a maximum criminal penalty of $1 million and 20 years in prison."
The legislation is seen by some as targeting the Global Boycott, Divestment and Sanctions Movement—known as BDS—which calls for boycotting, divesting from and sanctioning the people of Israel. Gillibrand is against BDS. But she recently asserted that Israeli Prime Minister Benjamin Netanyahu does "not have a plan for peace" nor a "vision for peace."
Gillibrand said the point of the original legislation was the undermining U.S. foreign policy on the grounds that they did not want the private sector working with countries who are not American allies "to somehow support U.S. foreign policy."
She said that this is how she saw the legislation, insisting that she did not believe that it had "any relevance to individuals at all" and therefore did not see it as a "breach of free speech."
"But as I said, there must be ambiguity there because otherwise the ACLU wouldn't reach their conclusion…so I'm gonna urge them to rewrite it to make sure it says, 'This does not apply to individuals,'" Gillibrand continued. 'This is only applying to companies. This applies to those working to undermine U.S. foreign policy.'"
Gillibrand said anyone who is in favor of BDS "should feel very comfortable speaking at any stage anywhere in America," asserting that "that's what free speech is about and I fully support it."
"It has to be very specific that someone who is in favor of BDS can speak their mind and someone who's against BDS can speak their mind—that you are always allowed to speak your mind," she added. "So I'm gonna try to get the bill revised so there's no ambiguity, there's just an extension of this foreign policy."
Queens U.S. Rep. Grace Meng, who serves as vice chairwoman for the Democratic National Committee, also sponsored the legislation. She told the crowd that there may be "some misunderstandings" about the bill and said that, like Gillibrand, she would never support legislation that limits free speech.
She said that the legislation adds international organizations such as the United Nations Human Rights Council to existing law but said that they are reviewing the legislation.
"We have been, after a lot of discussion and inquiries from the public, from concerned citizens like yourself, are looking into the bill," Meng said. "We are working on having conversations with the ACLU and we would love to discuss this further."
This article has been updated to clarify that Sen. Gillibrand did not misunderstand the legislation but rather had a different interpretation of it.