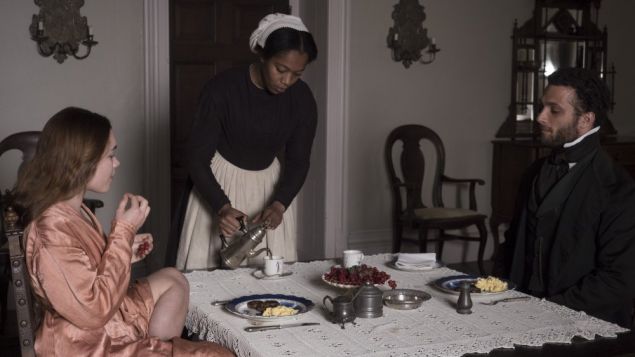 There is an emptiness to Lady Macbeth, part of it on purpose and part of it not. To begin with, there is a profound airless quality to the northeast England Restoration Hardware looking estate house where the story is set. It is the kind of place where every footfall, squeaky hinge, or heavy breath— whether full of guilt, sex or gasping for life— echoes louder and longer than it should. You would expect a houseplant to shrivel upon entering a house like that; indeed, the lone non-human resident, a spindly and long faced cat, seems oddly affected by the place. The unnamed feline's occasional appearances garner most of the paucity of laughs to be found in Lady Macbeth, but that may be simply because they help to break the tension.
It is certainly not the kind of place in which you expect love to thrive, and it doesn't. It is not there when the dour and bullying Alexander (Paul Hilton) brings home Katherine (Florence Pugh), the teenage bride purchased for him by his domineering father along with a small plot of land. Safe to say, theirs is among cinema's most dour postnuptial evenings, with Alexander explaining how drafty the house can be and angrily barking orders— "Take off your night dress!"— before curling up to sleep. And love seems well out of range later on when Katherine explores the carnal need she expected to have met by her husband with a marauding stable hand named Sebastian (Cosmo Jarvis). We first meet Sebastian when he is assaulting Katherine's maid Anna (Naomi Ackie), and later he seems to be prowling the manor while Alexander is away on business looking for someone else to rape when Katherine chooses him, first for a roll in the hay and then as a befuddled recipient of her everlasting devotion. As much as the rather dimwitted Sebastian enraptures Katherine, there is a sense that she chose to have an affair to break the monotony of her day, which is largely consumed by napping. Indeed, Sebastian's initial come-on to Katherine is to inquire if she is bored. Turns out, she was.
---

LADY MACBETH ★★

(2/4 stars)

Directed by: William Oldroyd

Written by: Alice Birch; based on Lady Macbeth of the Mtsensk District by Nikolai Leskov

Starring:  Florence Pugh, Cosmo Jarvis, Naomi Ackie

Running time: 89 mins.

---
This seems to be one of the primary ideas behind the film, which was directed by first time filmmaker William Oldroyd, a UK theater vet, and written by Alice Birch adapting Nikolai Leskov's 1865 novella Lady Macbeth of the Mtsensk District. The burning passions and idle mind of a 19th century kept woman can, when unchallenged, turn dangerous— in this case, profoundly homicidal. Between sips of tea, Lady Macbeth upshifts from a bleak portrait of an unhappy place to an odd hybrid of Downton Abbey and Henry: Portrait of a Serial Killer. Oldroyd also appears to want to say something about race— Anna the maid is black and Sebastian and several other prominent characters appear to be of mixed race— but as with his thoughts on class, whatever his point is seems lost or a least clouded upon delivery. Mainly, the director is looking to contemporize the expectations one has when heading into a period picture and leave it at that. The result of this experiment is interesting while never being involving, affecting or fully explored.
Nevertheless, Oldroyd has found a terrific lead actress on which to hitch his wagon. With a round and open face that can shift between naïveté, desperation and cunning with shocking alacrity, Pugh creates a character that we will never like or completely understand but whom we ultimately believe. By convincingly portraying Katherine's descent into monstrosity, Pugh has crafted a lovely calling card for future work but stills fails to completely rescue a film that feels emotionally vacant and somewhat pointless beyond its desire to disrupt the typical period piece.
Lady Macbeth feels akin to this summer's similarly confounding femme remix of genre and period film, Sofia Coppola's The Beguiled. (Katherine's living room naps and silk dappled ennui also call to mind the title character in Coppola's Marie Antoinette.) In addition to sharing an unlikely instrument of homicide, both movies feel like profound missed opportunities. Where Coppola chose to circumvent the question of race for reasons that seemed self-serving and left her film feeling like little more than a empty gilded box, Oldroyd inserts race into his story and then just sort of leaves it there, rather than allow it to enrich the narrative. Which is the worse sin? It's difficult to say. At least Lady Macbeth starts the conversation, it's just a shame it has so little to add.