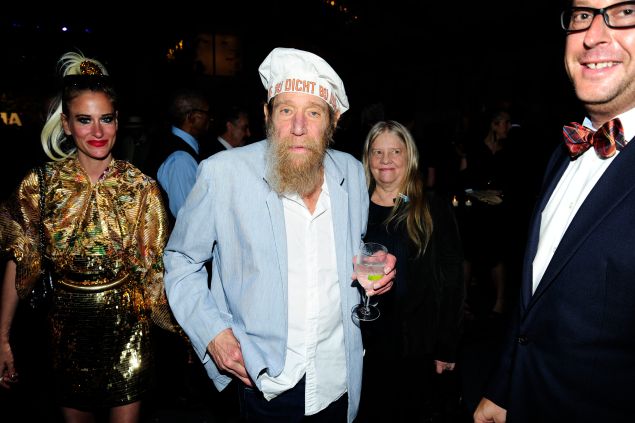 In just a few days, celebrities will flock to the French town of St. Tropez for actor and U.N. ambassador Leonardo DiCaprio's annual charity auction. Last week, it was announced that the Academy Award-winner has tapped an impressive group of A-list art stars, from Rashid Johnson to Andrea Bowers, to create works explicitly for the sale. Now, it looks as though he'll be adding one more, very unique artwork to the roster by conceptual artist Lawrence Weiner. But Weiner, who is well-known for his text-based installations which play on the construction of language, won't be contributing a physical artwork per se, as much as he will be the concept for one which can be fabricated (or not) depending on the whims of the buyer, according to a release.
For the hotly anticipated summer event—organized by DiCaprio's environmental Foundation, curated by art advisor Lisa Schiff and overseen by auctioneer Simon de Pury—Weiner's idea for a new work titled ALL IN A PLACE IN A MANNER OF TIME will be realized in a billboard-sized display installed in a vineyard close to the event. The piece will feature the title spelled out in two parts, with one emphasized by a graphic, red border and connected to the other by a curving black line.
While it is ultimately up to the viewer (or buyer) to interpret the meaning behind Weiner's intangible project, a release about the project states, "the sculpture suggests that working together, we will get there, we will focus and fix the problems we have created," drawing a parallel between the artist's words and the sale's focus on environmental causes. Proceeds from the art auction will raise funds toward issues such as climate change and forest conservation, among others.