Rep. Bill Pascrell (D-9) rarely breaks a sweat running for re-election, with the one notable exception being 2012 when redistricting forced him and former Rep. Steve Rothman, a fellow Democrat, into one district.
There was another Democrat vying for that seat: Michael Wildes, an immigration lawyer from Englewood. Wildes eventually dropped out and backed Rothman in 2012, but he seems to be gearing up for another run at Pascrell in the 9th District.
Exactly when he plans to mount that campaign — if ever — remains unclear.
But Wildes has nearly $758,000 amassed in a campaign account, according to Federal Election Commission records. That makes for a sizable war chest, although it is still only half or so of the $1.4 million Pascrell has stored up in his own account.
Pascrell, 80, has expressed no desire to slow down or leave office. But Wildes has been fundraising steadily and filing FEC reports every year since 2003. He has never mounted a full-blown campaign, and his most recent report showed $4,394 in contributions.
On the website for Wildes's congressional exploratory committee, the candidate addresses his campaign account, noting that he hopes to one day serve in Congress.
"I have decided to open a congressional account for a future race because I would like to serve in Congress when an opportunity presents itself," Wildes wrote on his website. "Unfortunately, I alone do not determine the timetable for that opportunity to serve. An opening may present itself sooner than expected, so I have to conclude that I must prepare for that possibility."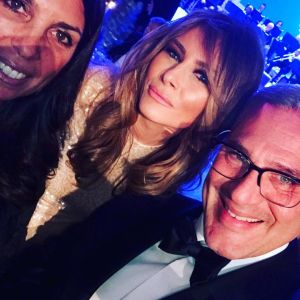 Ben Dworkin, the director of the Rider University Rebovich Institute for Politics, said that it is not unusual for possible candidates to contribute to a political account, especially considering how quickly things can change in politics.
"Like others, Wildes has significant resources in a political account but hasn't found the opportunity to use it," Dworkin said. "One of the toughest parts about being a candidate is raising money. Having money in an account, having several hundred thousand dollars in an account, gives you a leg up over your competition if there is a sudden race for the nomination."
Wildes served two terms as the mayor of Englewood from 2004 to 2010. His law firm — Wildes and Weinberg — has represented a slew of high-profile clients on immigration matters, including supermodel Gisele Bündchen and soccer star Pele. He also teaches at the Benjamin Cardozo Law School of Yeshiva University in New York.
Last year, Wildes represented First Lady Melania Trump when claims emerged that she had illegally worked in the United States without a visa when she was a young model.
But his ties to the first lady do not translate to support for her husband. When President Trump moved to implement a ban on travelers from some majority-Muslim countries earlier this year, Wildes was a vocal critic on several cable news shows.
Wildes has drawn campaign donations from a wide variety of sources. In 2016, he received a $1,900 contribution from Steve Mnuchin, now the U.S. Treasury secretary, according to FEC reports. He has also gotten significant financial support from Merrill Lynch, the wealth management division of Bank of America.
Observer NJ reached out to Wildes for comment but did not receive a response to inquiries. A spokesman for Pascrell declined to comment.